The future of toy stores isn't in selling you toys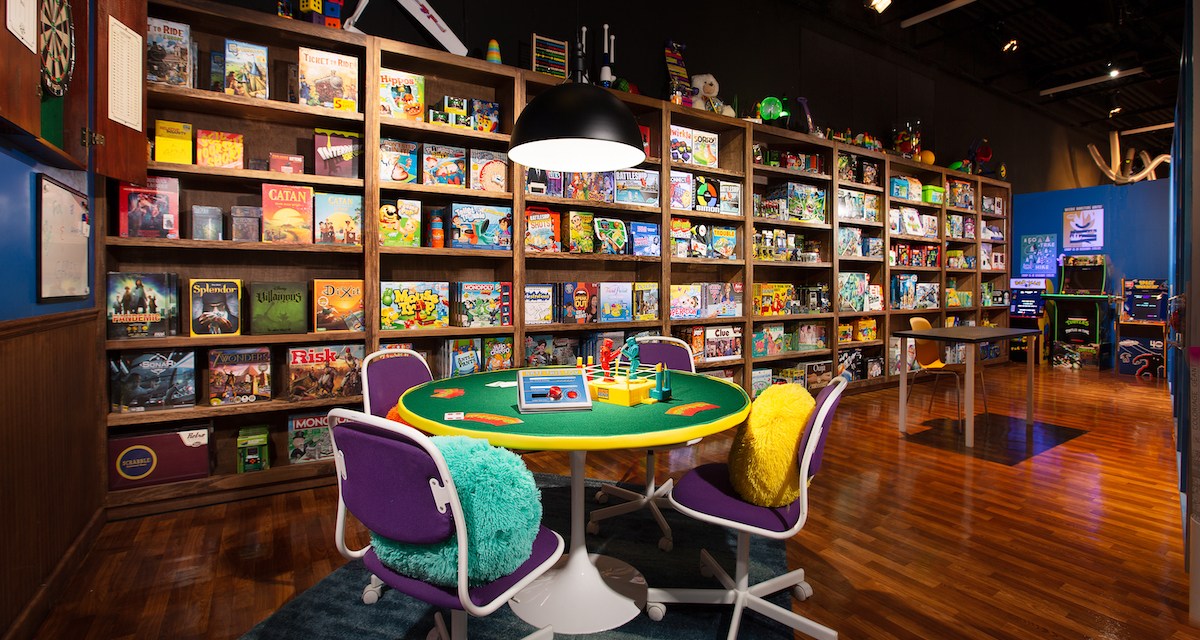 Ben Kaufman doesn't call Camp a toy store.
Sure, the store, which he co-founded and is CEO of, has plenty of shelves crammed with all sorts of toys, along with a smattering of clothes and other knickknacks. But it's when the 33-year-old walks toward the back of the space, asks one of his employees to "open the magic door," and then — after some theatrical fanfare — opens a thick section of wall inward to a brand new windowless room that it becomes clear why.
The space is big, full of mist, heralded by a big sign that says "TOY LAB." In the center is a raised racetrack. Kaufman walks around, pointing out buttons that say "don't push," (catnip to any smart kid, when pushed they lead to fun outcomes like disco balls popping out of the ceiling.)
Which brings Kaufman back to his point that Camp is not a toy store. Yes, Camp sell toys, but, Kaufman adds, that "we're a gift business; we're an apparel business; we're a general merchandise business." Most of all, it's kid-centered playhouse. And it sells coffee.
Camp is part of a growing trend of companies that focuses on aesthetic and experience first. 'Experience' is certainly a marketing buzzword — one that essentially means dazzle the consumer until they're fooled into buying something — and Camp is a perfect example of it.
Camp, which has a flagship location in New York's Flatiron District, mostly does look like a toy store, with games and other items strategically placed throughout the space on shelves and displays. But a secret door, operated only by employees, leads people to the back area — a rotating fun zone patrolled by brand partnerships. The walls are still lined with toys and other items for purchase, but there are also places to play with the toys, buttons to press that will cause objects (like disco balls) to suddenly materialize. "We call ourselves a family experience," says Kaufman, pointing to the events Camp holds — workshops, toddler yoga, date-night drop-off.
Kid-focused retail establishments certainly aren't new. They go back as far as 1862, when FAO Schwarz first opened its doors in Baltimore. The company pioneered the idea of experiential retail centuries before such a concept existed. The experience was simply providing wonder for kids who would then nag their parents until they bought the expensive toys.
In a sense, FAO Schwarz was a pioneer in kids-focused marketing. Before the 1980s, children's marketing was much more scrutinized, meaning that toy stores and manufacturers had tighter reins on how they could advertise to kids. Stores like FAO Schwarz were marketing meccas — the one place where they could have a direct and unmediated line to toy-hungry kids.
Then came the "category killers," which were stores that focused on one area and offering extreme discounts — in toys — Toys 'R' Us and Toy Warehouse led the pack. Their rise made the entire toy industry much more competitive, driving down prices and handicapping more expensive options like FAO Schwarz. Sure, FAO Schwarz was nicer on the inside, but Toys 'R' Us had it all, albeit in a more warehouse-y environment. FAO Schwarz, in fact, only had a few years of profitability in the 1980s, according to a New York Times story from 1993.
But even the category killers weren't able to last; they ultimately got eaten up by bigger and powerful competition like Walmart and Amazon. These stores' trajectories followed consumer trends. In the beginning, people wanted a glitzy one-of-a-kind store. Then, competition began to lower prices. Then new competition offering more choices online and easy delivery made everything before even more obsolete. "If you want the game Sorry today, you can go on Amazon and have it in three hours," says Greg Portell, the global head of the consumer and retail practice at Kearne. "In the old days, it was 'I want to go to a place and I know they will have it.'" There's been a mindset shift regarding the need for a toy store.
In attempted self defence, these retailers ultimately made the same sins; "They took on debt they couldn't service," says Portell. In 2017, when Toys 'R' Us filed for bankruptcy, the store had amassed more than $5 billion in debt.
That may be why Camp is allergic to the 'toy store' descriptor. Kaufman explains that only 20% of his business comes from toy sales. "We see that as a good thing," he says. Camp, in that sense, signals a slight strategy shift. Where toy stores once were the only place to find toys, which in and of itself surprised and delighted kids, Kaufman's store wants to be a destination besides the fact that it sells items. "There is nowhere for families to spend time together outside of the house," he says. Camp, then, sees dollar signs in being a neutral space that just happens to sell people (kids) things (toys). "Our growth is driven by loyalty," he says.
It also helps that families are invited to hang out for free, which gives both Camp and its partnered brands eyeball real estate. The center of the back area, for example, contains a fun activity area for kids to play in that is raised slightly with built-in walls to provide eye level toy shelves for all who are watching on the periphery. "We are responding to what brands are looking for in terms of reaching this demographic of young families and designing — I don't want to call them ad products — but retail ad products that marry to their goals," says Kaufman. That is, he's built a business that when it's not selling toys is selling the attention of a captured and impressionable audience.
But it's still wholly unclear if this will work. Camp's big sell to investors — it's raised over $10 million so far — is that it can reinvent a retail space that has historically never done well. "I think the jury's still out on how well they're going to do," Richard Gottlieb, chief executive of Global Toy Experts, a consulting firm, told the New York Times last December. "When you devote that much space to nonselling space, your challenges are greater in terms of turning a profit." Which is to say: Camp is a big experiment about whether experiential retail actually leads to never-before-seen profits.
Kaufman remains bullish on his financials. Currently, every Camp store is profitable but the entire operation isn't yet. "We don't have enough stores to cover our corporate costs yet," says Kaufman, "but we will soon." Once that happens, the concept of sustainable toy stores ('family-centric retail experiences') may finally exit Neverland.