To stay afloat, the greeting card business is going digital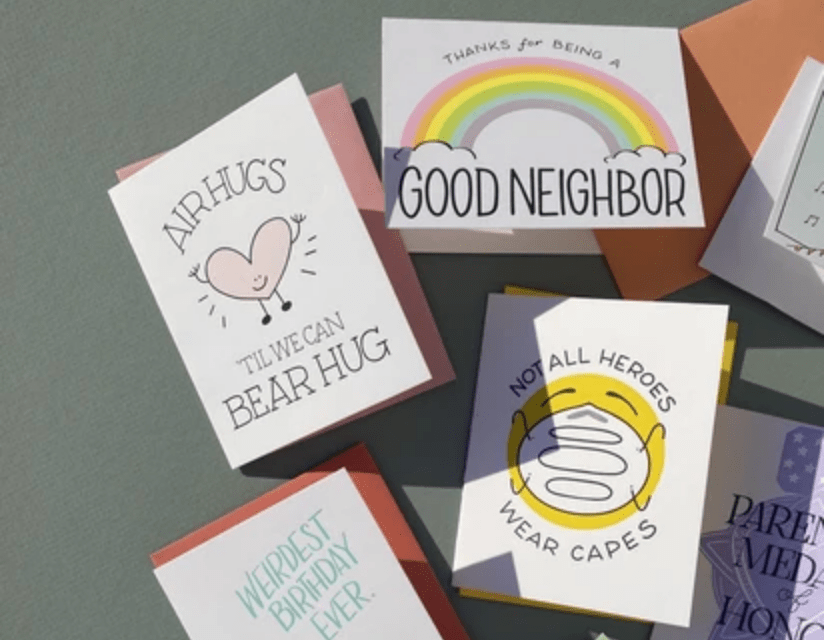 Greeting card stores are going DTC.
For the industry, it's a last-ditch effort to stave off a declines-long slide. Although some of the most dire outcomes might have been partly offset by a growing cohort of millennial greeting card buyers, this January, those trends came to a head: Papyrus, one of the largest brick-and-mortar retail chains focused on greeting cards, announced that it would liquidate its stores following a long struggle with sales. Hallmark also said that month it would shut down 16 stores.
The pandemic only made the situation worse. Overall, greeting card sales are down somewhere around 11.6% compared to last year, according to IBISWorld. (That figures also includes other niche published materials, like yearbooks, so it's difficult to find an exact estimate.) Physical retail, which comprised the vast majority of greeting card sales prior to this year, played a large role in these stores' demises. But there are some reasons for optimism for the industry. The declines in the past several months were not as bad as at the height of the pandemic. And Shutterstock has estimated that holiday card sales would be up 7% this year compared to 2019. A lot of that might be driven by the fact that greeting card businesses have finally figured out how to efficiently sell online — in part by catering their e-commerce stores to last-minute gift buyers. Both large and small greeting card businesses told Modern Retail that what's helped them stay afloat has been new programs to bundle their in-store and online businesses — in some cases even filling out and mailing greeting cards on behalf of their customers.
The dichotomy between Paper Source and Papyrus, two of the largest brick-and-mortar greeting card chains, offers a window into the future of the greeting card business. After accruing $54.9 million in debt liabilities, Papyrus has disappeared, while Paper Source is reportedly having a good year. (It doesn't disclose figures, but its online sales are up ten times.) Papyrus, said Kevin Kennedy, an analyst at IBISWorld, bet on physical retail, opening a series of physical stores without a complimentary web presence. When mall and physical retail traffic dwindled, so did sales. "Their ultimate story was over-expansion in the retail space," he said.
By contrast, Paper Source had long paired its physical stores with an e-commerce approach: customers could order cards online to be picked up in store, and cards they bought online could be returned in person. Maybe most importantly, Paper Source let customers personalize their cards online, such as by uploading photos or adding custom text. "The consumer nowadays wants to say, I know this person really well, so if I'm really going to send a personal message I want it to be more personal," said Kennedy. "It's not going to be some short-term collapse where the whole industry is going to go under and be dedicated to online," he said, but added that those physical retailers that will survive need to integrate their businesses. A standalone physical greeting card store, which doesn't have a strong e-commerce tie, "I don't see that as a viable option."
Making cards a digital business
The problem that Papyrus and other high-end greeting card vendors have battled is that greeting cards are not a natural online purchase. It's hard to justify the shipping charge for such a low-cost item. And Wombi Rose, founder of the direct-to-consumer brand Lovepop — which sells elaborate 3D greeting cards — told Modern Retail that greeting cards tend to be a last-minute gift. "A lot of cards traditionally are bought on impulse, or bought when you're already grocery shopping or at a Target or a Walmart, when you're already in a CVS," he said. "It's really hard to deliver a true last-minute product online." The shipping process is usually multi-step: first the card has to be shipped to the customer; then the customer will mail it out to the friend, client or family member receiving the gift.
Traditionally, buying greeting cards online made most sense for people who wanted to do a bulk purchase. But because many people buy greeting cards with a specific person in mind, that wasn't always an option. "You have to be a super prepared person or you have to be a paper geek to stockpile for occasions well enough ahead of time," said Liz Cooke, who runs a greeting card and letterpress business called Lionheart Prints in New Orleans. Before this year, online sales were a negligible part of her business. "We are on such a high-traffic street, and we get so much business from tourism that we could survive without a website," she said.
Now half of Cooke's sales are coming from her website, and that is thanks to how easy she has made last-minute orders. Cooke is launching a new service where online customers can send a card message with their purchase, and she will hand-write it for them before shipping the card directly to the recipient. That maintains the sense of personalization, while also cutting down on the advanced time and shipping costs needed to when ordering one-off greeting cards online. "There's something about ink on the page from a human," Cooke said. Rose said that Lovepop offers a similar service.
Rose, whose company was already more e-commerce-focused than the rest of the industry, said "we've seen a lot of growth" in online sales this year, especially on marketplaces like Amazon. But Rose said that he doesn't think the greeting card business is on an inevitable march toward becoming an online-focused business. Lovepop is continuing to invest in building out its physical retail business; it already spans seven physical stores, and several more are in the works. Meanwhile, Paper Source in March bought 30 Papyrus stores and began reopening them as Paper Source shops, part of a larger bet on the continued importance of physical retail.
But if online greeting card purchases continue to comprise a large share of the marketplace, greeting card companies will have to make the online delivery process as seamless as possible. Cooke said that offering to handwrite greeting cards has already drawn interest from a new, corporate client base. Cooke recently agreed to handle the greeting cards for a large PR firm that sends personal holiday cards to their clients each year: instead of the PR agency writing out all those notes, now Cooke will do it for them — and then ship those cards out to the firm's clients. She recently had a meeting with a law firm about a similar deal.
"Being able to launch this service, we're going to see ordering at a couple hundred at a time," she said. "I think it's going to be a game changer."