To prepare for the holidays, Big-box retailers are making tech upgrades at warp speed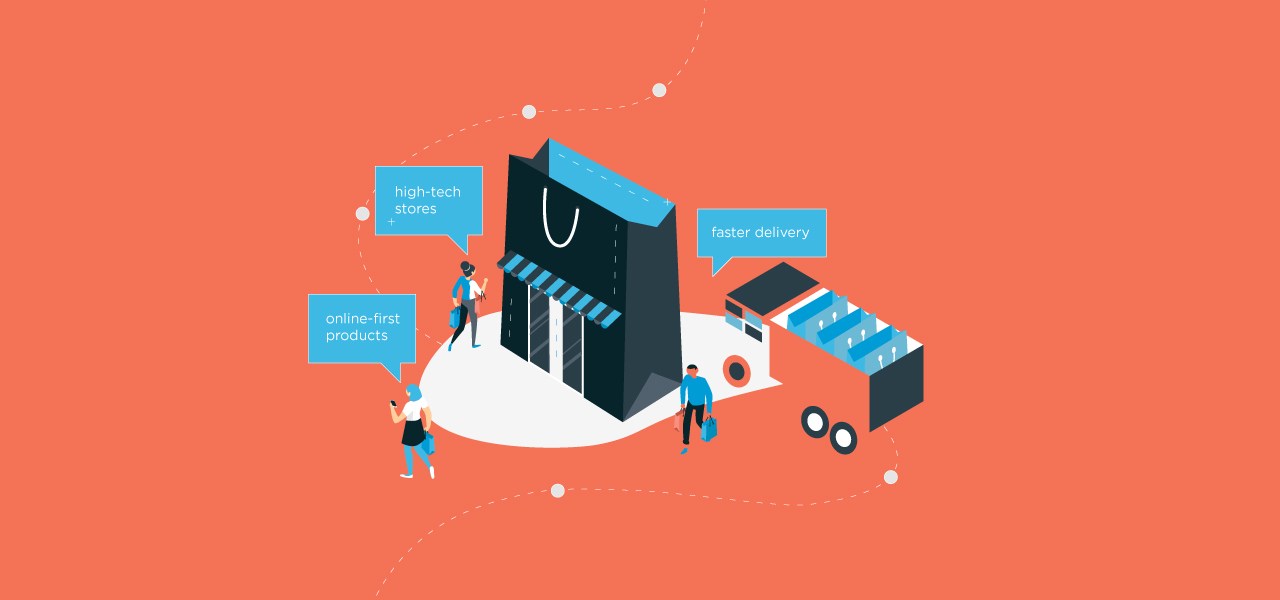 While online sales are projected to rise over the holidays, many big-box retailers are still preparing for a rush of in-store traffic.
Some of these companies sell essential products that are still in high demand at brick and mortar locations, meanwhile others are predicting a large influx of curbside pickup traffic. To deal with this, ahead of the holidays, many big-box retailers are making some tech upgrades in stores. To ensure customers who do shop in-store can get in and out while coming into contact with as few people as possible, retailers including Target and Walmart are adding more places to checkout through the store, as well as adding contactless payment options. They're also making upgrades to their store fulfillment services by making it easier for customers to adjust curbside or buy online pickup in-store orders within the retailers' app, and giving customers more contactless ways to pick up those items in stores.
Retailers also having make these upgrades in order to meet unprecedented demand — Target, for example reported that sales coming from its curbside pickup service jumped 700% year-over-year during its second quarter earnings in August.
In order to ensure it continues to meet this unprecedented demand during the holidays, Target is making some changes to how customers place and pickup these orders. Within the Target app, customers can now switch between whether they want Target workers to bring the order to their car, or go into the store to pick it up, even after their order is placed. The Target app now also generates a PIN number for drive up orders that customers can show a store employee to pick up their order — before, the app would generate a unique barcode for each order that the store employee would have to scan.
At Lowe's, the home improvement chain is installing automated pickup lockers at 1,700 stores by Thanksgiving. That way, customers can pick up the orders without having to come in contact with a store employee, instead entering a code for the locker that is generated and sent to them when they place their order. At Best Buy, the company has added a new feature to its app where users can check what the traffic level is at the store around the time when they want to pick up an order.
"You are seeing the store increasingly becoming the execution hub of  digital activity," said Sandeep Unni a senior director at Gartner's retail research industry practice.
Retailers are also looking at ways they can use tech to alleviate long wait times in-stores, particularly at the checkout or entrance lines. Target has added a feature to its website and app where customers can check how long the line is to get into their local store, if there is one, and reserve their spot in line if it's a particularly long wait. The big-box retailer is also giving its stores an additional 1,000 handheld checkout devices, which store employees can use to check out a customer anywhere in the store, rather than having to go checkout in line.
Walmart is giving its Walmart+ members access to a scan and go feature within the app, where they can scan items as they shop, and then use Walmart's contactless Walmart Pay feature to complete the purchase, so they also don't have to checkout with an employee.
Jason Goldberg chief commerce officer at Publicis, said that when the stay at home orders were first issued in the spring, retailers were scrambling to meet an increased demand for buy online pickup in-store orders, as well as to make the necessary adjustments in-store to protect the health of customers and employees. "There was a lot of stuff that was done really fast with chewing gums and paper clips," he said. Now, he said the focus is on making these services more sleek, and giving customers more options than being able to simply place an order and be notified when it's ready.
Making sure that services like buy online, pickup in-store run efficiently requires retailers to both invest in automation to ensure store employees can fill orders as quickly as possible, and that it's easy as possible for customers to place and pick an order online. When the coronavirus pandemic first hit the U.S. in the spring, some retailers, like Target and Walmart, had already invested heavily in these services. Curbside pickup was available at more than 94% of Target's stores, while grocery pickup was available at more than 67% of Walmart's U.S. stores.
Others like Best Buy, had already enabled buy online pickup in-store at all of its locations, but had yet to roll out curbside pickup, and had to rely on employees standing outside of the stores and directing where customers should park to place curbside pickup orders. Still others, like Bed Bath & Beyond, had not rolled out these services at all.
While there is certainly a mad dash now to make sure all systems are running, the marathon is anything but finished. Once the holiday rush is over, some retailers are looking at, long-term, how can they better reconfigure their stores in which those stores may have to fulfill more ship-from-store or buy online pickup in-store orders. Walmart hinted at this last week with an announcement that it was going to start testing out a new format at four different stores, in which more of the store would be configured to fulfill online orders, and more merchandise in certain categories like apparel would be moved online.
"They need to pivot their operational operations to support this long-term, because we fully expect some of these consumer behaviors to be sticking beyond the pandemic," said Unni.