TikTok is testing out a seller marketplace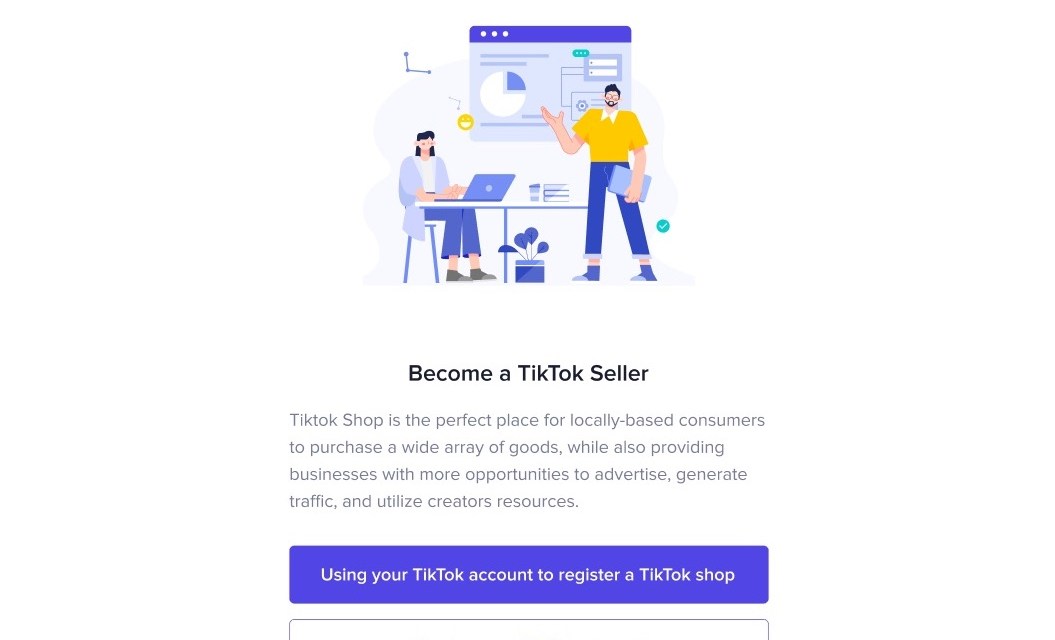 via TikTok
TikTok might be opening itself up to third-party sellers.
The company recently published a page called TikTok Shop: Seller University, which outlines how brands and third-party sellers can set up their own stores, accept payments and interface with customers all inside the app. The page was first noted by social media consultant Matt Navarra. Sources confirmed to Modern Retail that TikTok is testing TikTok Shop in Indonesia, and that it is an extension of ongoing commerce-related tests.
The test arrives after the Financial Times reported that TikTok is working on a series of new e-commerce features, including a product catalog option for brands, a live-stream shopping program and an affiliate marketing system that lets individual TikTokers earn commissions on sales they facilitate. According to the Seller University site, all of those features would be available through TikTok Shop, the third-party seller program in beta. And it suggests that TikTok is building out a third-party marketplace even more sophisticated than its closest rival, Instagram Shops.
"I think TikTok wants everyone to sell in-app, not just small businesses," said Sasha Shilko, who researches brand trends at Nexttbrand.
(Inside the TikTok Shop dashboard, via TikTok's seller onboarding page)
This isn't TikTok's first foray into e-commerce. The company has offered an integration with Shopify since October, and in December, it debuted a shoppable livestream with Walmart, where customers could buy Walmart apparel directly within the app.  While TikTok has given few details about what its shoppable future might look like, one illustrative parallel is the app's Chinese counterpart — called Douyin — which Shilko pointed out has had in-app stores since 2018. Douyin stores are open to individual people, small businesses and major franchises. To sell on Douyin, vendors pay an upfront deposit, then hand over a 5% cut of sales.
For Douyin, shopping has become a significant revenue driver. According to a report from the Chinese tech site LatePost, the app's e-commerce sales in 2020 tripled to around 500 billion yuan, equal to about $77.2 billion, though many of those were referrals to outside sites like Alibaba. Sales that happened fully within the Douyin app reportedly totaled 100 billion yuan, or $15.4 billion. (According to CNBC, Douyin disputed those figures.)
"They know how to do this, but I think they're being very cautious with the North American market [and] they're rolling out features one at a time," said Lia Haberman, a UCLA professor who studies influencer marketing, referring to the success that TikTok's parent company has had with e-commerce in China.
Early signs suggest that TikTok Shop might look a bit like its Douyin counterpart. According to the beta test, brands and interested users can apply to become TikTok sellers. If they're approved, they enter TikTok's Seller Center portal, where they can set up their TikTok Shop. Within Seller Center, they upload their products and prices, receive and process orders and transactions, track deliveries, give refunds and interface with customers. At least to start, TikTok Shop charges a 2% commission on every order. In the beta test, certain items cannot be sold on TikTok, including "political products."
The test also hints at what a TikTok-led affiliate program might look like. When brands upload their products into TikTok's Seller Center portal, they can create campaigns with individual influencers through a program called TikTok Affiliate. That way, influencers can sell products to their followers directly within the app, all while earning a commission from the brand — essentially, cutting out the likes of Linktree and Linkin.bio as middlemen.
A TikTok marketplace, if it does move beyond the testing phase, can benefit both larger brands and influencers who want to sell their own products. On the brand side, said Shilko, a seller portal — paired with TikTok's own reinvigorated ad platform — will give companies more data about which users are actually buying their products. Right now, TikTok is an incredibly valuable sales tool, with viral videos catapulting everything from chocolate bombs to cranberry juice to new heights. Still, companies rarely know exactly where that lift is coming from. "They have a TikTok go viral, and they can't tell, what was the ROI on this?" said Shilko.
But TikTok Shop would also boost individual influencers, who can use the new feature to both sell their own products and easily earn affiliate commissions on products they already promote. Product recommendation influencers have generated enormous amounts of traffic to items on Amazon, and an in-app affiliate commission system would make those conversions much smoother. "It just gives creators one more revenue option and also kind of validates this idea of a creator as a business and business owner," said Haberman.
TikTok does not seem to be the only social media company pursuing an in-app affiliate program: Instagram recently introduced code that appears to allow for the same. That builds on efforts by Facebook to more tightly integrate e-commerce across all of its platforms. Instagram has expanded its Shops feature; Facebook is investing in Marketplace; and both Facebook and Instagram are rolling out shoppable livestreams. Facebook recently added shoppable stores to WhatsApp, too. The goal in all cases is to facilitate transactions on each platform, a feature that makes Facebook more attractive to advertisers and keeps influencers happy.
Ultimately, Shilko sees TikTok's e-commerce push as much more of an advertising play. The starting commission rates of TikTok Shop — just 2% — are low, and may not ever become a major revenue engine for TikTok if the test does get widely adopted. For TikTok, the value of having a marketplace might be that it makes ads much more effective at converting viewers into customers — something Google has sought to do with its own marketplace efforts.
Shilko said that if TikTok can offer "a seamless purchasing experience while [users] are scrolling through, that becomes more valuable advertising for the brands." At the end of the day, she said, "TikTok has every incentive to make their advertising more valuable."