ThredUp is telling customers to boycott a Shein pop-up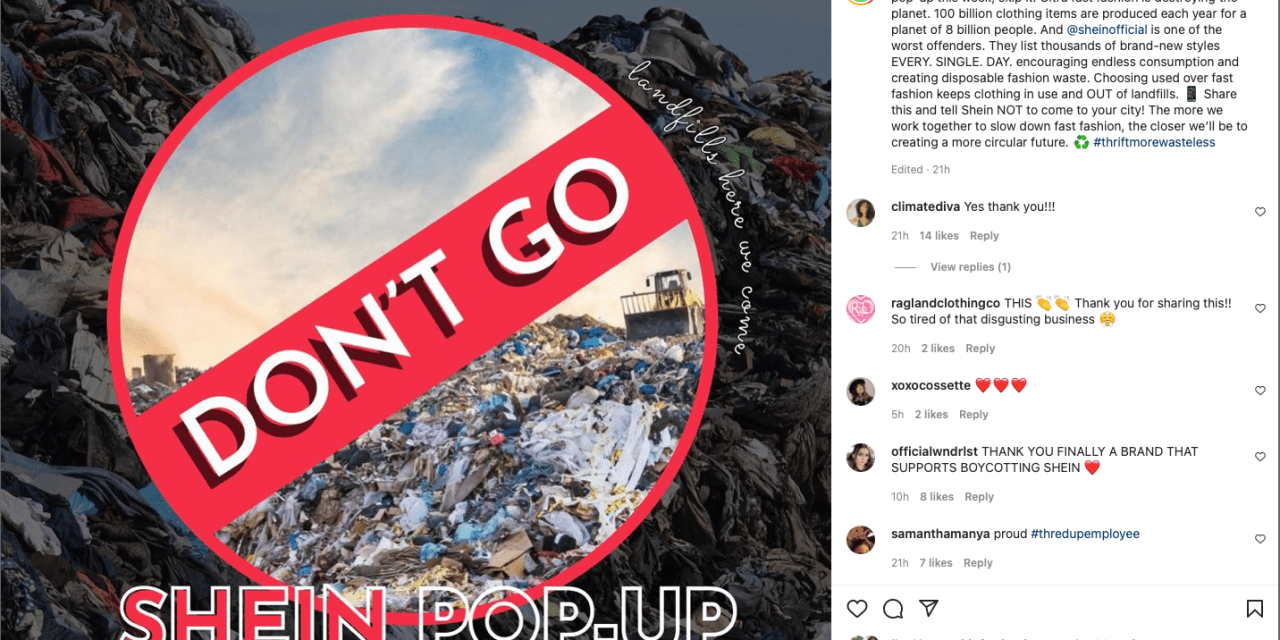 ThredUp
Online clothing reseller ThredUp is urging customers to boycott fast-fashion giant Shein's latest pop-up shop with a text and social campaign aimed at diverting sales to the secondhand marketplace. 
Multibillion-dollar online retailer Shein is taking its products to an in-person pop-up shop from June 24 to June 26 in San Francisco's popular and touristy Embarcadero Plaza. In response, Oakland-based ThredUp is sending push notifications to its Bay Area subscribers asking them to pledge not to shop the pop-up — and offering discounts and free shipping for its own services via text.
"Skip the #sheinsanfran pop-up!" read one message that provided a unique discount code to use on the ThredUp platform.
The campaign is a unique instance of one retailer calling out another by name for its business practices, and the latest example of how apparel brands are using the issue of sustainability to attract customers. But consumers' penchant for fast fashion is long-proven, with financial concerns of customers making sustainability a tougher sell than quick and cheap.
Samantha Blumenthal, the director of consumer communications for ThredUp, said the point of the campaign isn't to call Shein out — even though the push notifications to customers do exactly that, mentioning the fast-fashion brand by name. Instead, the campaign is meant to attract attention to the issue of clothing waste and promote "a responsible alternative" that can be just as affordable Shein.
"We don't want to shame anyone here. We understand fast fashion is very appealing — they're super low prices, it's easy, it's convenient," she said. "But shopping at a reseller is just as convenient, and you can also find those great deals and low prices."
The edgy and experimental campaign is already making waves with shoppers just hours into the launch. In an Instagram post with a picture of a landfill, ThredUp's followers praised the brand for its strong stance. "It's the audacity for me," said one user. "So tired of that disgusting business," said another. 
A media contact for Shein told Modern Retail that the company does not comment on other companies and pointed to its multiple sustainability-focused initiatives launched in recent months. That includes a new line, evoluSHEIN, that is meant to be a "purposeful" brand with materials like recycled polyester made from used plastic bottles. Partial proceeds go to women's empowerment projects, according to a news release.
The company's 2021 Sustainability and Social Impact report said that Shein avoids overproduction by being an online-only retailer. The report also stated that Shein is developing garment recycling ​​programs, and trying to reduce greenhouse gas emissions in its own operations, among other listed initiatives.
Consumer sentiment in recent years leans toward sustainability over fast fashion, even if buying habits don't. A recent survey from Stifel found 81% of consumers believe it's important for companies to act sustainably but 64% said they'd pay more for brands with leading practices.
Meanwhile, the 2022 Fast Fashion Global Market Report from Research and Markets found that the fast-fashion sector will grow to $99.3 billion in 2022, a compound annual growth rate of 8.8% from the year prior. 
Jessica Ramirez, a senior research analyst with Jane Hali & Associates, said even though shoppers are becoming more educated about sustainability and it fashion's environmental impact, the current moment of inflation and recession concerns could see spending revert to cheaper items that are less sustainable.
"Unfortunately, sustainability takes a backseat, because products tend to go up in price," she said.
Kellan Terry, head of communications and public affairs with online sentiment tracking agency Brandwatch found that Shein is much more popular with online mentions than ThredUp: June mentions of Shein were above 142,000 while ThredUp's hovered around 1,800, indicating that ThredUp is an underdog in bringing its boycott online.
In general, consumers have more negative sentiments about fast-fashion brands than high-end retailers, Terry said. Shein had 72.5% negative consumer sentiment for June, though many of the comments were jokes and sarcasm about the quality of fast fashion that weren't necessarily directed at the brand itself.
Still, Terry said many people turn to fast fashion because "they're OK with a dress or a look not lasting the test of time because they didn't empty their bank account," Terry said.
Meanwhile, as much as 64% of the world's 32 billion garments made each year wind up in landfills, according to a Green Story Inc. environmental study cited in ThredUp's 2020 resale report. 
ThredUp's own marketplace contains a fair amount of Shein clothing, with nearly 24,000 pieces coming up during a recent search. Many customers are still buying and sending in fast fashion whether it's something they worn once or something new with tags they didn't bother to return. ThredUp's Blumenthal said the platform will take those items — including Shein — as long as they meet the conditions for quality used clothes that apply to every brand.
Still, ThredUp's inventory is a reflection of the market — and the hold fast fashion has, even on people who also shop from resale sites.
While it's the first time ThredUp has mentioned Shein explicitly, it's not the first time the company has pushed sustainability. Previous campaigns have focused on the amount of clothes that wind up in landfills. A recent Earth Day installation turned used clothes into an interactive and Instagrammable "Tunnel of Pre-Loved" to raise awareness of clothing's physical toll on the planet.
"ThredUp's mission is to fight fast fashion," Blumenthal said. "There's already so many clothes that exist in the world. There's no reason to be making that much new stuff all the time."