This year cemented the end of holiday shoppers rushing to stores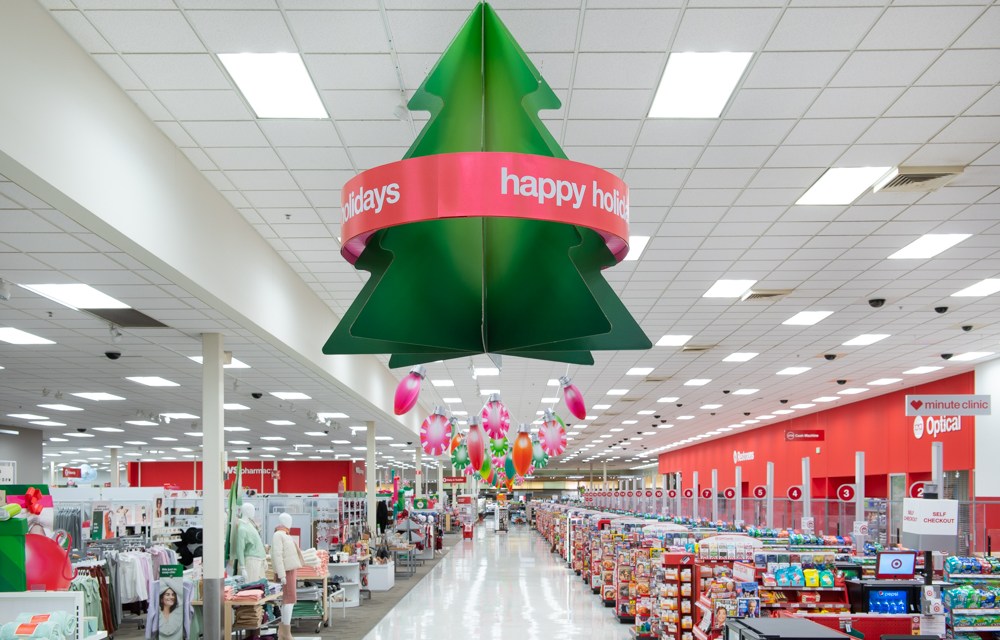 Target
In 2020, the decades-old traditions of rushing to stores for Black Friday deals or to get a last-minute Christmas gift were out of the question for many people. And it turns out shoppers didn't come roaring back to stores in 2021 either.
Foot traffic during big sales days like Black Friday or Super Saturday (defined as the Saturday before Christmas) rose year-over-year in 2021, largely due to the fact that there were no stay-at-home orders this year. But in many cases, it didn't surpass 2019 levels.
Even before the pandemic, fewer shoppers were opting to do their Black Friday shopping or pick up last-minute holiday gifts at stores, due to the rise of online shopping. But this year, spooked by carrier delays from last year and congestion at the ports this year, retailers started encouraging people to shop earlier, or use services like buy online, pickup in-store. Retail experts say it's a trend that's likely to continue — and, as a result, Black Friday and Super Saturday, while still critical sales days, no longer hold the level of importance they once did.
Placer.ai found that foot traffic at indoor malls was down 7.9% on Super Saturday compared to 2019, while foot traffic at outdoor malls was down 9.1% Preliminary data from Sensormatic Solutions confirmed similar trends: the firm found that visits to retail stores on the Saturday before Christmas were down 26.3% compared to the same day in 2019.
Foot traffic on Black Friday fared similarly. Black Friday foot traffic at indoor and outdoor malls was down 8.5% and 9.2% on a two-year basis, according to Placer.ai. Ethan Chernofsky, vp of marketing at Placer.ai, said, however, that foot traffic on the Saturday and Sunday immediately following Black Friday, was up on a two-year basis.
Jason Goldberg, chief commerce strategy officer at Publicis, said that there have a variety of factors that have chipped away at the significance of Black Friday and Cyber Monday. Before the pandemic, "there was an arms race to open earlier and earlier on [Black Friday]," and even on Thanksgiving, said Goldberg. That arms race was fueled by the dominance of big-box stores like Walmart and Target, and struggling retailers wanting to keep up with them. Bed Bath & Beyond, for example, opened on Thanksiving Day in 2019 for the first time.
But that rush stopped last year as retailers were concerned about in-store crowds leading to a spike coronavirus cases.
Thanks to the continued rise in online shopping, many retailers this year decided to opt out of resuming the arms race to open earlier. Walmart, Target, Kohl's and Macy's said they would be closed on Thanksgiving Day this year. Additionally, Goldberg said, the pandemic led many retailers to stop offering exclusive deals or promotions that shoppers could only access in stores.
Anxieties changing retailer strategies
Leading up to Super Saturday this year, the big area of concern for many retailers was having enough items in stores to accommodate last-minute shoppers. Retailers had similar struggles last year, as FedEx and UPS imposed last-minute restrictions on how many packages they could pick up from certain retailers due to the huge uptick in online shopping.
That prompted retailers to encourage people to do their holiday shopping earlier. Target hosted a pre-Black Friday "deals for days" event that ran from October 12, while many retailers kicked off their Black Friday sales the week before Thanksgiving.
As a result, many stores were relatively quiet the week before Christmas. Not all retailers were impacted equally: Placer.ai data found the steepest two-year-decline in Super Saturday foot traffic occurred at department stores, while more specialized retailers like Home Depot and Kohl's actually saw an increase.
For those last-minute shoppers, retailers increasingly encouraged them to use the same-day fulfillment services that became popular during the pandemic. On December 23, a banner on the homepage of Target's website said that customers could still get free pickup on top gifts, "or have them delivered by a Shipt shopper." Kohl's told customers they could still get gifts in time for Christmas if they placed an order on December 24 by 1 p.m. local time, and pick them up in-store by 6 p.m. that day.
Both Chernofsky and Goldberg said they don't expect in-store crowds on Black Friday and Cyber Monday to return to pre-pandemic levels in the years to come. Instead, they expect retailers will continue to encourage people to spread out their holiday shopping over a longer period of time, which would also put less strain on retailers' workers. Chernofsky said he also anticipates that January might become a more important part of the holiday season for retailers' as well, as more people use that period to return items in-store, and subsequently make some other purchases.
Regardless, "I don't think it is ever going to be the same," said Chernofsky.