'There is nothing essential about mulch': Home Depot and Lowe's employees say spring foot traffic remains high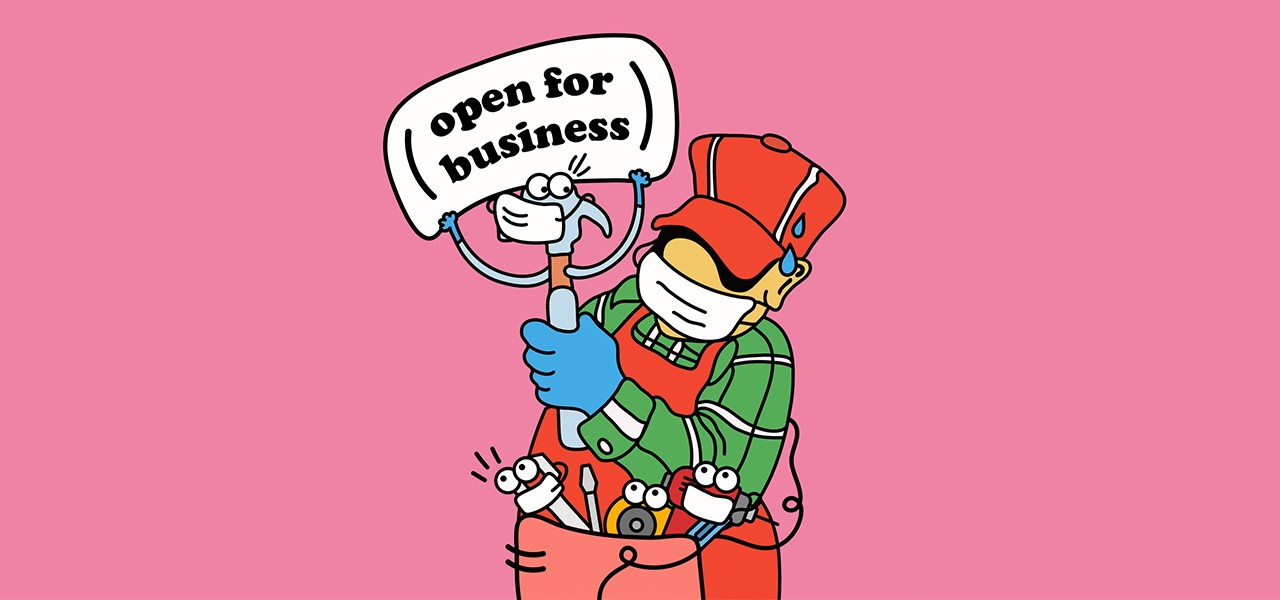 Spring is typically the busiest time of year for hardware stores like Lowe's and Home Depot, as customers flock to stores for deals on plants, gardening equipment and other home renovation tools. But during a pandemic, high foot traffic is problematic.
In addition to grocery stores and pharmacies, most states have classified hardware stores like Lowe's and Home Depot as essential in the wake of the coronavirus outbreak. The six Lowe's and Home Depot store employees that Modern Retail spoke with agree with that classification — they want their stores to stay open for the shoppers whose hot water heaters are broken or who need equipment for electrical repairs.
But, an ongoing source of frustration for many hardware store employees in recent days has been how many shoppers are still coming to the store for non-essential items. These employees worry that shoppers aren't taking the right safety precautions and could inadvertently get employees sick. Several of the employees Modern Retail spoke with expressed frustration at seeing people's carts filled just with plants. Two said that they had had multiple shoppers tell them that they went to a Home Depot or Lowe's just because they were bored and they were one of the few places open.
"There is nothing essential about mulch. There is nothing essential about topsoil," a full-time Lowe's employee in Kansas said.
Hardware stores then face a conundrum: how much to discourage shoppers to come into the store for non-essential needs while staying open for essential needs. Home Depot announced last week that it would be canceling its "Spring Black Friday" promotions, which is usually a multi-week long event. Meanwhile, Lowe's is still running its Spring Black Friday promotions. A Lowe's spokesperson said that the company was still offering deals because "while some retailers have taken steps to eliminate value pricing, we recognize the importance of continuing to offer value to our customers in this time of economic uncertainty."
While Home Depot and Lowe's don't break out exactly how much revenue their spring sales events drive, each year both retailers hire between roughly 50,000 and 80,000 temporary associates during the spring, a sign of just how important of a season it is to them. And, with few regulations in place about just how much retailers need to discourage non-essential foot traffic, they are placed in an unprecedented position of having to figure out to discourage non-essential purchases during their busiest sales season.
Additionally, anxiety among retail workers about contracting the coronavirus is at an all-time high. Over the weekend, it was reported that two Walmart employees at the same Chicago-area store died after contracting the coronavirus.
Some employees floated the idea of Home Depot and Lowe's shutting down non-essential departments like garden goods, or moving to curbside pick up only. The Kansas-based Lowe's employee expressed worry that if Lowe's does that, sales will drop so much many employees will be out of a job.
A Home Depot spokeswoman said that the goal of canceling its Spring Black Friday promotions was to "prevent driving traffic to stores for non-essential items."
"As an essential retailer to the communities we serve, we're committed to keeping stores open just as we always do during times of crisis and natural disaster," the spokeswoman added.
"The health and well-being of our associates and customers is our top priority, and we cannot thank our associates enough for their hard work and dedication supporting our communities during this time when we are needed most," the Lowe's spokesperson said.
An ever-growing checklist
Like other essential retailers, the safety precautions that Home Depot and Lowe's have rolled out continues to grow as the coronavirus outbreak has worsened.
Home Depot stores now close at 6 p.m. while Lowe's is now closing its stores at 7 p.m. From March 23 to April 2, Lowe's stores were open until 8:30 p.m. Monday-Saturday and until 7 p.m. on Sunday. Two Lowe's employees that it seemed that their stores were receiving higher foot traffic because Home Depot's stores were closing earlier than theirs, based on the fact that multiple customers had told them they came to Lowe's specifically because Home Depot was closing earlier.
Both hardware stores have also taken steps to mitigate the number of customers in store, to varying degrees of success. Two Home Depot employees said that their stores were told to let a maximum of 150 customers in store at a time. The Home Depot spokeswoman said the exact number varies depending on the size of the store. But, one full-time Home Depot employee in Georgia said that her store manager was purposely letting in more than 150 customers, seemingly to drive more sales to the store.
In response to a question about how it ensures stores stick to the maximum number of customers, the Home Depot spokeswoman said that "we would certainly want to know and be able to look into if associates aren't following this guidance."
Meanwhile, Lowe's has not set a specific number of customers that are allowed in stores, but instead has created an app that lets store managers "monitor foot traffic and limit entrance based on CDC and local guidelines."
Multiple Home Depot and Lowe's employees also said that their stores were struggling to adhere to new cleaning guidelines. A full-time Lowe's employee in Texas said that while a set of employees was supposed to clean his store twice daily, his store was not doing that.
The Georgia-based Home Depot employee said that employees at her store were supposed to clean pin pads and self-checkout registers between each transaction, but were struggling to do so because of higher-than usual foot traffic. She said that despite Home Depot canceling its Spring Black Friday promotions, it hadn't seemed to do much to deter foot traffic because "people are still coming in and looking for those deals anyways."
Paid leave policies get mixed reviews
Both Lowe's and Home Depot have also rolled out changes to their paid leave policy that are supposed to apply both to employees who have contracted the coronavirus, or to those who are at high risk of contracting it.
Lowe's has said it will give up to 14 calendar days paid time off for employees who test positive for the coronavirus, are caring for someone who has it, or "have been faced with new hardships," because of the coronavirus, so long as they provide a doctor's note or other documentation. The company has also said it would give up to four weeks emergency paid sick leave for elderly employees or those at high risk of contracting the virus.
Home Depot is giving all full-time employees an extra 80 hours of paid time off, and part-time employees an extra 40 hours of paid time off. Employees age 65 or older get additional paid leave on top of that, while employees who have contracted the coronavirus get 14 paid days off, or for however long their doctor says to quarantine.
One Lowe's employee said that his store seemed to be "fairly liberal compared to what I'm used to seeing from Lowe's" in approving people for paid leave, with 20 associates out on paid leave. But another employee said he has struggled to been approved for paid leave even with the new policy. (Modern Retail is not naming the exact state he works in to provide more details about his situation).
The employee said his girlfriend's mother is a nurse at a local hospital, and a few weeks ago started displaying symptoms consistent with the coronavirus. He had been in contact with her only a few days before she started displaying symptoms. He does not have a general practitioner, and so he used a note from his girlfriend's doctor to try to get approved for paid time off, but said he would need to show a note from his own doctor. He decided to take unpaid leave, and has not been to work in 12 days.
'"I have the next nine days to quarantine, and after that I guess I'm going to go back, but I'm going to try to look for something else," the employee said. "This has been like pulling teeth." 
Three employees told Modern Retail that while they need their paycheck from Home Depot and Lowe's, the coronavirus outbreak has prompted them to start looking for another job as soon as the market improves. Either they haven't been satisfied with the steps their employers have taken to protect employees, or they remain worried about getting infected by customers or fellow employees.
"The tools for us to stay safe are not there, the procedures for use to stay safe are not there," said the Texas-based Lowe's employee.