The slow death of the salaried retail job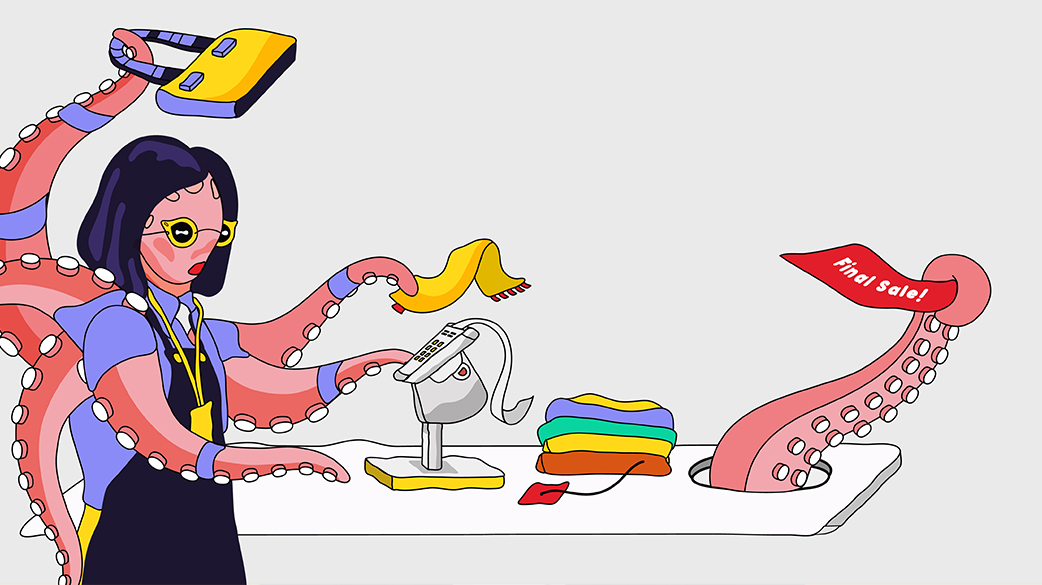 When Toys R Us closed all of its stores in June 2018, Maryjane Williams, an assistant manager at one of its Texas stores, swore that she was done with the retail industry.
Like many retail workers, she had not been able to properly celebrate Thanksgiving with her family in 20 years, thanks to Black Friday requirements. And Williams says her schedule was made even more demanding by the fact that she was one of the few salaried managers at her store. If an hourly employee missed a shift, she was responsible to cover for the person.
"When I became an assistant manager, I just kind of lost track of time," Williams says.
"If you walk up to the front of the store and see there's a line, you can't just walk out." 
When retailers seek to cut costs, salaried store employees can be the first ones to get the ax. Among those who do remain, many of them say that their job is becoming harder and the hours more unpredictable, according to five current or former salaried managers Modern Retail spoke with. 
"You can PR talk the hell out of cutting salaried positions as bloat and whatever, and a lot of your hourly [employees] aren't really going to complain too much because it wasn't them," says a full-time, hourly department supervisor at a Lowe's store in the Midwest who wished to not be named.
Madelyn Garcia, a former manager for a Toys R Us store in Florida, says it used to have a minimum of four to five salaried managers before the company went through a leveraged buyout in 2005. By the time her store closed in 2018, she was the only one left. She now is a leader for the retail workers advocacy group United for Respect.
"You go from opening the building, to counting the money, to running to the back" to unload shipments of merchandise, Garcia recalls about her days working as the store's sole salaried employee. "You are running back and forth constantly – if the cashier needs something, or the customer." 
On a seasonally adjusted basis, the retail industry has lost more than 31,000 jobs in the past year, according to the Department of Labor. Struggling brick-and-mortar chains are either closing stores or going out of business entirely. But even salaried workers at profitable retailers can't be sure their positions are safe. Today's big-box chains have to constantly find new ways to shave costs so they can set aside more money for remodeling stores, fulfilling online orders and raising wages for the employees who remain.
In May, Walmart announced that it was testing a new staff structure that would result in fewer salaried managers per store — but increased pay for its remaining hourly and salaried employees. 
Walmart has not yet decided if the new staffing plan will apply to all of its stores but a recent company statement notes that "more than 75% of our store management teams started as hourly associates, and more than 60% of our workforce is full-time," and adds, "We are proud to have promoted 265,000 people last year to jobs of greater responsibility and higher pay." 
The store management team at a big-box retailer typically consists of a salaried store manager and perhaps some co-managers, along with other salaried employees who each oversee a different area like the electronics or grocery department. At Walmart, this adds up to 13 to 15 salaried employees at a supercenter with 300 to 400 workers in total, a former employee estimates.
By shedding one salaried manager, who might make $48,000 to $75,000 a year, the chain could employ two or three additional hourly employees for 30 hours a week. (That's not taking into account the cost of health insurance and other benefits for salaried employees.)
But a retailer can't completely shed all of its salaried managers because these staffers are the ones who can pick up extra work without being paid overtime. And that's the biggest pain point for many salaried managers. They can never predict when that extra work will arrive, and any cuts to the salaried manager team increases the odds that they'll have to stay late to cover for a missing employee.
"There would be times where someone called [to take time] off, and so even though I came in at noon and I was scheduled until 10 p.m., I would end up staying there until 5 or 6 a.m., until the morning person came in," says a former Walmart assistant manager in Pennsylvania. He recently took a job at a smaller retail chain, where he hopes to find a better work-life balance since he doesn't oversee as large of a store. He, too, did not wish to be named. 
"You are seeing a lot of the salaried managers [who] are being overworked for companies like Target, Walmart and Lowe's looking for smaller box jobs, and they are getting filled up quick," he says. 
The Lowe's department supervisor sees a similar strain being placed on salaried assistant managers at his store. A recent job opening for a merchandising assistant store manager at a Lowe's in New York City describes that the job "requires morning, afternoon and evening availability any day of the week," even though the employee is generally scheduled to work only 48 hours over that stretch. (Lowe's did not respond to a request for comment).
This department supervisor formerly worked for Lowe's as an assistant store manager before losing that job in a round of layoffs in 2017. He estimates that during this period of layoffs, Lowe's cut about one to three assistant managers at each store. 
He eventually returned to the company as a department supervisor because Lowe's paid him more as an hourly employee compared to other retailers in the area.
"I'm absolutely terrified," he says, when asked if he's still happy working in retail. He foresees additional job cuts in the industry, as retailers seek to automate more in-store tasks. He has explored switching careers, he says, noting, however, that "a lot of the skills that retail offers are really not as transferable as people would like you to believe." And he can't afford to cut back on his hours to return to school.
 Other salaried managers stay in the retail business because they like talking to customers and don't like the idea of an office job. Even Williams, the former Toys R Us assistant manager, went back into retail. She is now an assistant manager for Party City, working alongside her former boss at Toys R Us.
Williams says she's happy with her current job, which pays her by the hour but is full-time. But she only has to look at the empty storefronts near her Party City worksite to be reminded of the industry's instability.
"You go by [stores] and it's like, 'closing sale, closing sale,'" Williams said. "Then you think, Where are all these people going to go for a job?'"