The office lunch has changed — and restaurants are losing out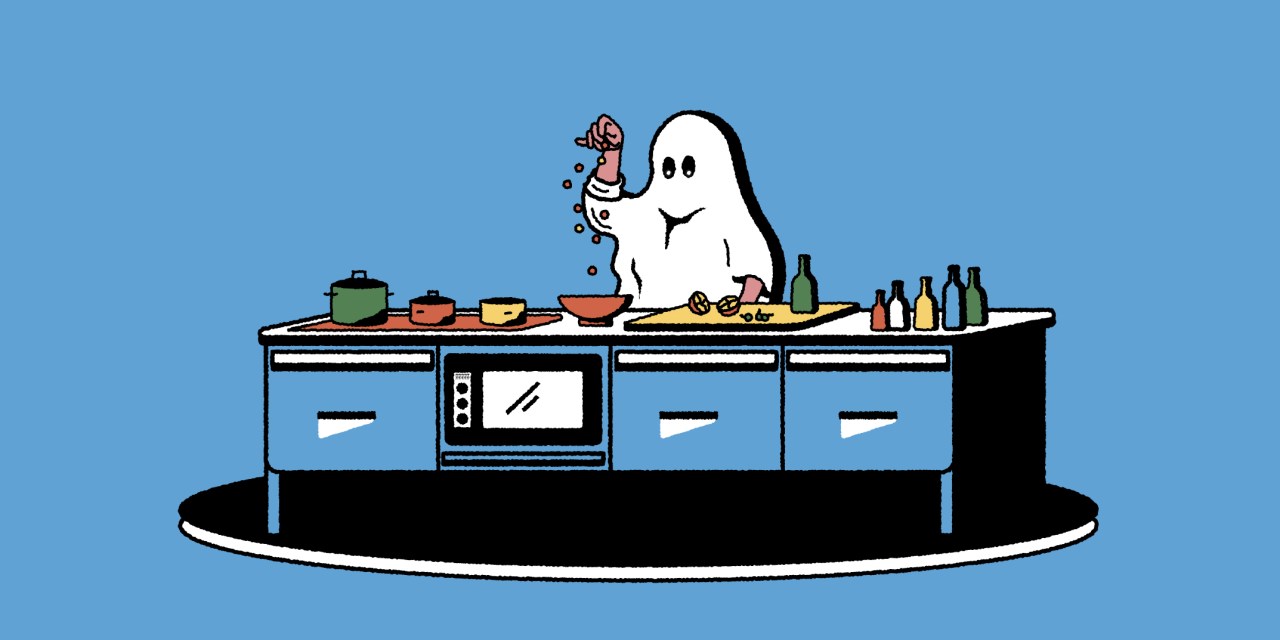 Kevin Kim, directed by Ivy Liu
Even as white-collar workers trickle back into corporate offices, work lunches might never be the same.
Restaurants are already finding the new lunch rush to be underwhelming. This month, a report from NPD Group concluded that, while lunchtime restaurant visits were up 4% year-over-year during the 12-month period ending in September 2021, those visits were still down 8% compared to the 12-month period ending in September 2019. Even by 2024, NPD predicted that the category would not reach the share of the lunch market it had claimed before the pandemic.
A major driver of that change is the fact that a large share of the workforce remains remote most of the week. A Gallup study from September pegged the share of full-time U.S. workers who were remote at least some of the week at 45%. That is ushering in a new paradigm for the work lunch. While restaurant lunch sales are slowing relative to pre-pandemic, customers are instead flocking to grocery stores and other retailers for home-cooked, packaged, and frozen meals — turning lunches into an increasingly supermarket-centric occasion. As a result, lunch-focused businesses are forging partnerships with retail stores in order to get in front of customers, and new players, like ghost kitchens, are trying to break into the market at a moment of upheaval.
Prior to the pandemic, said Darren Seifer, a food and beverage analyst at NPD Group, "about 72% of people's lunches were sourced from retail, so they basically got it from their pantry." The remaining 28% of lunches came from foodservice. During the first year of the pandemic, those numbers diverged: 78% of lunches came from retail, while foodservice fell to just 22% of the lunch market. 
The declining share of restaurants during the lunch rush might have been inevitable. Even prior to the pandemic, Seifer noted that restaurants have struggled to keep pace with retail in retaining the lunch crowd. "Restaurant traffic actually has not grown since the last recession," he said. "In 2019 we were going to restaurants just as much as we went in 2010." The pandemic just sped up that shift.
The new lunch paradigm
The pandemic might have created new habits that are changing how we eat our lunches.
"Many people are tired of cooking at home," said Anne-Marie Roerink, a principal and founder of the market research firm 210 Analytics. "It wasn't something we did at great levels before," she said, and now "convenience is making a very big comeback." 
Roerink pointed to the fact that deli sales at grocery stores are way up compared to 2019. Although the pandemic forced retailers to temporarily shutter their salad bars and prepared meals sections, many have since reopened, and customers are rushing to buy from them. According to data from the research firm IRI, "deli prepared" sales — a category that includes soups, salads, prepared meats and more — are up 13.1% compared to 2019 (and a whopping 18.7% compared to last year).
People seem to be embracing frozen foods for their lunches, too. While customers purchased both fresh foods and frozen foods from grocery stores at much higher rates during the pandemic, frozen foods saw the biggest jumps: its sales were up 21% in 2020, compared to 10% for fresh foods, and it has continued to surge as a category throughout 2021.  
Frozen food companies, Roerink said, "were the first to realize that the meal occasions are much more [fluid] now." Instead of a full meal from a quick-serve restaurant, "people may have a smoothie for lunch and a small meal or pizza as a snack" — giving frozen food makers a foothold into the lunch market. "I think frozen food will increasingly start to target the quick, healthy, convenient lunch from home as well," she said.
Even when consumers are eating their lunches outside of home, they are still sourcing those lunches from retail stores in high numbers — whether that's a grab-and-go meal, a homemade sandwich or leftovers from home. In recent quarters, "as consumers start to get a little bit more mobile, they're relying on their pantries just as often," Seifer said.  
A race to innovate
Grocery stores are jockeying to become the new destination for on-the-go meals. For convenience, these companies are increasingly investing in prepared meals that they can offer for delivery or pickup. Walmart and Kroger have each opened ghost kitchens in recent months, with the goal of selling a wider variety of prepared meals over an app.
Other ghost kitchen companies are partnering with a mix of office buildings and apartment buildings, believing they can reach people whether they're working in person or working from home. The ghost kitchen operator Zuul, which is now owned by Kitchen United, has forged partnerships with Silverstein Properties — which operates office properties in the World Trade Center, among other locations — to offer tenants discounted lunches. Kristen Barnett, then the COO of Zuul, told Modern Retail in April that "we're going to continue to see high adoption of delivery in an office environment," especially as more people return to offices. "I think we're going to see a shift in where delivery happens," she said.
Another challenger to the work-lunch paradigm are subscription work lunch startups like Fooda, MealPal and Ritual. These companies partner with big businesses and offer workers — as a perk — subscription meals at a discount. But they remain a small share of the overall work lunch industry. During the pandemic, subscription lunch startups began shifting their offerings less to typical office workers and more to manual laborers and healthcare workers who didn't have the option to work from home.  
How restaurants are pivoting
The rise of the supermarket lunch — and the lingering number of people working from home — is all generally bad news for restaurant chains that once centered their businesses around the office lunch rush.  
Sweetgreen reported in October that its same-store sales are up 21% year over year, but it is still not all the way back to pre-pandemic levels. Pret a Manger, another popular office lunch chain, said in September that it has achieved 80% of its pre-pandemic sales.
As a result, Pret has shifted its expansion plan to focus less on opening brick-and-mortar stores in city centers and more on building out its delivery infrastructure and expanding further into supermarkets. In the U.K., the company has tested opening up shop-in-shop stores inside the grocery chain Tesco, and it has also been selling self-service Pret coffee stations to existing retail stores, as a way to draw in customers who aren't in Pret's typical downtown locations. 
Pano Christou, the company's CEO, said that the pandemic showed the company that "more people want to experience Pret," whether those people are "customers outside of London and other big cities" or "new franchise partners who want to work with us here and overseas."
NPD Group's Seifer said that the restaurants who have most successfully retained their share of the lunch market have found ways to focus on consumers outside of the traditional downtown office. While restaurants located in office parks might not see pre-pandemic numbers for a long time, "the ones who did well this past year are the ones who were able to service people for the off-premise traffic, so whether they're doing carryout, whether they're doing delivery," he said. 
For these restaurants, "it's really about where are they, and where are they servicing the consumer."