The future of the DTC mall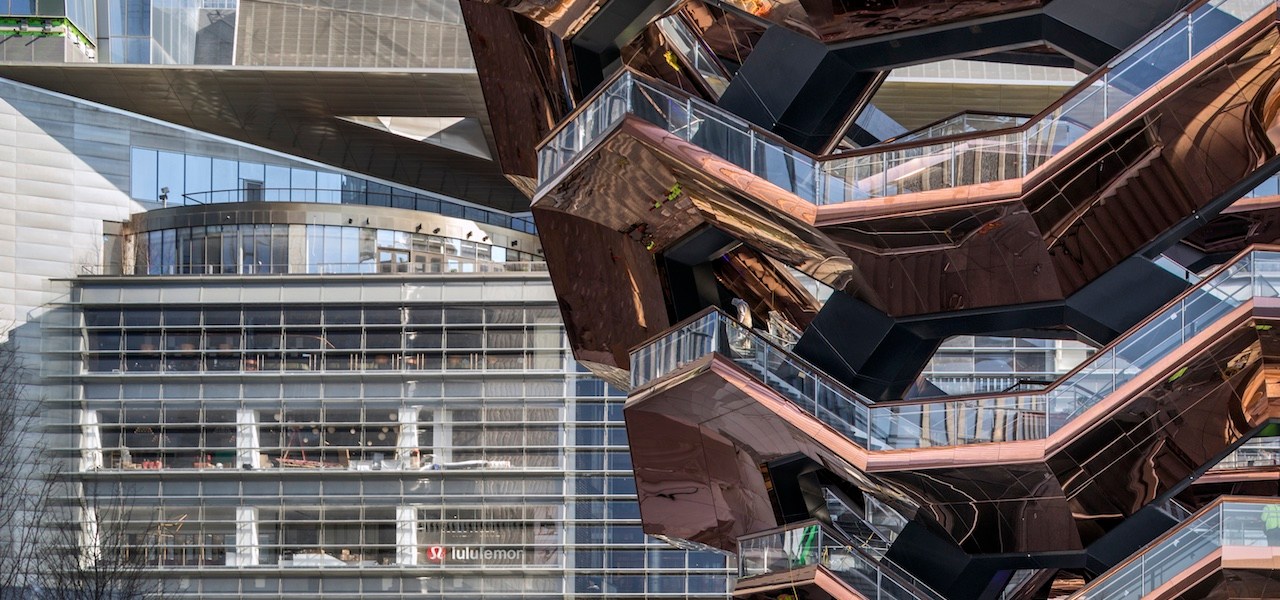 The openings of two new retail developments in New York City today indicate how the future of digital brands is taking shape in the shopping mall.
The retail and dining destination at Hudson Yards, where revolving art installations, restaurants, luxury outlets and larger-footprint stores, like Neiman Marcus's first New York City location, has its second story dedicated as a "Floor of Discovery," meant to drive visitors to startup brands that mostly exist only online.
The floor will storefronts from born-online brands like M.Gemi, Mack Weldon, b8ta, Rhone, Heidi Klein, Lovepop, Stance and Iris Nova, parent company of Dirty Lemon, which will be opening "The Drug Store," a cashierless drug store vending concept.
Other established brands, like Madewell, Muji and Uniqlo, will be experimenting with more experience-based store concepts in the retail space.
The 18-million-square-foot real estate development, open March 15 in New York City, is promising 65,000 visitors per day
Meanwhile, downtown in New York's Soho neighborhood, the new four-story retail store Showfields has partnered with Shopify to fill its retail space with online Shopify merchants.
Brands include Wild One, Hudson Wilder, Meso Goods, Coco and Breezy and Best Self Co.
Shopify, whose low-barrier e-commerce platform has contributed to the rise of the DTC brand boom, is now pushing into physical retail, acting as a backend bridge for online stores going offline for the first time.
Elsewhere in Showfields is a rotating selection of 30 startup brands in physical outposts, launching with Quip, Frank Body, PureWow and more.
The opening marks a new relationship between retail developers and brands. To get digital startup brands in the door — in many cases for their first permanent store, or at the first in New York — the real estate developers made accommodations. Leases were made to be more flexible to help the brands take on less risk, something that's becoming increasingly more commonplace as online brands eye physical spaces but bulge at 10-year agreements, a formerly standard lease term in retail real estate.
"Retail has needed to change, and brands that are popular online are forcing that change with temporary stores and leases that require flexibility. Landlords and developers are no longer in a place to turn that down, and if you need proof, look at Hudson Yards. The most massive retail development made adjustments to get digitally born brands on the floor," said Ken Morris, principal at consulting firm Boston Retail Partners. "They drive foot traffic, point blank. And malls need foot traffic."
In return, these brands get to have their storefronts do double-time as marketing efforts, getting their name and products in front of people who may not have seen them online, or needed real-life validation in order to shop them.
Expect to see these brands play a prominent role in the development of more high-profile retail destinations that are putting a modern spin on the shopping mall concept, or hoping to revive an existing mall's image. More is to come: TSX Broadway, an entertainment-shopping-dining development set to open in Times Square in 2021, will include 75,000 sq. ft. dedicated to retail space and a direct-to-consumer showcase meant to feature trendy Instagram brands IRL.
What all these new developments are trying to do is rebrand the mall, detaching it from the crusty department stores and Bath & Body Works that call to mind, instead prioritizing "interactive," "experiential" retail hubs. At the center of that strategy are the digital brands that have helped usher in new standards for retail experiences, and the new malls are popping up right as these brands are stalling for growth online and exploring offline strategies more seriously.
For existing mall developers, that's lighting a fire. Real estate developer Macerich has launched BrandBox, an in-house initiative to add retail space to Macerich-owned malls dedicated to offering a flexible and nimble backdrop for online brands.
"We wanted to get into the minds of digitally native brands. They're born online, and built their businesses off of digital media with great products, service, data and passion," said Kevin McKenzie, the evp and chief digital officer at Macerich. "We needed to get into that world, thinking about the store less as a traditional real estate play and more as an acquisition channel and a place to serve the customer."
—
Sign up for the Modern Retail Briefing to get retail news, analysis and insight delivered to your inbox every morning.