The coronavirus outbreak may mean a second chance for Blue Apron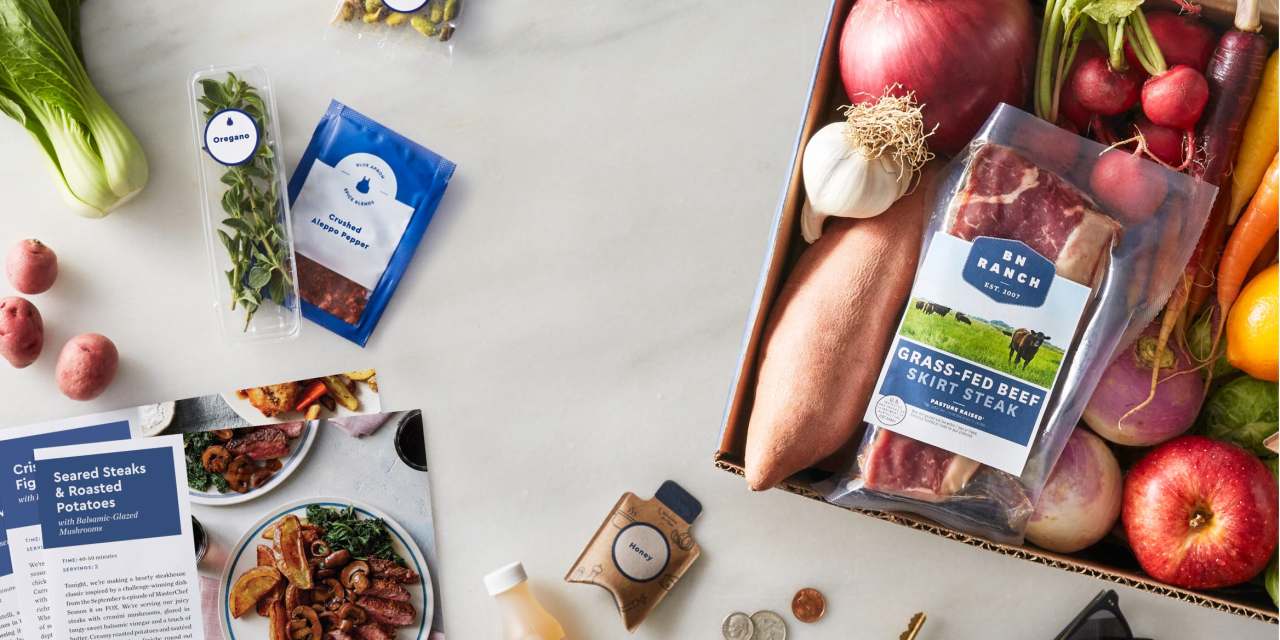 Image via Blue Apron
A scant two months ago, Blue Apron was on life support.
The meal kit company reported in February that it had 351,000 customers during the fourth quarter of 2019, down from more than a million at the height of its popularity, and has consistently failed to turn a profit in its nearly three years as a public company. CEO Linda Findley Kozlowski said at the time the company was considering a menu of strategic options including a sale and raising additional capital.
Now, it feels like a lifetime ago: In March, the company started seeing an unexpected uptick in demand, thanks to the coronavirus outbreak. And it looks like the pandemic may give the beleagured company a second shot.
As more people are stuck inside due to shelter in place orders, while others are hesitant about venturing out to crowded grocery stores, shoppers are starting to give meal kit companies like Blue Apron a second look. The company declined to make an executive available for an interview, but provided Modern Retail with a statement from Findley Kozlowski, which confirmed that the company has seen an uptick in demand, and that the company is "increasing our capacity for future orders and are working to fulfill this increased demand." That means hiring for 300 permanent and temporary positions at its New Jersey and California fulfillment centers.
"We're very focused on how do we actually serve more people right now, [but] we're not considering this a change to our strategy," Findley Kozlowski said during an interview with CNN this weekend. She said that Blue Apron was still considering the same strategic options than it was at the beginning of the year, adding that "this is a pandemic. This is not a business model."
Still, it's unclear if customers who are trying Blue Apron for the first time will remain subscribers once the pandemic is over. That answer depends on why these customers are trying out Blue Apron right now, what their experience is like over the next month or two, and what their needs are post-pandemic.
Meal kit companies like Blue Apron, as well as HelloFresh, Purple Carrot, and Sun Basket, all cater to slightly more affluent customers who like cooking, but either don't have the time to go grocery shopping, or don't want to come up with a recipe themselves. But during the coronavirus outbreak, that also includes people who either don't want to venture to a crowded grocery store, as well as those who want food delivered to them without having to come into contact with another person.
Darren Seifer, food and beverage analyst at NPD Group, said that his research has consistently shown that one of the biggest reasons barriers to more people use meal kit delivery services like Blue Apron is cost — many shoppers think they are too expensive. Blue Apron's cheapest delivery option is a subscription for four meals a week, that serve four people each, which works out to $7.49 per serving. But again, when people don't want to have to venture outside to get dinner during a pandemic, some of them may be more willing to pay a premium to get that food delivered to them.
Pre-pandemic, Blue Apron was also struggling with high customer acquisition costs, and a high churn rate while struggling to add new customers to replace the ones who left. Over the course of 2019, Blue Apron decreased its marketing spend in absolute dollars by  59% from 2018.
Findley Kozlowski said during the company's last earnings call that Blue Apron was spending more marketing money on video  continue to build brand recognition, as well as adding new subscription options geared towards people with different lifestyle and dietary restrictions like kits for carb-conscious customers, in order to recruit new customers. But, Blue Apron still lost $61.1. million in total over 2019, leaving it with less money to make brand building investments.
One risk to Blue Apron, and all other food delivery companies during this time is that the pandemic could cause supply chain disruptions, which could make it harder for them to deliver food to customers and could in turn result in a bad experience for new customers. Findley Kozlowski said during her interview with CNN that because Blue Apron hasn't seen any supply chain disruptions yet, because it rotates through different sets of supplies each week depending on recipe ingredients, so the company has access to all the food it needs to in order to fulfill orders.
Blue Apron did send an email to customers last week however, stating that due to the unexpected uptick in orders, the company had to temporarily discontinue some recipes, in order to send more meals more quickly. It also had to delay some orders.
Seifer said that Blue Apron may be able to continue to hold onto more new subscribers by taking more steps to make assembling meal kits even easier, like pre-cutting some vegetables or cutting down on the amount of packaging included in boxes.
"After this has subsided, and things start to go back to normal and grocery stores have more stock again, these meal kits need to ensure that they are showing their value to consumers," Seifer said.