Sustainability now, profits later: A look inside Allbirds' S-1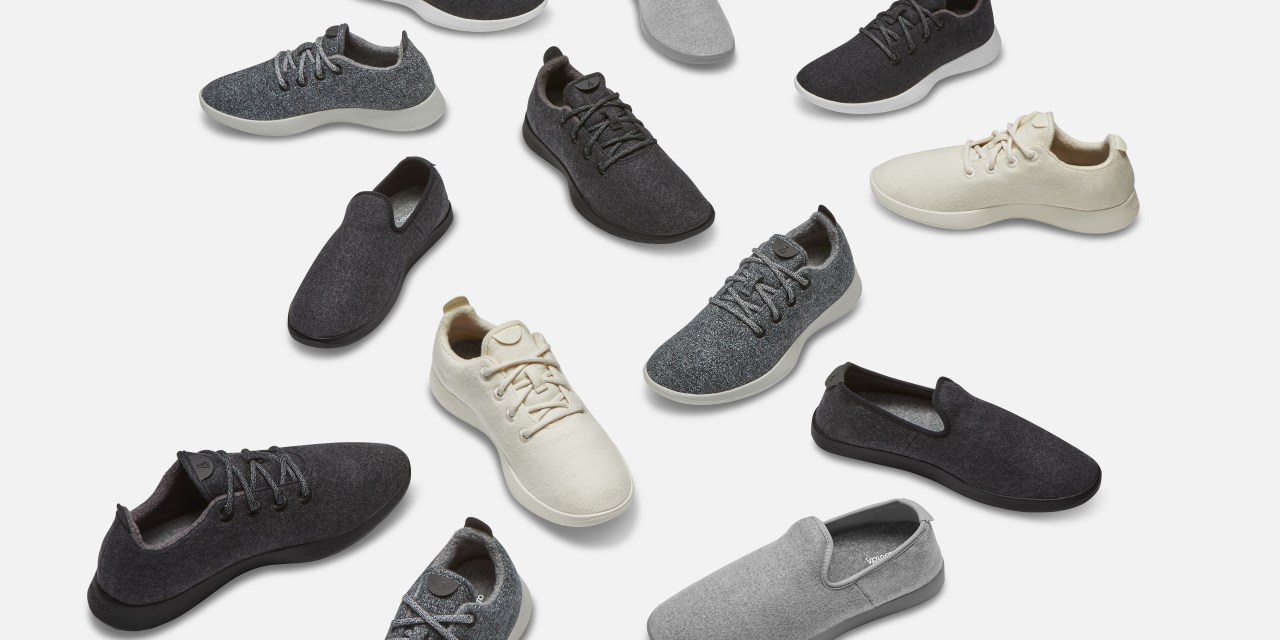 Image via Allbirds
This week, Allbirds filed its S-1 document ​​with the Securities and Exchange Commission as it prepares to go public. The San Francisco-based company will be listed on the Nasdaq Stock Market under the ticker "BIRD." 
Since its founding in 2015, the company has become known for its environmentally friendly sneakers. Recently, the direct-to-consumer brand ventured into apparel — this year it launched an activewear line to compete in a crowded market.
Allbirds is the latest DTC brand to go public. In May, medical scrubs Figs had its initial public offering after a strong revenue year. It also joins Warby Parker in preparing for a public listing following years of cash losses. As supply chain disruptions and digital marketing costs continue to increase, these companies are looking to raise money after years of losses.
Allbirds specifically is looking to set itself apart with the "first sustainable public equity offering," or an "SPO," the company wrote in its S-1 filing. The process, according to Allbirds, is set up with an investor-led advisory group that ensures it meets the minimum environmental, social and governance (ESG) criteria. According to the filing, this means its focus on being a sustainable and ethically-run company is a core component of its business model in the future.
But sustainability is only one component of Allbirds' overall growth plan. Below is a look into how Allbirds plans to execute this strategy as it strives to become a profitable business.
By the numbers
Allbirds has yet to record a profitable year. For its first half of 2021, the company — which most recently raised a $100 million Series E funding round in October — reported a 25% spike in net revenue compared to the previous year. However, it also recorded $21.1 million in net losses throughout that period, following a $14.53 million loss in 2019. Net revenue came to $219 million in 2020, up from $194 million in 2019. 
While it aims to become profitable, Allbirds warned that it may not do so in the near future. "Our commitment to tread lighter and have a large positive impact on all of our stakeholders requires financial discipline and a focus on profitable growth," the filing said, citing growth strategy and initiatives to improve future margins.
Customer retention, however, is one of the bright spots in Allbirds' S-1. The company said that 53% of its 2020 sales came from existing customers, up from 46% the previous year. And it pointed to its core values as a means to attract and grow its community,
Profitability is the biggest issue facing all DTC brands in the public market. Past digitally-native brands that struggled to turn a profit right away include Casper and Peloton. This cash burn issue, which is exacerbated by high customer acquisition costs and marketing expenses, continues to plague brands. While Allbirds didn't disclose these exact figures, it cited digital marketing as the main funnel for customer acquisition and growth.
A tumultuous bet on physical retail
Despite opening nearly 30 stores to date since the first one landed in 2017 — all are scattered across the U.S. and international markets — the majority of Allbirds' revenue still comes from e-commerce. In 2020, digital sales came in at $194.6 million, or 89%, of total sales. Only 11% of all merchandise sales came from its storefronts. 
Allbirds cited lockdown-related closures for the decline in its physical stores' activity last year. "Across all of 2020, our stores were closed for approximately 20% of the total number of days we expected to operate," the company said. Allbirds also said that the decision to pay retail employees during store closures also impacted the operating costs. 
For now, Allbirds' stores are still largely considered a marketing expense. "Our stores serve as an effective and profitable source of new customer acquisition, increase awareness of our brand, and drive traffic to our digital platform," the company said in its SEC filing.
But the company does believe the stores could become bigger profit drivers. Allbirds noted that in 2019, all its U.S. stores that were operating generated about $4.3 million in average unit volume (AUV) during their first 12 months of operation. For example, Allbirds' Boston Back Bay store "achieved standalone payback" within the first eight months. Furthermore, the company said that its physical locations helped increase customer spend 1.5X in those markets, compared to single-channel customers.
A focus on sustainability
As a sustainability-focused company, Allbirds is part of a growing crop of digitally native brands that place their mission at the center of the branding. Throughout its S-1 filing, Allbirds noted its B Corp status, which was obtained shortly after it launched. Other companies focused on sustainability that recently went public include The Honest Co. and oat milk maker Oatly. Meat alternative brand Impossible Foods is expected to follow suit in the coming year. 
For businesses that highlight these kinds of practices, greenwashing can become a major risk if customer begin to perceive that a brand isn't practicing what its marketing preaches. Allbirds said the perception of its products and practices among consumers is "a big factor" in its success. In the S-1, the company warned that if it's unable to continue on this path, its business would be harmed.
Dave Sharma, co-founder and CEO at fashion e-commerce platform Perfitly, explained that brands like Allbirds are aiming to reduce environmental damage in the fashion industry with innovative materials. "However, this has a long and uncertain lead before it starts yielding results," he said. 
This focus is also a big part of the company's customer acquisition strategy. Throughout the S-1 Allbirds boasted that its sustainability mission is at the center of the brand's community-building and marketing efforts. This strategy helped boost repeat purchases over the years, according to the company.
Still, Allbirds has grand plans to scale its supply chain in an environmentally friendly way. "Designing and creating innovative, sustainable materials is a challenging process for both our internal R&D teams as well as our supply chain partners," the company said in its SEC filing. Allbirds also said it has invested time and resources "to train our manufacturers to use our natural materials, which we believe makes it difficult to replicate our novel manufacturing processes at our product quality."