Quick-delivery grocery startups are taking over New York real estate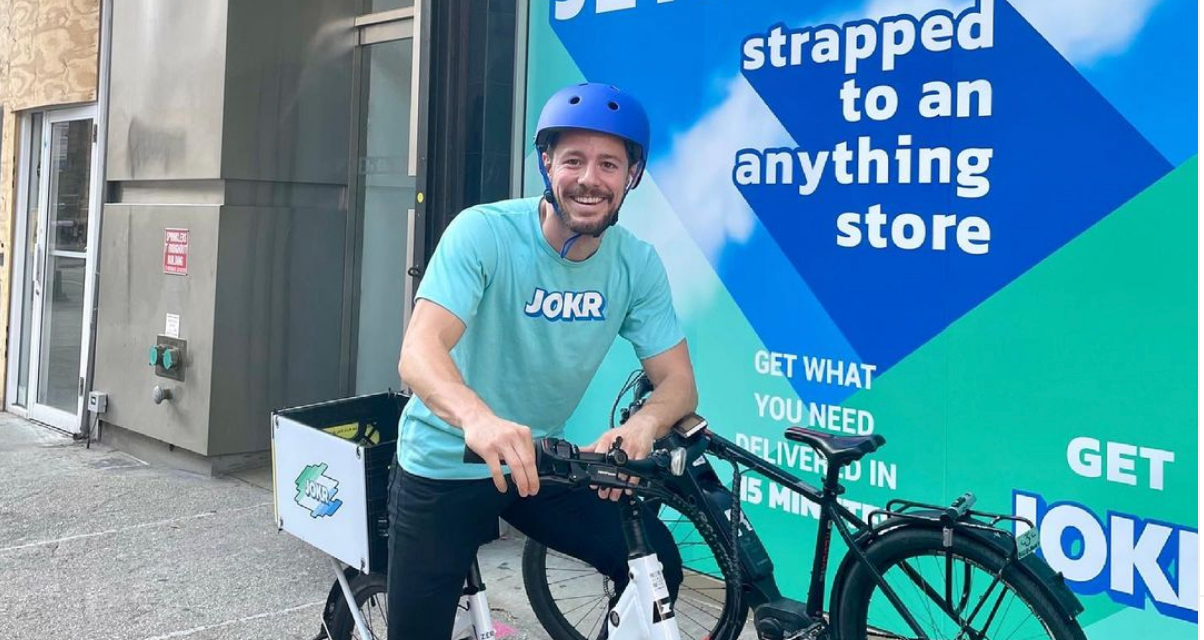 Jokr
In just a few months, quick-delivery grocery companies — companies that deliver groceries to customers in 15 minutes or less — like Gorillas, Jokr, Buyk, Fridge No More and others have become some of the best–funded startups in the grocery industry. As they race to expand, they are also, more subtly, changing the face of retail real estate in major cities.
In the U.S., this is especially prominent in New York City; almost every quick-delivery grocer — many of which got their start in Europe — has made the Big Apple its starting point for U.S. expansion. Executives at Jokr and Buyk told Modern Retail that they have signed around 20 leases each in New York. Gorillas, a German startup, has even said it will pause a larger U.S. expansion in order to focus on New York specifically. In the past few months, quick-delivery grocery companies have taken over dozens of retail leases in New York, and they're creating a new reality for the cityscape — a growing patchwork of retail storefronts that are not designed for customers.
"My guess right now is in the last 12 months they have probably secured somewhere in the neighborhood of 15 to 30 leases each," said Jason Richter, CEO of commercial real estate firm Capricorn Asset Management, who added that "it's quite possible that there's a minimum of 100" leases signed, in the aggregate, among all of the quick-delivery startups in New York City.
Business rents remain low in much of the city — new leasing rates were down 60% in the second quarter this year compared to the same period in 2019. And the quick-delivery companies are not afraid to gobble up real estate space that most other stores would have little interest in acquiring.
While these grocers want to be located toward the center of a neighborhood or busy populace, they don't need to draw heavy foot traffic to their stores — they can make use of hard-to-access retail spaces tucked away in side streets, since they don't need to bring customers inside. That makes for cheaper rents, and it also allows for delivery workers to more easily shuttle their bikes in and out of each location.
Richter, who has worked with some quick-delivery clients that he declined to name said that, in his experience, these companies are looking for simple, clean spaces with "very little column space." Existing cold storage infrastructure, like from a former deli or restaurant, is a plus. Ultimately, though, "the biggest drivers for me are one, location [and] two is the economics of the deal."
Where delivery services are signing leases
So far, the quick-delivery companies are taking over these spaces from a wide range of previous tenants. "We've taken spaces that are former banks, former mattress stores, former cell phone retailers, former gyms, former convenience stores," said Dennis Levene, vp of expansion at Jokr, a 15-minute grocer. He added that these spaces are "oftentimes vacant for many years" until Jokr snaps them up.
He said the company is not picky on the specifications of the space, as long as it's in the range of 2,000 to 5,000 square feet and in a location toward the center of a particular neighborhood, so that Jokr delivery bikers can more quickly reach customers. "The focus for us is away from the foot traffic and really maximizing the ability to serve the local community," he said. So far, he said, Jokr has 10 open locations in New York City, but he said, "we have at least double that either signed or in the pipeline."
1520, another quick-delivery company with 7 locations in New York and 2 in Chicago, has leased spaces previously occupied by Lululemon and Blue Apron, according to co-founder Musheg Saakyan. Gorillas, meanwhile, told Modern Retail that it has 11 locations (which it calls warehouses) in New York.
Tom DiTrani, vp of U.S. real estate at the quick grocer Buyk, said in an email to Modern Retail that Buyk has "close to 20 leases signed" in New York and has "aggressive targets set for the remainder of the year." He said Buyk has taken spaces from "a variety of former retailers, including those that filed bankruptcy in 2020 like New York & Company."
One thing the company considers often is bike storage. Though Buyk can store bikes inside, he said the company "prefer[s] to have an option to store them outside the space, which creates efficiency for our operations."
These grocery services, by nature of their businesses, have to constantly shuttle workers in and out of their storefronts in order to deliver groceries. If it's a busy building, that can potentially create bottlenecks for other tenants.
"I think what's going to be interesting with these brands as they come into focus, is they will likely present challenges in the retail context where you have delivery bicyclists just coming in and out of spaces that aren't necessarily designed for that," said Richter. "You constantly have 5-10 bicyclists sitting outside," and "it's just congestion on sidewalks etcetera that weren't designed for that kind of ingress and egress."
Yet quick-delivery grocers are also accelerating a change in what it means to own a retail storefront in a city. Especially since the pandemic, some former brick-and-mortar grocery retailers have already turned themselves into dark stores — grocery stores that prohibit walk-in customers, and are instead geared toward fulfilling delivery orders — and, in more industrialized areas, companies have opened up large ghost kitchens to deliver food to and from third-party delivery apps.
Because of how rapidly quick-delivery groceries are growing, that model is getting an extra boost; dark storefronts are becoming an increasingly common feature of major cities.
"I think it's a new reality," said Jokr's Levene, who said that, given how much the pandemic has boosted the popularity of online-only businesses, he expected more types of companies to embrace the model — which would mean more dark storefronts dotting cities and suburbs in the near future.