Prime Day made back-to-school shopping season come early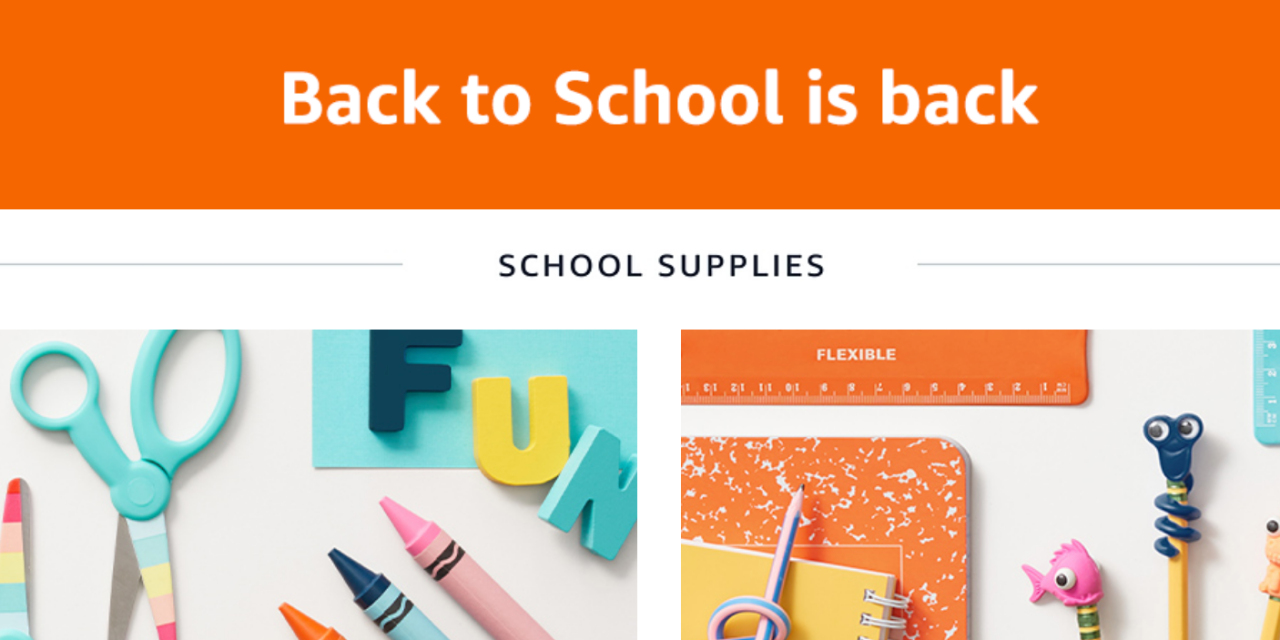 This year's back-to-school shopping season is poised to be longer and more lucrative than in years past, thanks in part to Amazon's earlier-than-usual Prime Day.
That is a relief for sellers, especially kid-friendly brands, that depend on the season for a bulk of their revenue. Because of the pandemic, some retailers reported that last year's back-to-school shopping season was slower than normal, with back-to-school spending was on track to decline 6.4% versus 2019, according to GlobalData Retail. That's led Target executives, for example, to say that the company is "planning for one of our biggest back-to-school and college seasons ever" during a recent earnings call.
Most analysts don't mark the beginning of the season until mid-July. According to one estimate, only 17.1% of back-to-school purchases typically happen in June, compared to 42.2% in August. But that didn't stop Amazon from displaying, on its main Prime Day deals page this week, a collection of back-to-school products under the label "School & College" products. The company also surfaced a "Back To School Deals" collection throughout the sales event.
The result is that, during Prime Day, Amazon self-reported that school supplies were a top seller, with the company announcing that it sold 600,000 backpacks, 1 million laptops, 240,000 notebooks, 40,000 calculators and 220,000 Crayola products in an email to reporters. That marks the kickoff of what analysts expect to be a long and spending-heavy season for kids-related products and supplies.
"This period of time is typically a very slow period for shopping demand," said Lauren Cooley, svp of retailer and brand solutions at RetailMeNot, referring to the stretch of time between Memorial Day and the usual mid-July start of the back-to-school season. But this year, she said, "I think the convergence of [statewide reopenings] and then overlaying the timing of Prime Day will make this a very important shopping time for merchants and consumers."
One major reason for the early ramp-up of back-to-school shopping is the explosion of consumer spending, especially in physical stores that customers had largely neglected over the past year. Steve Sadove, an analyst and senior advisor for Mastercard,  estimated that department stores — which saw declining visitor numbers even before the pandemic — will see a 25.3% increasing back-to-school sales compared to last year (versus 9.5% compared to 2019). Already, in May, department store sales were up 4.2% above 2019 levels. "As you've gotten into this reopening economy, you're seeing some really good performance out of the department stores," said Sadove. "The malls are actually performing better than people thought they would."   
Sales for many of the major product categories across all of retail are also up from 2019, according to his estimate — including a 78.2% spike for apparel sales compared to 2020 (and an 11.3% spike compared to 2019). Overall, Sadove estimated that retail sales during the upcoming season would grow 5.5% compared to 2020.
Prime Day might further spur interest in back-to-school shopping. Since its launch in 2015, Prime Day has become ever more tightly intertwined with the back-to-school shopping season. That was largely a dint of timing: because Prime Day regularly happened in mid-July, the event, as it grew, came to be seen as a kickoff for the season. But retailers began to rely on it. According to Cooley, "retailers indicated at 66% that Prime Day being moved last year had a negative impact on their company's back-to-school performance." This year, in the month before Prime Day, 92% of consumers told RetailMeNot that they would shop for back-to-school items at Prime Day.
While June might seem early to be buying school-related items, the timing of a year in lockdown — when fewer people were restocking or replacing items for their kids — meant that the need this year is more immediate than usual. "Because you were so distortedly low last year, with so much of the fall season, you're going to see a refresh relative to people who've worn the same clothes over the last year," said Sadove.
Sadove said he was expecting a similar phenomenon to last year's holiday season, when an October Prime Day helped fuel a protracted two months of shopping. "That became the kickoff to the holiday season," he said. That pattern also signals the power that Amazon wields over the retail space. Prime Day — and the competing sales events that retailers like Walmart and Target launch — has become so influential that it can accelerate an entire shopping season.
Retailers have also changed their tune. Kohl's CEO Michelle Gass said that the department store chain was "anticipating a more normal back-to-school season this year following last year's season that was materially impacted by the pandemic" during the company's first quarter earnings call. She also added that she thought the company would benefit during back-to-school season because of its wide apparel assortment. And though Walmart last year said back to school "is just slower than it would normally be," analysts have predicted that back-to-school shopping would also buoy Walmart's sales this summer.
That doesn't mean Prime Day alone has fully met expectations. While the event this year still saw year-over-year sales gains, Prime Day does seem to be losing some of its momentum compared to years past: According to one estimate, Prime Day sales grew just 7.6% compared to last year, ending a spree of double-digit year over year growth numbers for the shopping event.
That might be a disappointing figure, but the $11.19 billion in spending it represents is still enough to kickstart a shopping season like back-to-school.