P&G is investing in new categories and product innovation as Gillette falters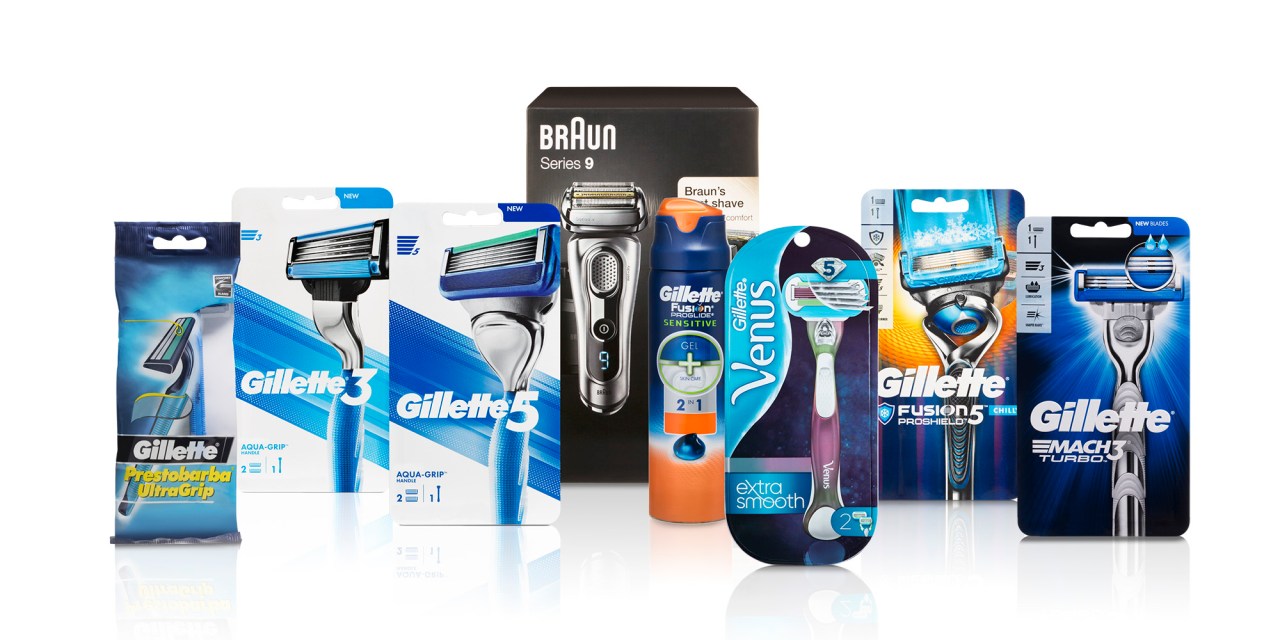 As its marquee shaving brand Gillette continues to lose market share, Procter & Gamble has instead turned its attention to developing new premium products in the shaving category, acquiring smaller digitally-native brands, as well as trying to stay ahead of consumer trends in other of its top product categories.
During its fiscal fourth quarter earnings report on Tuesday, P&G announced that it was writing down the value of its Gillette business by $8 billion. But, P&G still reported a net sales increase of 4% to $17.1 billion, driven by 10% organic sales increases in both its health care and home care categories.
P&G's challenges have been exemplified in recent year's by Gillette's struggles to fend off digitally native brands like Harry's and Dollar Shave Club. Neither Gillette nor the grooming category itself accounts for the bulk of P&G's sales, but Gillette had a lot to lose because it was the leading men's razor brand for decades. Research firm Euromonitor International estimates that Gillette had up to 70% of the men's global shaving market in 2010; now Euromonitor estimates that number fell to 47.3% in 2018. Procter & Gamble said in its 2018 annual report that it believes its share of the global blades and razors market — which includes sales from both Gillette and other brands like Venus and Fusion — to be 65%.
Like competitor Unilever, P&G is trying to expand its share in the premium markets of some of its strongest categories, like beauty and shaving. It's also not hedging all of its bets on acquiring innovation through startups, trying to both acquire digitally native brands while coming up with a process to launch new brands more quickly in-house.
Dipanjan Chatterjee, vice president and principal analyst at Forrester Research, wrote in an email that P&G's previous advantage was familiarity — its most recognizable brands have been around for decades, and P&G itself was founded in 1837.
"You don't think twice before you put Tide in your shopping cart, and that's extremely potent for brand loyalty," Chatterjee wrote. "However, when you've had that much time under your belt, the cultural relevance of the brands can begin to fray."
Meanwhile, Dollar Shave Club and Harry's saw an opportunity to erode the advantage had P&G through name recognition by selling razors direct-to-consumer or through a subscription model. That way, they could avoid the retail markup and get razors to customers without them having to visit a store.
In the shaving category, while P&G has tried to compete with Dollar Shave Club head on — in 2017, it launched a subscription service called Gillette On Demand — its focus over the past year and half has been instead to find other white spaces in the market. In 2018, it launched a new standalone brand called Gillette Labs, which is targeting the luxury market. In April, Gillette Labs released its first product, a $200 razor that debuted in the P&G-owned Art of Shaving. At the end of last year, P&G acquired Walker & Company, the creator of the Bevel line of razor blades, which were designed for men of color.
P&G has also experimented with other tactics previously emulated by other online-only brands — in April, it debuted a new brightly colored women's razor called Joy, which drew comparisons to brands like Billie's and Flamingo for its branding, and decided to first sell it exclusively through Walmart.
"They are definitely investing more in a personalized shaving experience," said Andrew Stablein, research associate at Euromonitor International.
Digiday previously reported that P&G is looking to acquire more direct-to-consumer brands, to tap into their organic followings. P&G's last reported acquisition was in February, when it announced that it was buying feminine care brand This is L, reportedly for $100 million.
P&G isn't solely looking to acquisitions, however, to launch more innovative brands, and in 2015 launched its own startup studio called P&G Ventures. P&G Ventures came out with its first product earlier this spring, a pest control spray called Zevo that P&G claims is safer to use around kids and pets. The Wall Street Journal previously reported that P&G Ventures has a team of 20, and is focused on developing products in new categories that P&G hasn't entered before.
"We had to change the culture internally," Leigh Radford, general manager of the P&G Ventures unit told the Journal. "It is about taking the complexity out of the decision-making process — a decision should not take more than 24 hours."
"When I look at P&G I see them focused on executing for today — trying to simplify their portfolio, be a little bit faster — but I also see them as leaning into future trends," Robin Sherk, director of consumer and retail research for CB Insights said. Sherk said that P&G seems in particular to be interested in developing products that cater to consumers interested in environmentally-friendly or natural products. Last February, P&G released a line of diapers called Pampers Pure, which are fragrance, lotion and paraben-free, and in March released a line of plant-based cleaning products called Home Made Simple.
But with many of these younger lines still only accounting for only a small portion of P&G's business, the company can't afford another Gillette-sized mistake from one of its more incumbent brands. Thanks to the Gillette write down, P&G reported a net loss of $5.24 billion, compared to net income of $1.89 billion during the same period the year before.
"What P&G does best is to scale," Chatterjee wrote. "Will these digital upstarts survive the old warhorses of Cincinnati? We'll have to give it some more time."
---
Help us learn more about you and your job. Take our short audience survey now for a chance to win a $25 Amazon gift card.