Nike's sales growth slowed during the third quarter due to supply chain challenges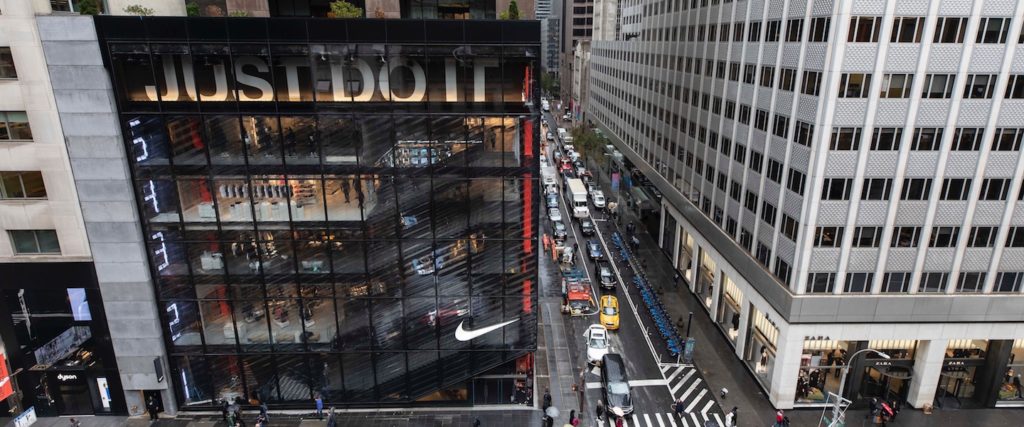 Nike has managed to fend off significant sales losses during the pandemic, but that doesn't mean it's been immune from any headwinds.
The company reported during its fiscal third quarter earnings today that net revenue hit $10.4 billion, up 3% year-over-year, while e-commerce sales were up 59% year-over-year. However, that represents a slowdown compared to 9% revenue growth and 84% e-commerce growth during its second quarter. The company said the most significant sales declines came from Europe and North America. Nike's net income however was $1.4 billion, up 71% year-over-year.
During the pandemic, Nike has fared better than many of its competitors, reporting either a slight sales increase or single-digit decrease most months, thanks to its strong e-commerce sales. However, as its latest earnings report shows, it hasn't been enough to completely fend off broader challenges, such as delays at U.S. ports and some European countries reissuing stay-at-home orders due to rising coronavirus cases.
"Nike's brand momentum is as strong as ever and we are driving focused growth against our largest opportunities, chief financial officer Matt Friend said in a press release announcing the company's financial results. "We continue to see the value of a more direct, digitally-enabled strategy, fueling even greater potential for Nike over the long term."
Nike reported that in North America revenue was down 10% year-over-year, blaming the decline on "supply chain challenges, including global container shortages and U.S. port congestion." According to the press release, these challenges delayed the flow of inventory in the third quarter by more than three weeks, delaying some wholesale shipments.
Supply chain issues — and specifically delays at California ports — have been widely reported amongst retailers over the past few months. There's been a backlog of retailers rushing to get their products from their factories into U.S. ports, and it's an issue that may not get cleared for months. What that means is either retailers have to wait longer for their products to get into the country — and risk losing sales — or pay more for expedited delivery options like air freight. Peloton executives, for example, said during the company's latest earnings call in February that its products "have been held at port for upwards of five times longer than usual," and that it was spending $100 million over the next six months to expedite shipping times.
Over the past few years, Nike has been on a quest to drive more sales to its own stores and website, as well as to selectively cull down its list of wholesale partners. In order to do so, it's tried to get more people to download its family of apps, including its Nike Run Club and Nike Train Club working app, as well as its main shopping app. Through the first three quarters of this fiscal year, Nike's direct business has done $12 billion in sales.
Not only does directing more shoppers to its website and stores allow Nike to take a better cut of sales, it also allows the company to have greater control over its own inventory. Now, it appears that taking greater control over its own inventory will continue to be a greater focus for the company going forward, even with its wholesale partners. Foot Locker announced during its earnings call at the beginning of March, for example, that it was piloting a new dropship program with Nike — meaning that Nike, not Foot Locker, will be responsible for shipping the products to customers.
As one of the biggest vendor partners for many major retailers, Nike has room to experiment where other brands may not. "The thing with Nike is that in the end, they are one of the few brands — Apple's another — where their retail partners arguably need them more than they need their retail partners," said Bryan Gildenberg, svp of commerce at Omnicom Consulting Group.
The headline of this story has been updated to reflect that Nike reported its third quarter, not fourth quarter earnings today.