Nike is leaning on digital goods as supply chain challenges slow growth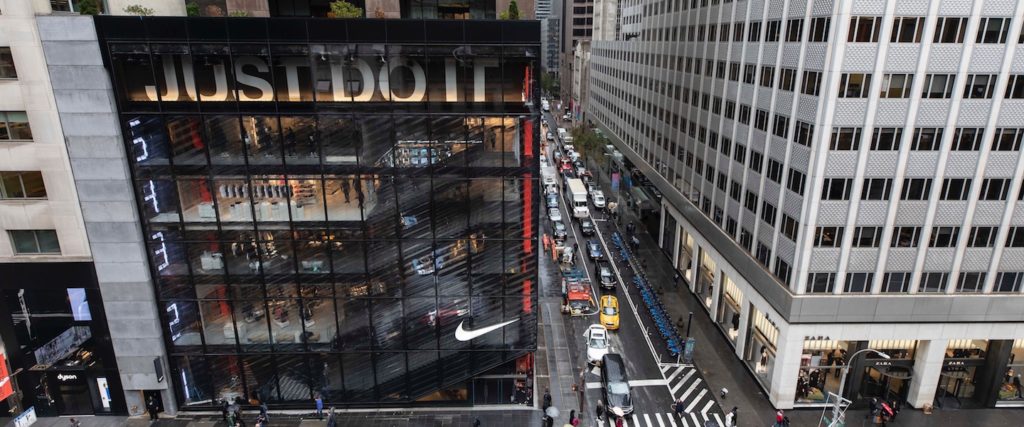 During Nike's second-quarter fiscal earnings report, executives acknowledged that ongoing supply chain challenges were hurting the company's ability to grow sales in the short term. But in 2022, the footwear and apparel retailer has its eye on growing consumer loyalty and digital sales, potentially with the help of NFTs.
During the company's first-quarter earnings call in September, executives said that they would lower Nike's full-year outlook, projecting that full-year sales would grow at a mid-single-digit pace, due to supply chain challenges. In addition to the congestion at the ports that every brand has to grapple with, much of Nike's manufacturing is done in Vietnam, where factories have struggled to stay open and recruit enough workers due to coronavirus waves throughout the year.
Amid continued supply chain bottlenecks, Nike is now going beyond physical goods: It is focusing on investing in its digital business, most recently with the acquisition of RTFKT (pronounced "artifact") a digital studio that has collaborated with artists on drops, many of which include the sale of both physical goods as well as NFTs. "As we navigate through short-term supply challenges, are focused on executing our Consumer Direct Acceleration strategy to fuel our long-term financial outlook," executive vice president and chief financial officer Matt Friend said in a statement published alongside Nike's second-quarter earnings release.
Nike's revenue grew 1% year-over-year during the second quarter, to $11.4 billion. However, inventories were up 7% year-over-year, "driven by elevated in-transit inventories due to extended lead times from ongoing supply chain disruptions," according to Nike's press release.
In this most recent earnings release, Nike pointed to the fact that its direct business — which includes both its website and its own stores  — grew revenue 9% year-over-year as signs that is still an in-demand brand, and can still grow sales in spite of supply chain issues. In total, Nike's direct business generated sales of $4.7 billion during the second quarter. The company's profit for the quarter was $1.3 billion, up 7% year-over-year.
"[Nike] is a very coveted brand," said Jessica Ramirez, retail research analyst at Jane Hali & Associates. She said while Nike is a brand that is known for driving hype and scarcity through product drops, in a way the company is driving demand through "accidental limited product at the moment because of supply chain issues."
Over the past several years, Nike has been investing more in its digital business, trying to get more users to download its Nike+ app as well as its sneaker drops app.
To that end, earlier this month Nike announced that it had acquired RTFKT, though the company hasn't yet disclosed specifically what it wants to do with the studio, beyond plans to "invest in the RTFKT brand." RTFKT specializes in virtual product drops and NFTs, which are essentially digital works of art that can be traded on the blockchain.
"This acquisition is another step that accelerates Nike's digital transformation and allows us to serve athletes and creators at the intersection of sport, creativity, gaming and culture," Nike President and CEO John Donahoe said in a statement at the time announcing the acquisition.
Oliver Dore, partner at digital product agency Work and Co said that there are a number of ways RTFKT could fit into Nike's business.
"I think leveraging blockchain technology to be able to verify authenticity and provenance is going to be an increasingly important part of Nike's brand moving forward," said Dore, whose agency has previously worked with Nike, as well as other larger brands like IKEA and Etsy. He also added that Nike could use RTFKT to do NFT-related drops for loyalty program members. Competitor Adidas did just that earlier this week, partnering on an NFT project with Bored Ape Yacht Club, gmoney and Punks Comics. Adidas sold $22 million worth of NFTs in a matter of hours, with first access going to holders of the NFT groups Adidas worked with, among other stakeholders.
Other retailers like Macy's have dabbled in releasing their own NFTs, Nike is the first major retailer to acquire a company in the NFT space. It could be a sign that NFTs and virtual product drops could become a more important part of retailers' digital strategies going forward.
"Up until now I think the NFT space, particularly around collectibles, has felt a bit more niche in terms of community and opportunity," said Dore. "I think Nike's acquisition of RTFTK is a commitment to a lot of promise in that space."