More brands are hitting the road this summer with traveling showrooms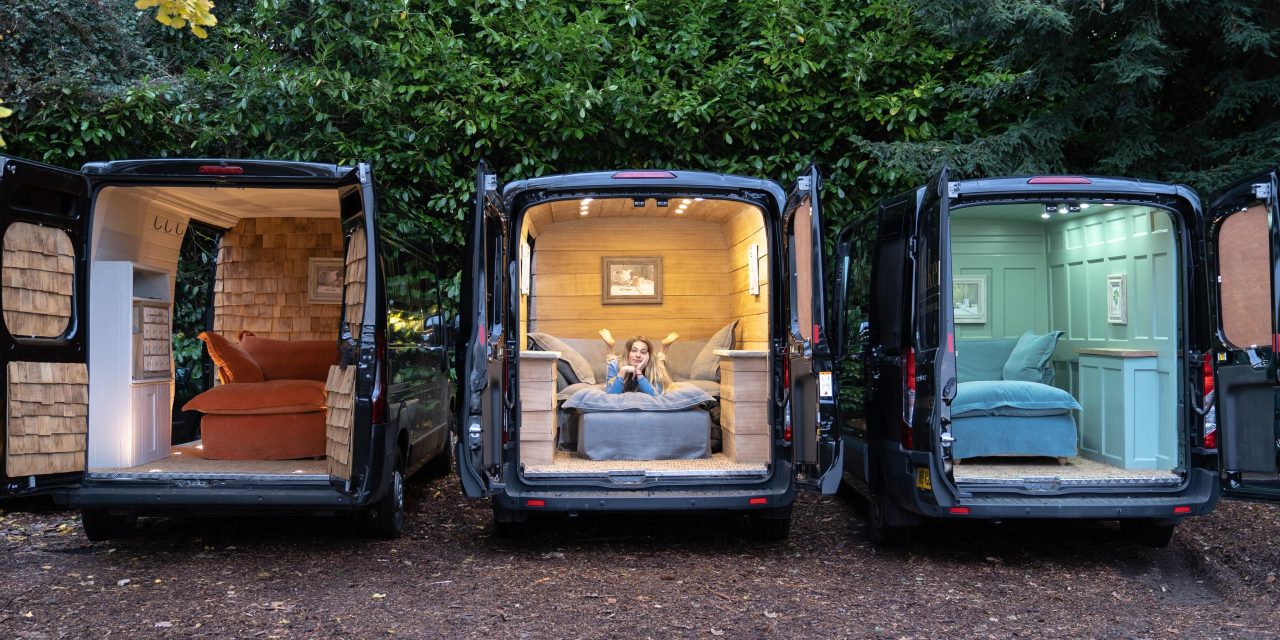 Image via Maker&Son
In 2020, many showrooms and popups took a pause, and began coming back gradually this year. Now, brands are ready to bring back physical showrooms by hitting the road. 
Brands have experimented with mobile pop-ups before the pandemic. In 2018, for example, Bonobos traveled to different college campuses using a tricked out airstream, designed to help soon-to-be graduates pick out a professional wardrobe. And for the past few years, eyewear brand Krewe has also been selling its sunglasses out of mobile Tiny Houses. 
Traveling showrooms are gaining popularity as startups are still trying to figure out whether or not it makes sense to reinvest in stores again, after a year of historical e-commerce sales during the pandemic. While pop-ups situated in showrooms also offer brands another avenue to test the waters of physical retail, typically these showrooms need months to build and can be costly to brands. Having a mobile version is one way to potentially garner brand awareness more quickly, while also affording brands a chance to visit multiple locations.
The concept consists of quite literally traveling the country with products for consumers and potential retail buyers to experience. In June, fashion brand Cuyana unveiled its showroom — called Cuyana In Motion — in collaboration with Toyota's Toyota Agile Space (TAS) program. "Our goal is to reimagine shopping in the post-pandemic era," Cuyana co-founder Shilpa Shah said in an emailed statement. "And bring the Cuyana brand with our fewer, better philosophy directly to our sustainability-minded customers."
Cuyana in Motion will allow the brand to travel to retail spaces in different parts of the country, and take advantage of unused space in shopping centers. The mobility also lets the company — which has permanent standalone stores — test out and learn about foot traffic patterns and locations. The shop's first and current stop is at the shopping center Platform in Culver City, and will run through July 25. Following that, throughout this summer and fall, the showroom will travel to several West Coast malls, including Americana Glendale and Newport Beach's Fashion Island. The boutique features a curated selection of Cuyana's best-selling pieces, and offers customers the ability to shop and have items shipped directly to them.
Launching mobile pop-ups out of necessity
U.K.-based furniture brand Maker&Son has had mobile showrooms — which the company drives to customers' homes — since 2018, said co-founder Alex Willcock. The idea began when co-founder Felix Conran drove a sofa to a potential customer near the company's West Sussex, England office. The company currently has a fleet of customer-focused mobile showrooms in the U.K., Ireland and Australia — with plans to roll them out across the U.S. by fall 2021. 
For an upstart brand, the mobile showroom gives Maker&Son an advantage to reach physical customers beyond their New York City showroom. "Because we're a digitally-native brand, being able to arrive at someone's home gives an extra personal touch to the experience," said Willcock. He explained that each showroom van is big enough to carry a Maker&Son armchair or loveseat to a customer's door, "but also small enough to visit you at your home or workplace."
The team also brings large fabric swatches and can take some measurements of rooms to help plan the layout of furniture. It also acts as a differentiator, Willcock said. Willcock believes the mobile showroom has staying power. "We had our mobile showrooms long before the pandemic, and they've become intrinsic to the Maker&Son brand," he concluded.
B-to-B vendors are also taking up the concept as a branding tool. Last year Britt Forrester, owner of Nashville-based textile showroom The Lot, decided to brand her sales operation with a traveling van. "It was also out of necessity because I didn't have funding for a brick and mortar showroom," she said. 
The Lot's fabric-covered van, she said, has become a "recognizable calling card" for buyers or interested fabric customers, like quilters and designers. The business, which Forrester started shortly before the pandemic, was able to continue operating when many textile showrooms were forced to shut down. "We were able to pull up and set up folding chairs and a table for an outdoor meeting with buyers," Forrester said.
There are pros and cons of operating a traveling pop-up. While it allows brands to visit more places quickly, the downside is that inventory space is limited. What's more, it involves habitually setting up and breaking down fixtures and merchandising in a tight time frame, said Emily Schildt, founder and CEO of Pop Up Grocer — a traveling showroom that focuses on emerging snack and beverage brands. While Pop Up Grocer operates out of traditional retail spaces, it is traveling in the sense that it changes locations roughly every 30 days. 
"We can collect valuable insights and data from each location, and our temporary existence creates anticipation and excitement," Schildt said, but also admitted that while it may be less expensive than opening permanent locations, "from a logistical standpoint, it is also hard work." 
Still, brands that operate mobile showrooms, like Maker&Sons, argue that the differentiation factor is worth the investment. "It's an opportunity to meet customers face-to-face without permanent stores," Conran said.