Marriott is preparing for the return of travel with a new Pinterest partnership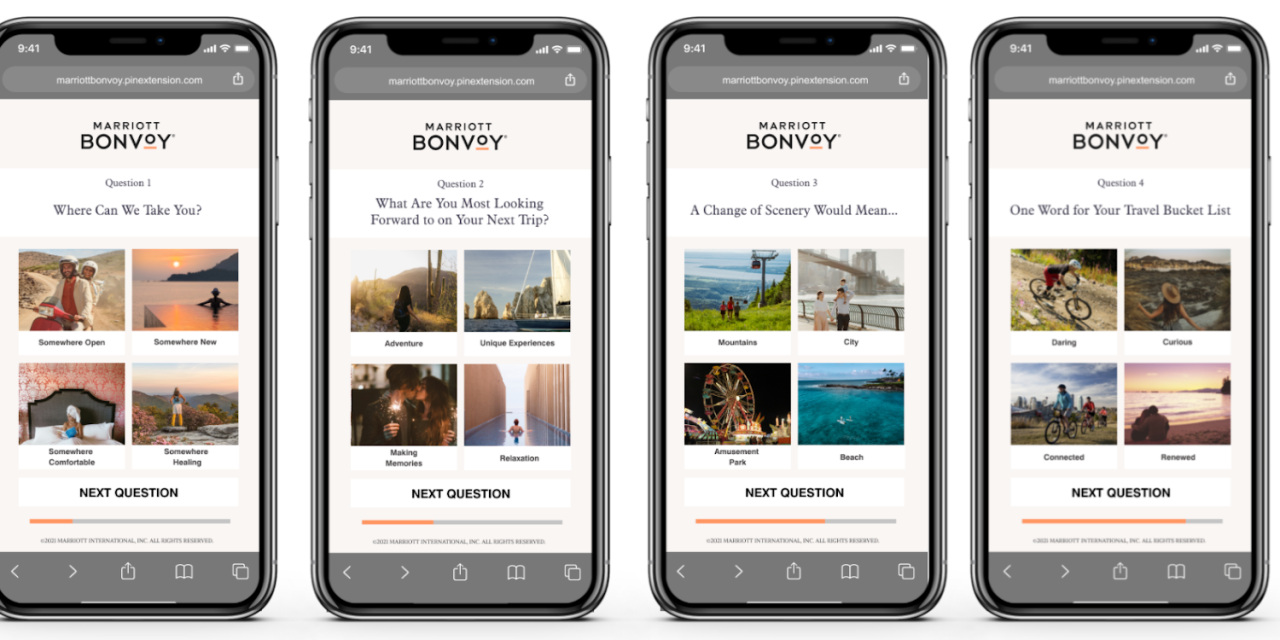 Hotel chain Marriott Bonvoy is pursuing a post-coronavirus leisure traveler in its biggest advertising campaign yet.
On Tuesday, Marriott Bonvoy and Pinterest teamed up for the latest activation in Marriott's broader "The Power of Travel" campaign, a multiplatform investment across streaming platforms like HBO Max, Amazon Fire and Disney+, social platforms like TikTok and Pinterest and even gaming platforms like Twitch. Marriott is hoping to capture consumers in their return to post-pandemic travel – air travel is pacing closer to pre-Covid 2019 levels and many countries are ending pandemic restrictions. Marriott is the latest travel brand to ramp up marketing spend as more people return to airports and train stations — luggage brand Away recently took out an advertisement in the New York Times ahead of the Fourth of July, encouraging more people to travel outside of the country.
However, with its latest campaign, Marriott Bonvoy is still having to adapt to a new travel landscape. With its new campaign, the company is moving away from its traditional business-traveler consumers and instead shifting platform spend to appeal to younger and leisure-focused travelers.
Marriott Bonvoy and Pinterest worked together to created out-of-home digital billboards highlighting Pinterest's travel data in two Soho storefronts, as well as a four-question in-app quiz that guides would-be travelers to their dream trip. The billboards display real-time travel data from the social media hub highlighting what travel terms people are searching for, as well as a QR code that leads consumers to the quiz on Pinterest's mobile app. This partnership was the first to use Pinterest's technology in an out-of-home placement.
"Seventy-nine percent of people are using Pinterest when actively considering their travel decisions, but they're undecided," said Ashish Arya, Pinterest's global head of strategy and marketing for travel. "People on Pinterest are in this travel planning mindset, [but] they haven't yet decided on the exact choices — the destination, the brand, or the experience — and they're still open-minded to be introduced to those offerings. This makes the perfect spot for brands like Marriott to be presented to pinners."
Tapping into these consumers is just one step of Marriott's "biggest" ad campaign — the brand declined to share specific spend — and a push towards a leisure consumer, said Nicolette Harper, vice president of global marketing and media at Marriott International.
"Business travelers [were] really the core of our business, [but] right now it's more about leisure travelers," said Harper. We've always had amazing hotels to deliver on the leisure, but we really never focused… on making sure the right messages and the right creative [were] speaking to that."
Over the past two months, Marriott has invested in digital media — from shoppable CTV on Hulu Gateway Go to a 27-influencer-large campaign on TikTok meant to spark other users to share their favorite travel memories to a native screen takeover showcasing Marriott Bonvoy properties on Amazon Fire TV, a first for the platform. Going forward, the hospitality group will enter gaming, both in in-game ads and through a partnership with Twitch. Marriott's approach, Harper said, is to come up with new creative for each platform.
"When you build specific creative for an environment, it doesn't feel forced," said Harper. "It doesn't feel like you just took your TV commercial and cut it down and forced it into a platform. And as other [traditional] ads may not, it's invites you in because you listened to the consumers, and you know how they consume media in that channel and you build it around that."
These platforms are also particularly useful for tapping younger consumers. Pinterest, for example, reaches 50% of Gen Z, according to Arya. Gen Z and Millennials also have the largest number of TV streaming subscriptions and make up the biggest audience on Twitch.
Like Marriott, other travel brands are recognizing that, while 2021 consumers may begin to travel in pre-pandemic numbers, they are looking for different things in their travel experiences and using different platforms to plan their travel.
Travel booking site Expedia invested "the largest marketing spend in five years" to support its app and loyalty program relaunch and its new branding of "companionship," according to a press release. Expedia's senior vice president and GM Shiv Singh emphasized that consumers, "now more than ever need to feel supported." Hotels are embracing post-Covid consumers' tendency towards "slow travel," offering discounts for the longer stays consumers are showing preferences for. Alaska Airlines is appealing to both Gen Z and Boomers at the same time recreating a hype house for Boomers to hang out in Palm Springs and create TikTok content.
Now as new consumers begin traveling, said Harper, is the time to innovate.
"This new global campaign really arrives at a time where many around the world are really recognizing that travel is actually a primal need… after being isolated from friends, from family, from the rest of the world," said Harper. "All the data showed that now's the time and we feel really good about the moment."