Madewell launches its first mobile app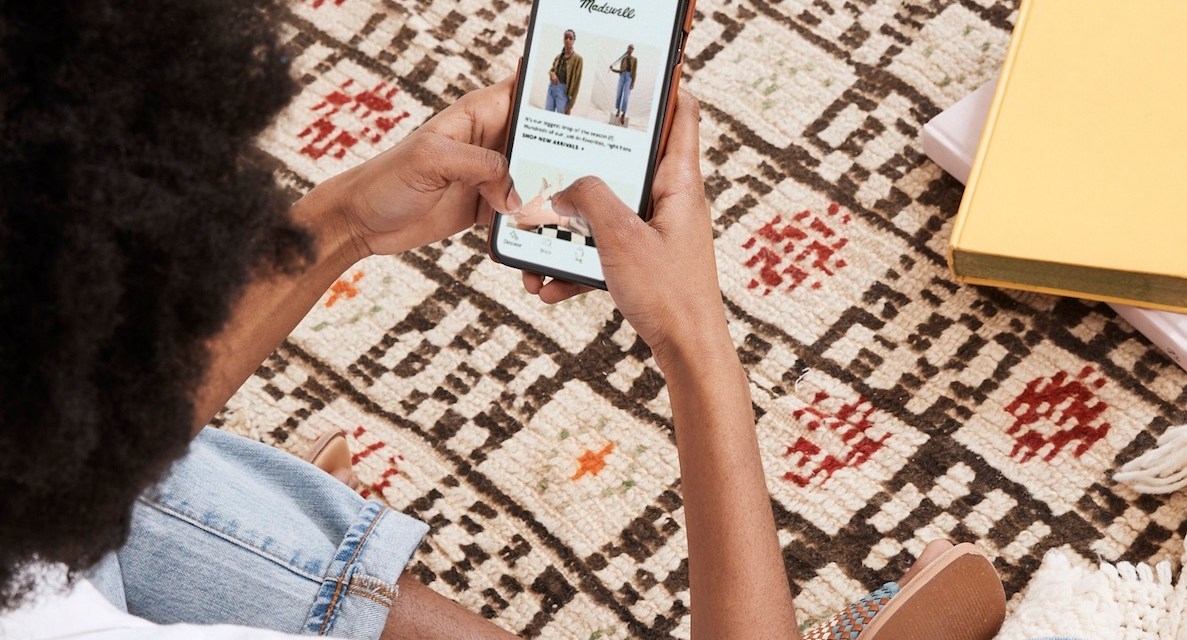 J.Crew-owned apparel brand Madewell is launching its first mobile app, aimed squarely at getting more out of its loyalty program members.
Madewell is first making the app available to members of its loyalty program, called Madewell Insiders, today. All other users will be able to download the app starting tomorrow. Madewell started developing the app last fall, after seeing a spike in mobile traffic during the pandemic, according to Chris Maliwat, vice president, head of digital and consumer experience at J.Crew. The app will allow people to more easily track their loyalty program points, and eventually see what inventory is available at their local store.
Madewell is late to the mobile app game compared to other brick-and-mortar women's apparel retailers — Nordstrom and Urban Outfitters, Inc. have had them for years. But Maliwat said that the denim-focused brand decided now was the time to launch a mobile app because it felt like it could be a useful tool for its loyalty program members, particularly as they started using more location-specific services like buy online, pickup in-store during the coronavirus pandemic. Longterm, Maliwat said that Madewell's app strategy is to make it "easier and faster for [loyalty members] to access the goods that we think she wants to browse."
"There were a lot of other retailers that started with an app, and along the way changed their strategies…making it less about [customer] acquisition and really figuring out how to make a differentiated experience," said Maliwat. "We are entering this space I think with full knowledge of that." 
Marc Maleh, managing director of technology at digital agency and design firm Huge, said that in the early days of Apple's app store, retailers' mobile app strategies was essentially, "everyone is on these platforms, we need to create an app now." But now that nearly every brand and retailer has their own mobile app, he said that the bar has gotten higher in terms of what it will take people to download yet another app.
He said that he advises retailers to think about, "what are we actually doing in app that we can't just do in a browser?" when coming up with their mobile app strategy. He gave the example of augmented reality try-on tools, or tools that help customers see what's in-stock at the store closest to them, as two examples of features that are better suited for apps.
In designing its mobile app, Maliwat said that Madewell also surveyed members of Madewell Group Chat, a group of roughly 5,000 customers who have signed up to give the brand feedback on upcoming products and features. Madewell also did research on the mobile app strategies not only of other fashion retailers, but also those with strong loyalty programs like Starbucks and Sephora, "that are very focused on returning customers, as opposed to acquiring new customers."
Madewell isn't the only retailer that's primarily designing its apps for its most loyal customers — Nike, for example has launched a couple of stores that are exclusively for loyalty program members, where customers can use the app to reserve and pay for items in-store. It's a playbook that's being executed by brands who believe that they have a loyal enough customer base who don't downloading another app, if it means they get access to exclusive deals or features.
Madewell does not disclose exactly how many loyalty program members it has, only that nearly 70% of its customer base are members. Madewell has a standard points-based loyalty program. Some of the perks loyalty program members get access to includes a birthday gift, free shipping, and complimentary stamping and embroidery on all denim and leather products.
Maliwat said that when loyalty program members log into the app, one of the first things they will see is how many points they have, how many points they need to earn to get to the next tier of the loyalty, and what current rewards they might be able to redeem. Right now on Madewell's website, a loyalty program member only sees that information when they are about to checkout. Loyalty program members will also get early access to new collections through the app.
One of the data points Madewell will be looking at in judging the success of its mobile strategy is whether the app is "increasing the number of interactions that we have with our most loyal customers," said Maliwat That could include getting more customers to click on a push notification about an upcoming sale, or to attend more in-store events. 
Madewell's parent company J.Crew filed for bankruptcy in May, though its sales have been declining long before the pandemic. Madewell has long been the shining, but smaller star of J.Crew's portfolio — so much so, that Madewell's CEO Libby Wadle was recently named CEO of J. Crew. In 2019, Madewell reported sales of $602.4 million, a 14% increase over the prior year.
Over time, Madewell's goal is to add more features to the app so that customers can filter product availability both based on their preferred sizing, as well as what's in stock at the store closest to them. That way, Mailwat said, customers can make more informed decisions about whether to buy an item in store or online.
"We know that our customers are shopping with us already with omnichannel in mind, really trying to make tradeoffs between browsing and purchasing [something immediately… and the future of the app is to really blend those experiences together."