How Madewell could become a billion-dollar brand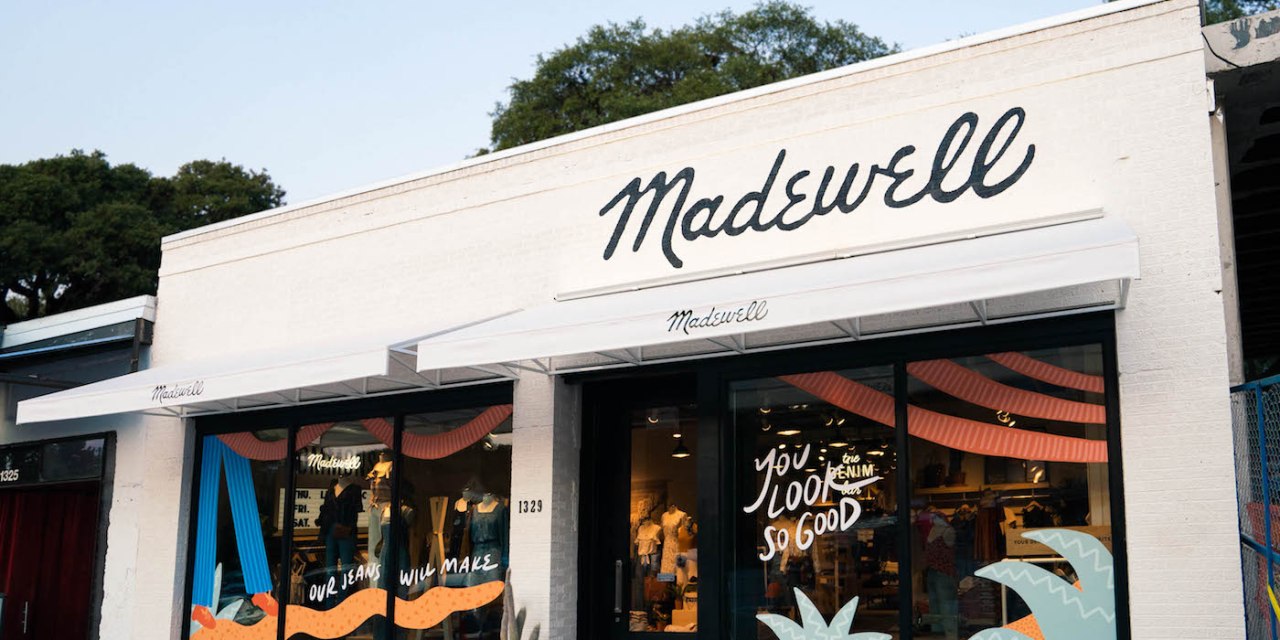 Madewell, which has been acting as the J.Crew Group's breadwinner as the flagship brand's sales struggle, is on a mission to double its annual sales from $500 million to $1 billion.
The company announced yesterday that Libby Wadle, who was previously Madewell's president, will become its first CEO. In an interview with Fortune, Wadle said that she was getting a title change because the "complexity of the business is changing." Madewell generated more than $500 million in revenue last year, and Wadle said that "we have our eyes set on becoming a billion-dollar brand in short order."
The struggles of parent company J.Crew will only compound the challenges ahead for Madewell. J.Crew is carrying around $1.7 billion in debt, and sales there decreased by 4% last quarter, while sales at Madewell rose 16%. J. Crew could be giving Madewell more autonomy and the directive to juice its sales in order to sell it off, and pay down part of its debt, according to Neil Saunders, managing director of GlobalData Retail.
Wadle gave few specifics about how Madewell plans to become a billion-dollar brand, but emphasized that "we need to build our community of customers." To do that, Madewell has already made efforts to appeal to a broader customer demographic through initiatives like collaborations, increase its product assortment by adding extended sizes and lingerie and swim categories, and pilot new in-store concepts that emphasize community.
To double sales, it's transitioning to become a lifestyle brand, after launching as a women's only denim brand in 2006. In doing so, Madewell will face the same challenge as other brands that started as a niche offering: how to maintain what made them unique while pushing for faster and faster growth. Wadle said in a previous interview that "thinking small" is what's been key to Madewell's success.
Though J.Crew's former CEO Mickey Drexler said back in 2015 that he hoped that Madewell would be "the Levi's of its generation," the brand's been deliberately slow in building its footprint. Today, it has just three wholesale partners: Net-a-Porter, Nordstrom, and Shopbob. It also has only 131 stores, and is planning to open six more stores within the next year, according to a spokeswoman. Madewell is also piloting new retail concepts that are centered around bringing loyal customers to stores more often. Last month, it opened its first "Denim Edits" retail store, which offers on-site embroidery and tailoring. Last summer, it opened Madewell Commons, a new "community-focused concept store," which has offered concerts, yoga classes, and a special section selling goods made in Austin.
So instead of opening up a rapid clip of shops, Madewell is extending to reach customers it previously didn't serve to drive sales.  It introduced extended sizing this past year, but its biggest untapped potential lies in menswear. Madewell just rolled out a menswear line this year, and right now, it's only sold online, in Nordstrom, and in two of Madewell's stores. So Madewell can simply juice sales there by selling its menswear line in more places, and increasing its product assortment.
Madewell has room to grow, but it will have to do so without diluting the brand. Ken Morris, principal at Boston Retail Partners, praised Madewell for its "narrow focus," and said that its reputation for "offering a great product at good prices," is what's helped build customer loyalty. Avery Faigen, a retail analyst at Edited, attributed Madewell's success to "honing in on the best selling fits and then animating those core pieces."
—
Sign up for the Modern Retail Briefing to get retail news, analysis and insight delivered to your inbox every morning.