Inside Figs' brand ambassador program of health care professionals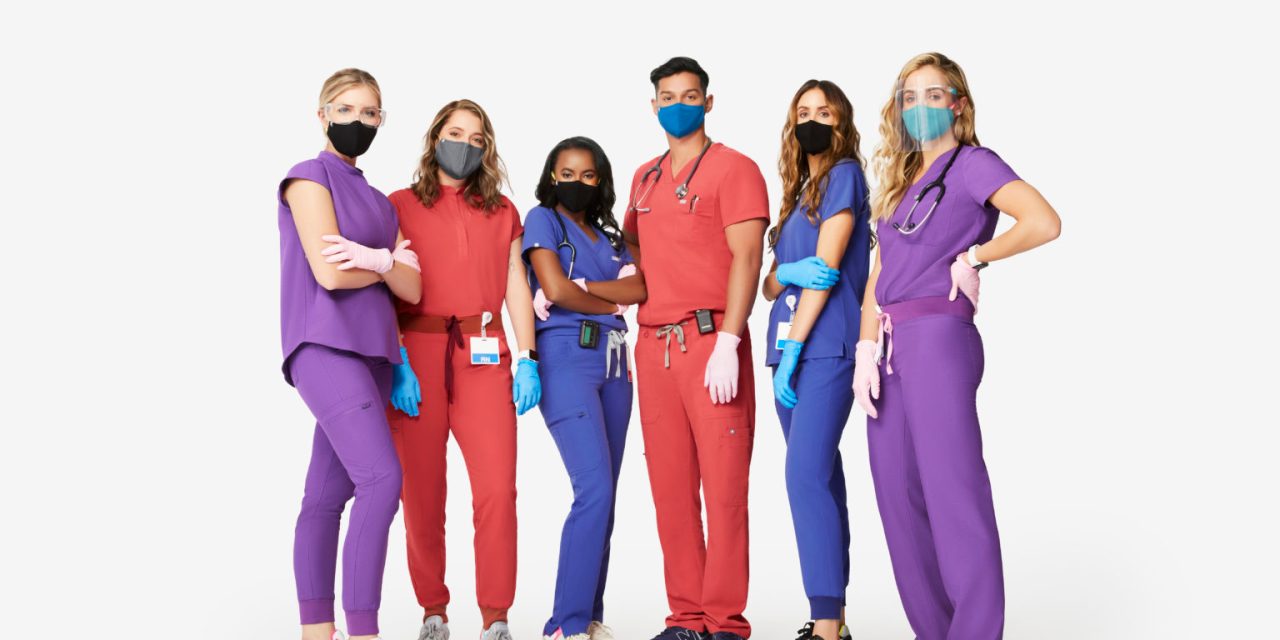 via Figs
Nestled between work memes and pregnancy pics on Danielle Leveck's Instagram is a photo of her outside the New York Stock Exchange, a big smile on her face. The ebullient image shows the intensive care nurse decked out in the gray scrubs of the medical apparel company she champions online, and whose logo can be seen emblazoned across the financial institution that looms large in the background. 
Leveck is one of 250 brand ambassadors for Figs, a direct-to-consumer retailer that boasts 1.5 million active customers. Together, online and offline endorsements from doctors, nurses and students have helped turn it into the go-to fashionable scrubs range for the health care sector. On a balmy day in late May, Figs invited a number of medical professionals to come to New York in celebration of its Initial Public Offering.
Among them was Leveck, who has over 130,000 Instagram followers. Other ambassadors, like nurse Rachel Santana, rack up millions of views on TikTok. All while donning Figs' pants and tops — including limited edition weekly drops — some of which wouldn't look out of place on a Uniqlo rack. Many more share custom discount codes on their social media bios for money off Figs purchases. 
These promotional efforts have helped to shape some of the company's most impressive business metrics. Figs' customer acquisition cost tumbled 61% between 2018 and 2020 to $39, according to its S-1. Health care professionals can request to join the ambassador program by filling out a form that asks for their profession along with their social media handles.
Just don't call them influencers. "All of our ambassadors are medical professionals, not professional influencers who earn a living by posting selfies," said Trina Spear, co-CEO and co-founder of Figs. "They are real doctors and nurses who work 12 or even 16-hour shifts." 
After a history of operating losses, Figs achieved profitability in 2020 with a net income of $57.94 million and net revenues of $263.11 million, the latter up 138% over the previous year. The retailer undoubtedly received an uplift during the pandemic, when demand for scrubs and face masks surged. At the same time, essential health care workers on the frontline of the crisis gained more widespread exposure.
Figs' success has prompted some flattering comparisons. Bullish Wall Street analysts have dubbed it the next Lululemon. The athleisure retailer synonymous with the yoga pant boasts its own ambassador program composed of fitness enthusiasts, with more than 2,000 members worldwide. 
Alongside its social media presence, Figs also employs a number of additional marketing tactics from the retail and DTC playbook: from paid search to personalized email to mobile push notifications on its app to outdoor ads on buses and the subway. Last year, Figs spent $38.86 million on marketing, up 17% over 2019, equating to 14.7% of its total revenue.
Building an authentic community to amplify the reach of a brand is a growing strategy for direct-to-consumer players. Much like micro-influencers, these networks can offer a more cost-efficient way of reaching new customers. Figs' niche among the medical sector possibly makes for a cheaper way of finding talent, to boot. Unlike affiliate marketers who earn commission from product sales, brand ambassadors tend to be awarded with up-front fees or freebies.
Figs has spent years forging deep connections with the medical community. Co-founders Spear and Heather Hasson began selling scrubs directly to workers out of their car trunks near hospitals. Fast forward eight years to today, and the company has an almost symbiotic relationship with medical professionals.
Figs sends members of its tight knit network on mission trips to Peru and India as part of its Threads for Threads initiative, and invites them to dinners and wellbeing retreats. It also arranges in-person meetups that Spear calls "immersion programs" and tracks their major life events.
"We know when [ambassadors] start new jobs, when they get promoted and how they are impacting the health care community in other ways," Spear said. "By staying closely connected with [ambassadors], we celebrate their personal and professional successes and do what we can to help them through their challenges."
Ambassadors, in return, have helped to establish Figs as the foremost scrubs brand in an otherwise faceless, commoditized industry. Online, Figs has amassed over 970,000 followers across major social media platforms, more than 500,000 of which are on Instagram alone. Meanwhile, its hashtag "wearfigs" has popped up in TikTok videos, generating almost 283 million views at the time of writing. 
"Figs ambassadors are really an extension of their team," notes Dana Telsey, CEO and Chief Research Officer at Telsey Advisory Group, an equity research, investment banking and consulting firm focused on the consumer sector.  "They're evangelists for their brand."
Leveck joined the ambassador program five years ago. Now in her 30s, and about to welcome her first child with her husband Jon, a radiologist, she credited Figs for introducing her to some of her closest friends. Leveck effusively described the ambassador program as "more of a family than anything." She added, "we all share a love for Figs, but we are primarily here to support each other in our careers and in our lives overall."