Inside Asics' strategy to collect more zero-party customer data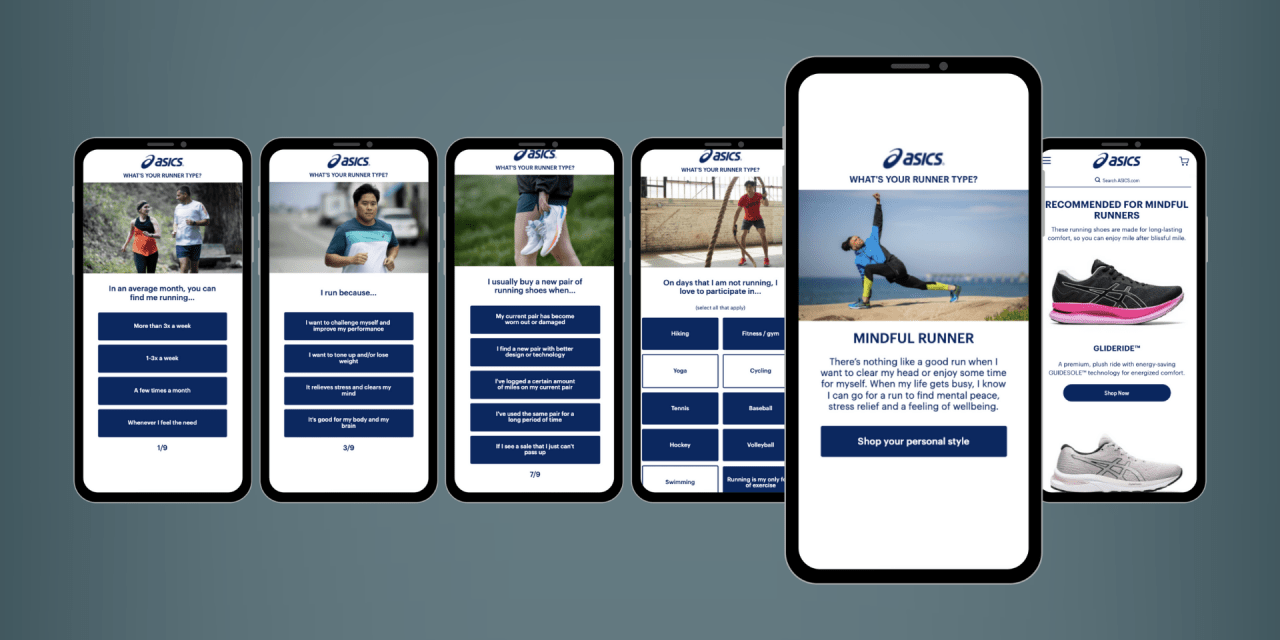 Image via Jebbit/Asics
As the demise of the third-party cookie approaches, footwear brand Asics is preparing to restructure its data collection strategy to focus on gather more zero-party data of its direct-to-consumer shoppers. 
Over the past year, Asics has been testing browsing features on its website to encourage consumers to share more about their lifestyle and running habits. The company describes it as a zero-party data strategy, which refers to information that users willingly hand over at the beginning of their shopping journey. This might be information customers hand over even before they create an account or make a purchase, which is vital to gauging why consumers are interested in Asics products, according to the company.
"We already have good data on our subscribers, but relevancy is the most important thing," Jennifer Hoth, director of global loyalty marketing at Asics, told Modern Retail. Hoth noted that in the past the company has relied on existing user profiles, which can quickly become outdated. "We want to move away from the 'collect it and forget it' mentality," she explained. 
The company has also been increasingly implementing product suggestions during real-time browsing, Hoth said. Asics has been working with engagement software provider Jebbit over the past few years to implement various engagement tools. 
Jebbit CMO Pam Erlichman said that for Asics, much of the procured data revolves around segmenting the core customers — made up of runners — by various characteristics.
"For that, we created different interactive features geared at first-time visitors, such as lookbooks and quizzes," Erlichman said. Asics also presents trivia questions during the browsing experience, asking questions like "Can I return my shoes if I've worn them?" Later on, after the customers sign up for the brand's OneAsics loyalty program, they're presented with a quiz to narrow down their preferences further, like "Why do you run?"
These features have been especially effective over the past two years, as Asics has grown its digital sales. For example, the website and email surveys currently have a 90% completion rate. Furthermore, the company has developed predictive browsing models based on users' lifestyle data, with over 45,000 persona variations captured to date, Erlichman said.
Another effective data collection tool Asics has tested is website pop-ups that ask for email addresses, Hoth said. These are then used to send a "welcome email" with various product match quizzes based on the customer's browsing history. 
Still, knowing when to ask for specific information is key. 
"We've found that some data points are sensitive," Hoth said. For example, Asics waits to ask for the customer's birthday later on in the welcome email series, which is done in exchange for a birthday discount. "We try not to ask for everything at once to avoid turning the customer off," said Hoth. The company is also preparing to pilot an SMS program for its North American customers in hopes of incorporating information gathered via this channel into its data collection strategy, she said. 
Asics also utilizes running races sweepstakes in different regions to encourage data submissions. "We offer free entries to upcoming races in exchange for answering specific questions about running lifestyles," Hoth explained. 
Asics is also trying to incorporate its real-life events and activations into its zero party data collection strategy — mainly by encouraging customer participation ahead of time. For instance, the company is hosting a 5K run at the World Athletics Championships this July, and is looking for ways to encourage user participation. "It's the first time we're hosting the event, so we want to use it as an opportunity to drum up buzz among our customers," Hoth said.  
With these efforts to build out its in-house customer database, Asics is also in the process of revamping its loyalty program — first launched in 2017 — to better reflect its zero-party data goals. 
One way will be to integrate Asics-owned race organizing platform Race Roster and fitness tracking app Runkeeper, Hoth said. This also means offering more loyalty rewards to users under the larger umbrella of brands and services. "Our purchase cycle is long, so pure transactions-derived rewards don't make sense," she said. 
The departure from third-party data collection has become the standard among major brands, including Nike and Adidas, which are also building out their own DTC channels. 
Forrester analyst Mary Pilecki said that getting customers to proactively give up their information is a sensitive trek, and retail brands are trying to figure out how to do it in considerate ways.  
"With privacy tracking changes, marketers don't have the same access to data they did a few years ago," Pilecki said. This has prompted major brands, such as Asics, to be more proactive in seeking user information – which is critical to building a successful DTC channel, Pilecki said
"We've found that 37% of U.S. adults said they won't share data with brands," she noted. "However, that's an overstated figure that can be manipulated by factors like financial rewards or other incentives." 
For Asics, procuring zero-party data is about understanding who is visiting the brand's website and why. "It's important that we have the most up-to-date information on our core audience at all time," Hoth said.