Influencers are hosting livestreams for their fans to watch them shop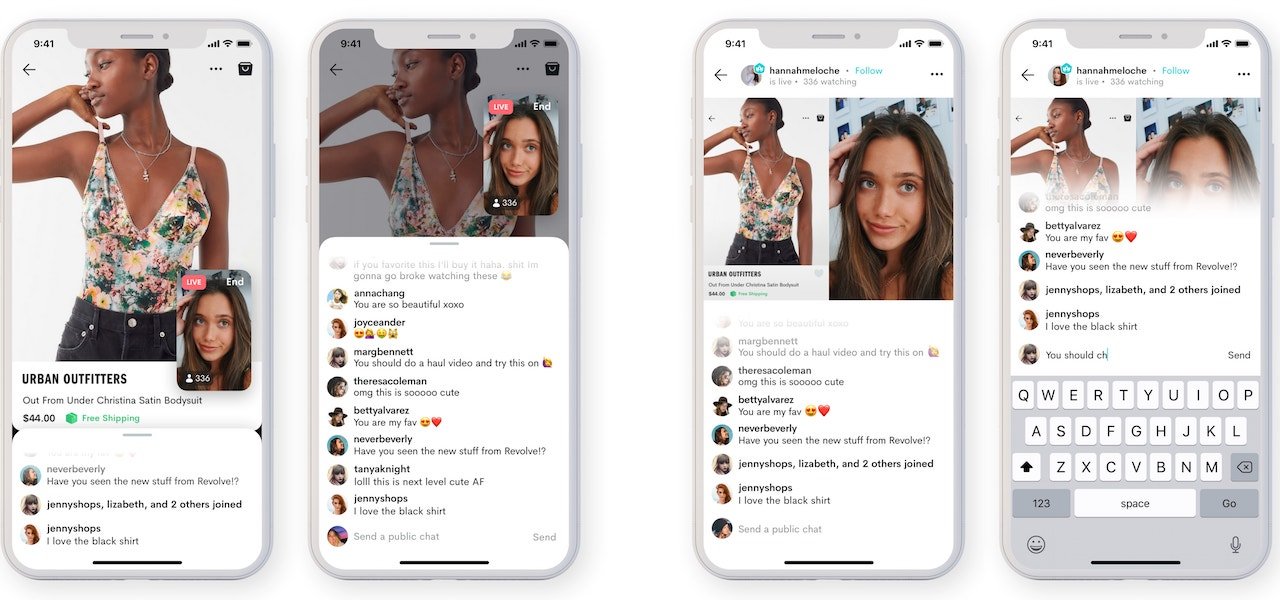 Twitch has proven there is a big market for watching other people play video games, so why not the same for shopping.
The next evolution of making shopping a social experience, beyond unboxing videos and influencer hauls, is influencers livestreaming their shopping trips and interacting with their fans along the way.
Livestream shopping is nothing new: It's been a fast-growing industry in China, with local livestreams — many carried out on Alibaba's Taobao Marketplace by key opinion leaders, or influencers — generating $4.4 billion in salesin 2018. In response, Amazon launched in February the Amazon Live Creatorapp, facilitating live-streamed shopping experiences, and Facebook is said to be testing a shopping modefor livestreams. Likewise, Instagram is reportedly working on a separate shopping appthat builds upon IGTV.
But livestream shopping experiences to date have primarily been focused on a store or other IRL setting. Live-streaming an online shopping experience is gaining traction. For example, BuyWith, which is among companies in New York Fashion Tech Lab's 2019 class, is behind new e-commerce software enabling screen sharing and online chat so shoppers can co-browse with friends.
Interactive shopping trips are at the heart of social shopping app Dote, which has a new feature called Shopping Party, a 15-minute event lets an influencer's followers watch them shop on the Dote platform while interacting with them through a live chat. Dote, which has $23 million in venture backing, boasts 3.2 million users, typically teens.
Dote founder and CEO Lauren Farleigh compared the feature to Twitch, the platform for watching and streaming video games that saw 3 million streamersa month in 2018. In a Shopping Party, users' mobile screens are split, so they see the hosting shopper live, as well as what items they're browsing. At the same time, they can weigh in on styles being considered, with comments showing up in a chat feed, similar to the experience on Instagram Live.
Launched in San Francisco in 2014, Dote brings into one shopping experience 150 retailers popular with female Gen-Z shoppers, like Asos, Forever 21 and Brandy Melville.
Of the users, 450 with large followings on YouTube or Instagram have been deemed "Dote Creators." They include Emma Chamberlain (with 7 million followers on both platforms) and Summer Mckeen (2 million followers on both). By tagging Instagram posts with "@doteshopping," their posts feed into their Dote profile where they're shoppable. Dote brands have tapped into this opportunity through paid posts with Dote Creators. They've also invested in featuring polls and giveaways on influencers' Dote profiles.
To get the feature off the ground, starting Tuesday and spanning weeks, 44 Dote Creators will collectively host at least two parties per hour, equalling more than 400 parties. A pilot program will see Urban Outfitters, Princess Polly, Honeybum and Dolls Kill sponsoring shopping parties featuring their brand exclusively. Users can sign up for notifications of parties hosted by creators they follow. After the launch period, the feature will roll out, allowing more Dote creators to host parties.
Dote will be promoting the feature on its Instagram, where it has 150,000 followers, and will host a launch party in L.A. for creators. Creators will also promote their parties.
Fifteen-year-old Dote Creator Fiona Frills, who has 850,000 YouTube subscribers, said she'll post to Instagram Stories an hour before her live parties, asking her followers to swipe up to help her shop. Frills said there's a demand for this type of content; some of her most popular videos feature her shopping in a store, like the recent "I Style Prom Dresses With Sneakers at Fight Club."
"This is live, so it's next-level," she said. "My fans can now give me advice on what to buy and help me pick out outfits for certain events." She plans to host parties once or twice a week, and to view those of fellow creators with great style.
Farleigh said the average Dote user is highly-engaged, daily visiting the app four times and viewing 75 products. With Gen Z's spending power of $143 billion, there's big opportunity for the brands signing on. According to Dote, which declined to elaborate, it saw ten-times revenue growth in 2018.
"When we had moved from going to the mall with friends to this desktop checkout experience, we gained a ton in terms of assortment and convenience, but lost a lot in terms of the experience and social aspect of shopping," said Farleigh, whose background includes working as a project manager at mobile gaming publisher Pocket Gems.
These companies are mostly working with fashion brands now, but Dote is hopeful Shopping Party will attract beauty fans, too. "It's a big category, and I'm excited to see how our creators use beauty brands on the platform, if it's more about tutorials," said Farleigh. "One of the fun parts of my job is putting something out into the world and seeing how people use it."
—
Sign up for the Modern Retail Briefing to get retail news, analysis and insight delivered to your inbox every morning.