Influencers are infiltrating ghost kitchens, with the help of Planet Hollywood's founder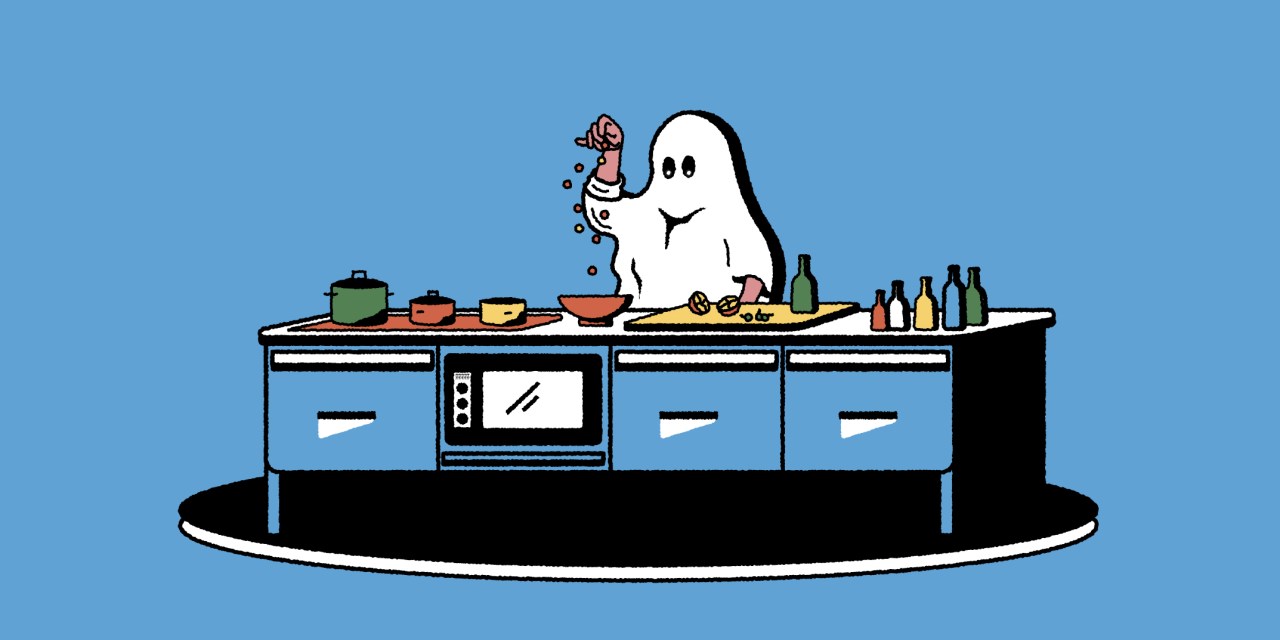 Kevin Kim, directed by Ivy Liu
"Mariah Carey," said restaurateur and Planet Hollywood founder Robert Earl. "Do you know she's in business with me?" he asked, speaking on the phone from Turks and Caicos. "Mariah and my company have partnered on a cookie brand. They're called Mariah Carey's cookies," he went on.
"They are delicious," Earl concluded.
Earl wasn't simply describing a side hustle of a friend (he certainly has many celebrity friends). He's elucidating the fundamentals of his latest venture's business model. Earl is also the founder of Virtual Dining Concepts. At its core, it's a ghost kitchen company — meaning it connects industrial kitchens with restaurants that only distribute through dining apps like DoorDash. But there's a Planet Hollywood-esque spin: instead of simply ginning up a dark restaurant that will live on the various dining apps, he's aligning his businesses with celebrities and influencers. Beloved chanteuse Carey is one such example, but there are other online establishments, including the rapper Tyga's Tyga Bites, reality TV star Pauly D's Italian sub joint as well as Guy Fieri's newly announced digital-only Flavortown Kitchen. 
Virtual Dining Concepts is trying to cash in on the ghost kitchen gold rush. In 2019, Uber founder Travis Kalanick announced that his next company would focus on making digital-only restaurants reportedly raising $400 million. At the time, the idea was that more people would be using apps to order food and the economics of a kitchen that made meals for many different restaurants was better than that of a pricy sit-down establishment.
Little did people know that the entire world would soon shutdown, causing takeout apps to accelerate at an unprecedented clip. In March 2020, delivery orders increased by 67% while restaurant traffic naturally declined dramatically. In 2020, reported MarketWatch, the combined revenue delivery apps doubled compared to the year before. Meanwhile, according to data released last July from Euromonitor, the U.S. had 1,500 ghost kitchens (that number has almost certainly increased). That same analysis estimated the overall ghost kitchen market to hit $1 trillion globally by 2030.
In short, there's a mad dash to be the leader in the ghost kitchen space. What began as a burgeoning industry a little over a year ago, has amounted to a glut of businesses trying to cash in. In the early days, the narrative was about disruptive tech brains overturning an age-old low-margin business — now, industry veterans are rearing their heads. Namely, entrants like Virtual Dining Concepts — along with other known restaurant names like Applebee's and Chili's — are essentially creating a new digital spin on restaurant franchises. Even if some of the business model tricks are old, Earl's model points to the biggest issue ghost kitchens face: with more players than ever and only a few distribution models, over-saturation is almost guaranteed.
A focus on celebrity
Ghost kitchens claim to be a model of efficiency; they don't require any servers, hosts or bussers — nor do they need front-facing space for diners. All they require is a kitchen and some cooks, along with a technology stack that can connect the food with courier services that can deliver to diners.
Where Virtual Dining Concepts differs is on the public-facing side of the business. Other companies focus primarily on getting into delivery apps' flywheels, while Earl is taking the marketing mostly into his own hands — as well as often using his own facilities to make the food (some of his virtual restaurants utilize kitchen space from Italian family-style chain Buca di Beppo, another Earl-owned joint). The celebrities he works with, "are straight up partners with me — no fees, no upfront payment, they are my partners," he explained in his smooth, posh British accent.
This isn't a new thesis. Robert Earl has long been the restaurateur partner to celebrities, as well as someone who positions himself as a well-connected public-facing entrepreneur (just a few weeks ago, Earl made an appearance on celebrity chef Gordon Ramsay's show Hell's Kitchen). Earl is the brains behind business like Planet Hollywood, which launched in 1991 boasting the financial support of Sylvester Stallone, Bruce Willis, Arnold Schwarzenegger and Demi Moore. That restaurant chain offered a similar model of allowing locations to open a franchised restaurant that was aligned with popular Hollywood names. This latest iteration takes the franchising model to a new level, letting kitchen owners pay a platform fee to receive a tablet that lets them cook these influencer-inspired takeout meals atop whatever other business the kitchen may also be running.
The benefits of partnering with celebrities are quite simple. They have a built-in audience of adoring fans, as well as marketing opportunities at every corner. Earl pointed to rapper Tyga, who has a delivery-only chicken restaurant. "He puts the brand into his music videos," said Earl. "When he has parties, he uses it. He sends it to underprivileged kids."
To restaurant partners, Earl pitches added revenue to a business. Virtual Dining Concepts provides restaurants ("subject to the quality of your operation," he caveated) with the technology to port into a variety of apps, cooking different invisible restaurants' menus. If a customer is eating inside one of these restaurants, he said, "you don't know about the virtual brand." Meanwhile, the owners behind these kitchens and dining rooms cooking all these different meals are given "a further income stream." (The kitchens, however, are responsible for facilitating the last-mile delivery.)
The thinking behind it, Earl explained, is that in the next five years, "we will be seeing a very high percentage of all restaurant in the world having a virtual component" to their businesses. "The new consumer who is ordering online," he went on, "is interested in variety, quality, price and efficiency of delivery." It's a different consideration than eating indoors. And if a celebrity's name is tied to it, that adds another layer to stand out from the pack.
Virtual Dining Concepts focuses on finding the right celebrity partner. The most successful example to date is MrBeast, who currently has over 55 million YouTube subscribers. In December, the influencer launched 300 digital restaurants around the country called MrBeast Burger. He announced its arrival with a YouTube post that accrued tens of millions of views. As a result, his ordering app grew to the number one spot on Apple's App Store. To date, the business has facilitated over 1 million transactions, according to the digital ordering platform that built MrBeast's app.
Earl's latest venture is also just one example of a growing e-commerce-wide influencer wave. A number of services, like the video commerce app NTWRK, have risen to prominence that attempt to tie product sales with celebrity drops. Even more invisible platforms are making splashy partnerships. Shopify, for example, has been wooing big names like Drake, Kylie Jenner and Jeffree Starr to use its platform for merch stores. Shopify also hired Jon Wexler, who ran Adidas' Yeezy business, in 2020 to head up Shopify's creator and influencer program.
In December of last year, Shopify president Harley Finkelstein made no bones about the platform's influencer commerce ambitions. The platform, he said, is now looking for "someone that has an audience and can sell directly to that audience." The next big project, he went on, is to "figure out how to do more of that."
A difficult business model
For ghost kitchens specifically, the aim is to at once lower the business's margins while reaching more customers. On paper, it appears like a business model formed from a McKinsey consultant's wet dream. Restaurants often don't turn a profit. This is because they require a lot of labor, expensive real estate and constant capital to buy ingredients for food. To top it all off, the market is competitive so prices are often driven down. What early ghost kitchens claimed to do was chop off some of those costs.
But the digital restaurants business remains a hard one — and not just because of labor and rent costs.
Autumn Stanford, owner of the three Brooklyn-based restaurants Brooklyn Kolache, Swell Dive and Tailfeather, said that one of her goals over the last year has been to reduce reliance on digital third-parties after being forced to put her businesses online. While she sometimes uses GrubHub during slow times, she focuses most of her efforts on getting customers to her website. But even that comes at a cost: Stanford uses Square to power transactions on her website, along with a third-party service to handle last-mile delivery — both of which come with their own fees (her delivery services costs a little more than $5 per delivery, and she charges customers an additional $3.99 and eats the rest). Last July, Square added an additional $.50 fee for restaurants that don't use its own last-mile partnership with Postmates (the company charges $1.50 if a restaurant uses its preferred partners).
Restaurants hoping to eke a profit at some point need to offload a portion of the additional fees to the customer, which has led Stanford to the thesis that this boom may not last forever. "At some point, places are going to say 'I'm not going to pay those fees,'" she said. "Restaurants are just going to stop using them."
It leads to a contradiction, and potentially a crisis: ghost kitchens claim to make restaurants more profitable by cutting sunk costs. But their ecosystem gives rise to a whole new set of unforeseen fees, while not promising the same volume of business as before.
Ghost kitchens also bring up a slew of labor issues. As University of California, Santa Cruz sociology professor Chris Benner explained to Modern Retail last year, "the food system is where the dominant number of low-paid jobs are in our economy." This means ghost kitchens eliminate the only part of the restaurant ecosystem where people were making more equitable earnings; "The only living-wage jobs in restaurants [are] in [the] front of the house and bartending," said Benner. In a ghost kitchen-centric world, these higher-waged server jobs have morphed into the tenuous contracted space of delivery drivers; one DoorDash driver recently told Business Insider he worked 45 hours a week and in a best case scenario brought in $800 (that sometimes can be as low as $200).
Even taking that out of the equation, the model still isn't perfect. Now that the ghost kitchen space is entering its adolescence, a number of companies are trying to figure out how to solve the distribution problem.
This means a reckoning is likely on the horizon. A number of companies launched with the same (or similar) business model. Much of their growth is dependent on making restaurants that get top placement in only a handful of apps. It's easy for a brand to decide it wants to open up a digital restaurant — it's much harder build a sustainable following that will make the business profitable.
Corey Manicone, cofounder and CEO of Zuul Kitchens, has gone the business-to-business route. Zuul began by partnering with well-known fast casual establishments like Sweetgreen, trying to help them add revenue by getting them into the ghost kitchen flywheel. Now, over a year after launching, Manicone said that his business has changed significantly. Instead of partnering with restaurants and building out kitchens to send out meals, Zuul has become a "ghost kitchen technology company."
Zuul now offers a white-labeled delivery platform that partners with other businesses like office buildings so that customers can buy from multiple digital restaurants. Silverstein Properties, which owns many New York City skyscrapers, has integrated Zuul's platform into its tenant app.
"The last thing I wanted to do was compete with Uber Eats, DoorDash or GrubHub," said Manicone.
In a way, Virtual Dining Concepts is tackling the same problem — finding eyeballs in a sea crowded with takeout options. But it's going about it in a very different way. Earl paints his business as a possible panacea for hurting restaurant owners. He sees Virtual Dining Concepts as a way for restaurant owners to serve other menus while still maintaining their existing on-premises establishments. "It gives you a further income stream," he said. Adding additional menus to existing restaurants, he said, "leaves them with a profit that is dramatically higher than the profit they endure on their regular business."
Stanford isn't convinced that this model will help everyone. Adding new menus, she explained, requires "having this full separate inventory available [as well as] your cooks having a separate skillset of cuisine." In her estimation, "it seems very risky for a restaurant to take that on." (Virtual Dining Concepts said that it chooses partner kitchens based on whether or not their equipment matches the needs of the menu; the goal is for restaurants to not require any upfront costs — if they do, VDC recommends they not work together.)
Still, some ailing restaurants may feel forced into a corner. "There are going to be restaurants who are desperate, who are struggling, who are thinking 'I might as well try it," Stanford said. "If it didn't work, it could be the end of you."
Virtual Dining Concepts, unsurprisingly, sees things differently. "I could show you testimonials," Earl said. "Hi Virtual Dining and MrBeast. We were about to close our restaurants in Sparks, Nevada (wherever that is), and close down forever. Now, we're hiring more staff. Thank you for giving us the opportunity to be your market partner. It saved us," he recited — either by impressive recollection or flourished improvisation. "It's a great — huge — potential business for me, but it's also really heartwarming."
The days are still early, and Virtual Dining Concepts only has a handful of influencer restaurants to show. For now, Earl's goal is finding the right celebrity and turning them into a food machine. According to him, more partnerships are on the horizon.
But, he maintains that the age old industry remains in his blood. "I am a restaurateur speaking to restaurateurs," he said. "I am not a techie."
Correction: An earlier version of this story misstated the fee Square charges restaurants that do not use its delivery partners. The correct amount is $0.50.