In-store shelf labels are getting an e-commerce makeover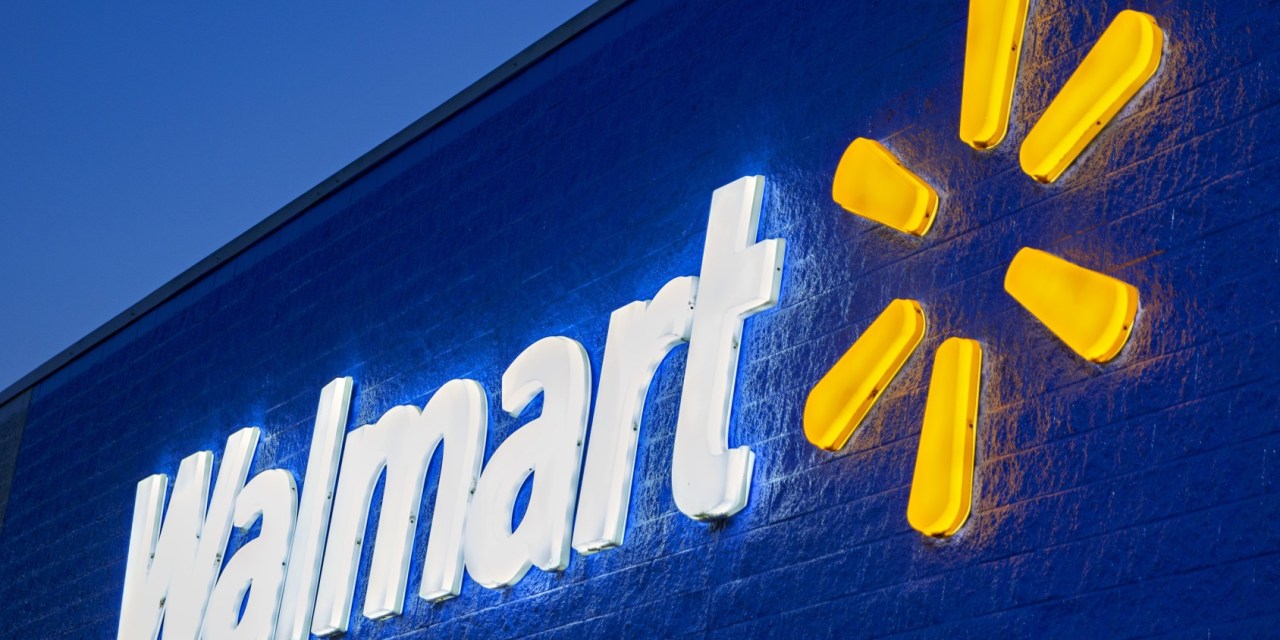 Walmart PR
Retailers like Walmart and Amazon are increasingly promoting information from their websites on shelf labels in stores.
In some of its physical stores, Walmart has started rolling out shelf labels that include direct ties to the Walmart website. These shelf labels recommend search terms for in-store customers who want to look up the product online.
Todd Hassenfelt, senior director of e-commerce at baked goods brand Simple Mills, spotted them in a store last month in Illinois. In one label for a futon, Walmart directed customers to "Search 'theater futon' on Walmart.com" to find out more, and included a star rating for the product — 4.3 out of 5 stars, based on Walmart.com reviews. Hassenfelt said that from what he gathered, these labels seem only to be appearing on pricier items, like bulkier furniture.
Labels like these are not only deepening the connection between e-commerce and physical retail, but also heightening the stakes for brands around customer reviews and search placement. If they become more widespread, they might signal that reviews and e-commerce search terms are taking on new importance in physical retail. It's a way to help customers more easily navigate a retailer's website — and, potentially, to push brands to focus even more aggressively on how they appear in searches online.
Jason Goldberg, chief commerce strategy officer at Publicis, said that the search term label is a newer iteration of a series of tests that Walmart has introduced. For "at least five years," Walmart has trialed shelf labels — some digital and some paper — that display customer ratings on Walmart.com for each product, a feature that also appears on the latest shelf label test. The search-term-specific labels, though, appear to be new. (Walmart did not respond to Modern Retail's request for comment on when exactly they started these tests.)
Walmart isn't the first retailer to experiment with adding information from its website to in-store shelf labels. Customers who visit Amazon Books stores can see digital shelf labels with both the customers ratings and excerpts from product reviews. Most recently, Amazon has added electronic shelf labels to its growing network of Fresh grocery stores, which it launched in 2020.
Kroger has also rolled out smart shelves, to many of its stores, and startups like Cooler Screens have introduced digitally enabled technology that displays customer ratings and other product information in the refrigerated section of a growing number of Walgreens stores. Chelsea Gross, a director analyst at Gartner, told Modern Retail in an email that "vendors and analytics teams that have been pushing the idea of digital shelf tags for years" but "for some retailers it was either too costly to execute across a large number of stores or the technology was not there to produce a short-term return on investment."
Goldberg said that the pandemic may be accelerating the drive to add details like customer ratings to physical retail stores. "Very consistently, online the attribute that has the biggest impact on sales are ratings and reviews," he said. And now that more people are shopping online, "they're going to expect more of the digital amenities they got online in the store as they're returning to the store." That means customers want to see product reviews, and they also want to quickly look up a physical product on a retailer website.
All of that only adds to the importance of online product reviews, which are already essential for determining how highly a product shows up in rankings and search results on marketplaces like Amazon. It also heightens the incentive structure for fake reviews, a problem that Amazon in particular has been battling. While shelf labels like Walmart's are still rare across the retail sector, "I think that this is going to become something we're going to see a lot more," said Hassenfelt.
According to Hassenfelt, the most unique feature of Walmart's label is its suggested search term. That matters because, if Walmart is guiding customers how to search for a product on Walmart.com, then it becomes all the more important for brands to show up in that Walmart-suggested search term. That could be a boon to Walmart's search advertising business.
"Let's say a brand has not been investing a lot in search. Maybe this is the catalyst to do that," Hassenfelt said. He said he wouldn't be surprised if brand managers start to look at shelf labels like Walmart's and say, "oh, this is going to impact in-store sales, we need to be more aggressive at investing in search."
Hassenfelt said that these types of labels haven't yet shown up on Simple Mills products, but that he has been actively syndicating reviews — using software  companies that distribute reviews from one retailer website onto many other retailer sites — in preparation that they might soon.
Walmart's new focus on search keywords is especially well-timed to the growth of Walmart's own ad business. During 2020, Walmart more than doubled the number of search ads it displayed on its website, part of a much broader trend of Amazon and Instacart monetizing advertising in order to subsidize the more costly segments of their business, like shipping and fulfillment.
If these labels catch on, brands might not only buy advertising space for their own terms that Walmart displays in stores, but they might also buy ad space on their competitors' search terms — creating an advertising arms race that would, in the end, sells a lot more ads for Walmart.