How Walmart and Target are using private-label and physical stores to fight back against Amazon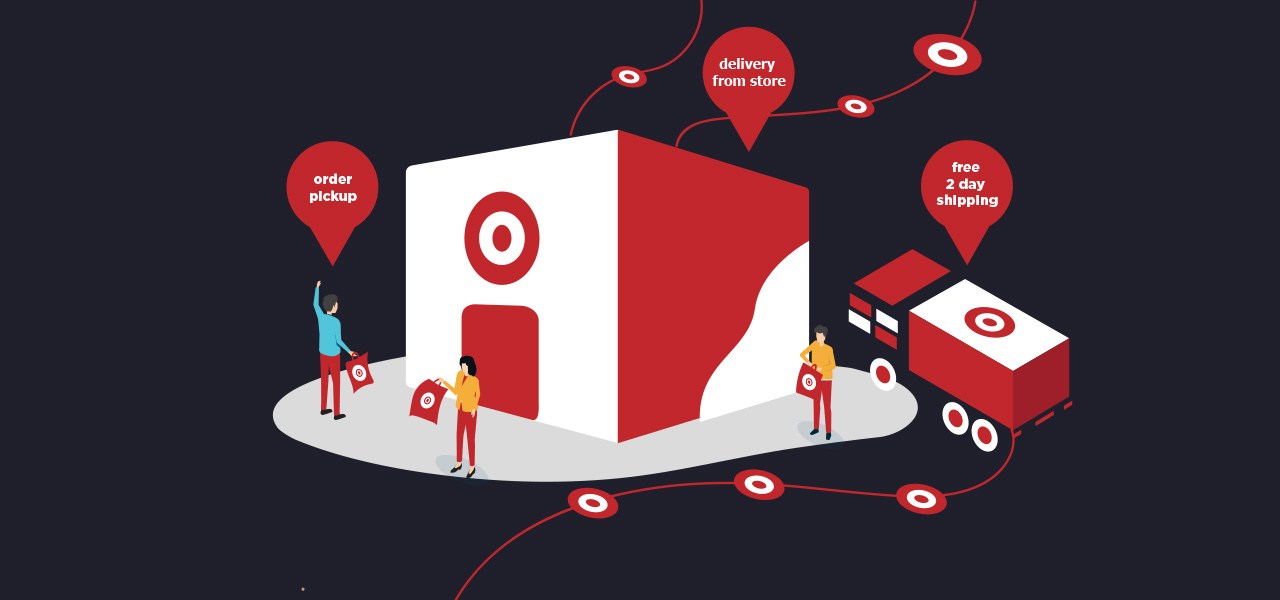 As Amazon continues to grow, large retailers are trying to find their competitive advantages. For big box leaders like Target and Walmart, this has meant re-strategizing back-end and marketing operations.
Customers expect quick delivery and a variety of cheap products. Amazon, Walmart and Target go about these projects in a similar fashion but with varying tactics. Where Walmart focuses on value, Target provides products zeroed in on its key demographics. And where Amazon offers some of the most robust fulfillment operations the world has ever seen, the two retailers are finally figuring out how to offer other services that can compete.
Here's how each retailer is tackling specific areas.
Private label strategies
Target has one of the most comprehensive private-label strategies of the group. Last month, the company announced a new private-label brand for its grocery section: Good & Gather. While the retailer has offered its own branded products before, this revamped grocery strategy hinted at the company further doubling down on its in-home product development.
That's just one real way Target has been able to compete in the retail space; over the last few years, the company has launched a series of in-house brands aimed at a specific demographic. "The private labels from Target are starting to mirror some of what you see from a direct-to-consumer brand, said Andrew Lipsman, principal analyst at eMarketer. The company is "targeting these millennial families — a middle-to-more-affluent customer base that's still looking for value."
Target, explained Neil Saunders, managing director of GlobalData Retail, has always had its own brands — but, "they were not that well regarded." Over the last few years, the company set out to change that by launching lines in areas including clothing, household items and groceries.
"It has been phenomenally successful," said Saunders. Target's private-label strategy, he went on, has "really focused on carving out parts of the market they want to focus on." Its Goodfellow & Co menswear line, for example has proven to be massively popular. Earlier this year, Target's chief merchandising officer Mark Tritton said that the success of these private label brand launches have helped offset the hefty price-tag of its fulfillment overhaul and national renovation plans.
Conversely, Walmart's private brands haven't been focusing on building a new customer-base or creating a certain name recognition, but instead doubling down on its core offering: low prices. Most of Walmart's white labeled products are focused on keeping "value-oriented customers" shopping at its stores, explained Tory Gundelach, VP of retail insights at Kantar. Most of the products Walmart has tied to its name and branding have followed the traditional retail playbook of being a margin-reducer.
Many of its in-house non-Walmart brands are strategic acquisitions — for example Bonobos, Modcloth and Jet.com. And the plan has seemed to focus on keeping those separate from other Walmart products. The store has dabbled in a few in-house made brands like its furniture foray Modrn. But that seems to be less of a prominent private-labeling strategy. "Walmart is doing a lot of experiments," said Lipsman.
The store advantage
Amazon has been putting pressure on traditional retailers for years now as it expanded its fulfillment capabilities. First came Amazon Prime, followed by a bevy of better and still cheap delivery options. As a result, consumer behavior has changed; most Americans have come to expect fast and usually free delivery. Meanwhile, retailers have been playing catch-up.
Both Walmart and Target, however, have one thing Amazon doesn't: physical stores, and a lot of them. The two have been increasingly focusing on using their real estate to their competitive advantages. "Most retailers over the past year," said Saunders, "have really upped the fulfillment games."
In-store pickup, for example, has become a staple at both. They've both invested in re-designing their in-store experiences to better accommodate people who buy online and go to the store to pick up the item. Target has taken that a step further with its recently-announced nationally available curbside pickup. Earlier this year, Walmart announced that it will offer free next-day shipping on select products to more than 75% of the country by the end of the year. The way the company said it's doing this is by leveraging its over 5,000 locations.
Gundelach added that the retailers store themselves are a key differentiator. They can use the story as an asset "for better engagement." Target has begun building out smaller-format stores as a way to cater to metropolitan demographics, as well as offer better fulfillment options to people in those locations.
Put together, said Saunders, "stores have really become a key weapon in mainstream retailers fighting back."
The battle for retail dominance will certainly continue — and all retailers have different strategies that they believe will give them the real competitive advantage. Stores like Target and Amazon are trying new things, launching new brands as well as expanding to meet the customers need. These two companies are able to test things and tweak given their ubiquity. "If you're a savvy retailer with a balance sheet and liquidity," said Moody's analyst Charlie O'Shea to Modern Retail last month, "you should have the ability to build a competitive multi-channel business."
What the most successful companies are realizing now, said Gundelach, is that the interplay between digital and physical retail is dynamic. One solution will not be a panacea. "In reality," she said, "the shopper is just trying to get the shopping done in the easiest way on that specific day." Ship-to-home impacts in-store pick-up, which impacts customers' perception on the overall brand.
Said Gundelach, "it's all connected."