How Walgreens is growing beauty sales beyond the coronavirus halo effect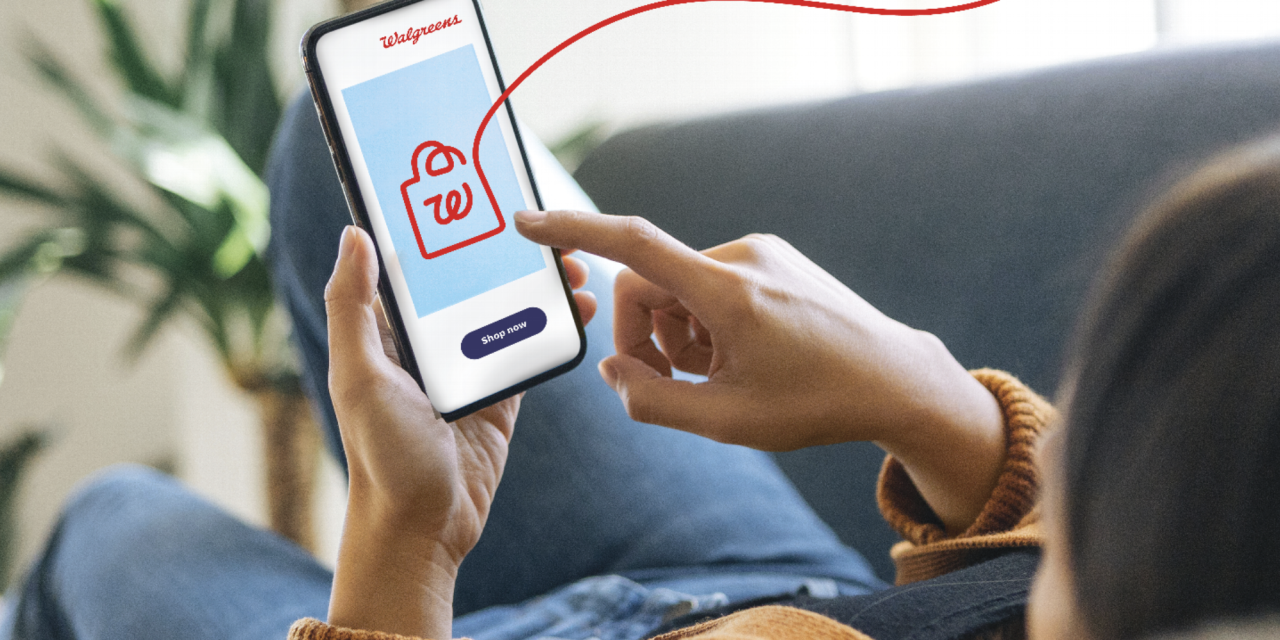 Image via Walgreens
Walgreens is posting growth in sales of beauty products after rethinking its approach to the category.
The pharmacy chain recently reported a rise in beauty and personal care comp sales of 16.6% and 11.6%, respectively, in its first quarter. Overall, revenue grew to $33.9 billion from $31.44 billion a year earlier and retail same-store sales rose 10.6% — the largest increase in more than 20 years. While it did not break out the category in its previous quarter, it revealed that ​​in-store beauty sales also rose 15% during its fiscal third quarter of 2021. In addition, revenue for the category from its subsidiary Boots in the U.K. was up 85% year-over-year during the period versus the previous year, when strict lockdowns were in force.
The company has in part attributed the rise in total U.S. sales to a "halo effect" from Covid-19 vaccines, of which Walgreens administered 15.4 million in the three months ended November 30. After receiving a dose, customers are hanging around to buy everything from beauty products to allergy medication, CEO Roz Brewer has said on previous earnings calls. Indeed, sales of non-pharmacy items — often referred to as front of store items — were down or flat for the entire healthcare industry before the coronavirus pandemic.
But, experts said the company is also trying to capitalize on the increased foot traffic generated by vaccines through broader digital investments in its app and loyalty program. Working in tandem, these trends could bolster Walgreen's presence in beauty for the long-term.
"It's a two-pronged attack," said Matt Moorut, senior principal analyst at Gartner for Marketers. "Walgreens' pharmacy has been a strong vehicle for customer acquisition during the pandemic through Covid jabs and testing. While its app and loyalty program are designed to turn those consumers into repeat purchasers with more lifetime value."
Beauty and digitization
Walgreens has been overhauling its approach to beauty since 2017 amid competition from specialty retailers and department stores like Ulta Beauty, Kohl's and Target. Last year, it began stocking buzzy brands like Boscia, repositioning its owned brands under the banner of its No7 brand and increasing dedicated shelf space for beauty, both in the U.S. and abroad through its subsidiary Boots, the U.K.'s biggest beauty retailer.
Since the start of the pandemic, Walgreens has also undergone a broader digital transformation to cater to online shoppers. 
In 2020, it announced a rebrand of its app and loyalty program and a new customer insight platform, powered by Adobe and Microsoft's cloud tools, to surface more personalized product recommendations. In the U..K., the tech underpins Boots' Digital Beauty Advisor, a self-diagnostic tool that analyses users' skin and provides tailored cosmetics from No7 to suit their needs. More recently, ​​Walgreens in May debuted a white label, two-hour delivery service that integrates with its website and app after rolling out nationwide partnerships with Postmates, DoorDash and Instacart.
The investments appear to be boosting online engagement. Walgreen's site traffic increased by 59% year-over-year between the third quarter of 2020 and second quarter of 2021, compared to a 107% increase in monthly active users for its Android app in the same time period, according to Gartner's 2021 Multibrand Retail DIQ data. The company had 92 million myWalgreen subscribers as of its first quarter, an increase of  7.2 million sequentially.
Experts claim that improvements to the app and loyalty program are key to generating more beauty sales from store visitors. Walgreens is already using "aggressive promotions" to target customers and its personalization efforts can help it to cater deals directly to members, according to Amar Singh, senior director at analysis firm Kantar Consulting. It has also done a better job of showcasing its private label brands, including No7 and Soap and Glory, and mainstream products on its website, he added.
The power of Boots
Though Walgreens has lost share of beauty sales to players like Ulta and Sephora in the U.S., the company's U.K.-based Boots business has a stronger beauty and wellness affinity among consumers, Neil Saunders, managing director of GlobalData, told Modern Retail last October.
Boots' retail sales online and at stores open at least a year grew by 16.3% in the first quarter, compared with the year-ago period. Digital sales at Boots also almost doubled versus the same quarter before the pandemic, but foot traffic hasn't completely reached 2019 levels. A recent Sky News report suggested that Walgreens was considering divesting or spinning off the U.K. chain despite it continuing to post solid beauty sales.
Increased consumer awareness plays into the types of beauty merchandise those customers expect, Gartner's Moorut said. Boots now offers 500 beauty brands at its over 1,000 stores in the U.K. In September, it announced that it was rolling out dedicated "beauty halls" at 30 of its locations across the country, up from 60 previously. The dedicated sections offer a bigger range of in-store beauty brands, with recent additions including Anastasia Beverly Hills, UOMA Beauty and Bite Beauty. Comparatively, Walgreens has to be more careful about its own beauty merchandising as its customers skew older compared to specialist beauty retailers, Moorut said.
Stores are also an important way to reach beauty customers, Singh said. Cosmetics and fragrances are still mainly purchased at brick and mortar locations. The large number of Boots stores mean they are a major health and wellbeing destination during the pandemic, through which the company can continue to drive people to beauty promotions and its loyalty program, Singh added.