How teen apparel retailers are revamping their store fleets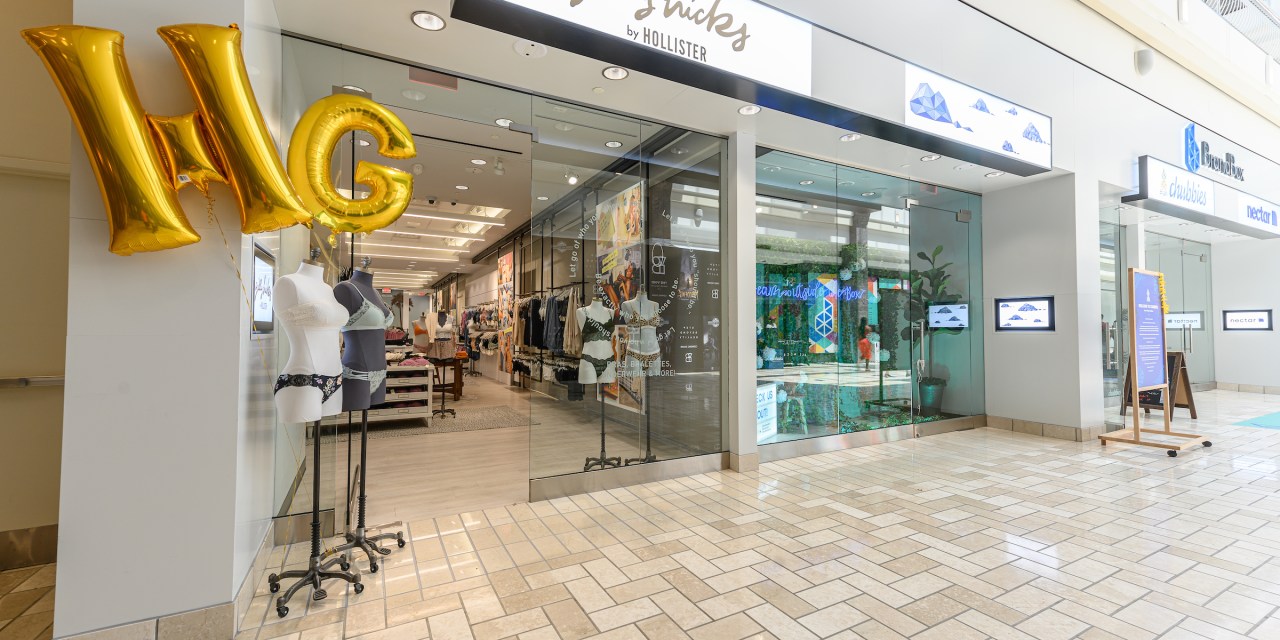 Turns out the mall isn't dead yet.
In order to appeal to Gen Z shoppers who still like to go to the mall, retailers like Abercrombie & Fitch and American Eagle are redesigning their store fleets in order to bring their best performing sub-brands and products to the front of the store experience.
Like many other brick-and-mortar retailers, teen apparel retailers are finding that they opened too many stores too quickly, and are shuttering multi-story locations in expensive cities. However, they are still finding success in malls, particularly in locations where they've downsized stores to make it more manageable for teen shoppers to sort through merchandise. They are also investing more in customer service and analytics to keep their store fleet as productive as possible going forward.
Brick-and-mortar remains an important sales channel for any mall-based retailer, but especially those whose most frequent customers are teenagers.
According to a study last year from the International Council of Shopping Centers, 95% of Gen Z shoppers visited a mall between February and April 2018, compared to 75% of millennial and 58% of Gen X shoppers.
Jessica Ramirez, retail research analyst at Jane Hali & Associates, notes that many Gen Z shoppers still hold the mall in a similar regard to the generations of teenagers before them — as a place to hang out with friends. "Shopping is still an experience for them," she told Modern Retail.
While Abercrombie & Fitch in particular has been aggressive in shuttering stores, it has turned its focus in recent years on shuttering flagship stores in expensive city center locations, while redesigning its mall-based stores. The majority of its stores are still based in malls.
"These flagships, the first of which opened in 2005 and the last in 2014 represents a different era," CEO Fran Horowitz said during the company's second quarter earnings call last week. "These were incredibly successful, but carried a considerable price performance elevated construction cost high rents well-above average operating costs and unfavorable lease terms that tended to be significantly longer than those of our mall stores." She added that, going forward, the company's strategy is to "open smaller-format, omni-channel locations with shorter and more flexible lease terms that cater to both local and tourist customers alike."
Horowitz said last week that the company has closed 475 underperforming locations since 2010. The company ended its fiscal year 2018 with 861 stores across its three brands — Abercrombie & Fitch, Abercrombie Kids, and Hollister. It has closed two more flagship locations so far this year, with another one in Milan which is scheduled to shutter by the end of the year. The company has also remodeled about 50% of Hollister stores and 10% of Abercrombie stores in recent years, re-opening the stores with a square footage that's about 30% smaller on average.
Another way that Abercrombie & Fitch has experimented with smaller-format locations is through its Gilly Hicks lingerie brand. Gilly Hicks, which is a part of Hollister, closed all of its stores in 2013 after launching in 2008. Earlier this year, Abercrombie & Fitch announced that it was reopening four pop-up stores with BrandBox, an offshoot of real estate developer Macerich that works with digitally-native brands who are looking to experiment with opening locations in malls. One of the draws for Abercrombie & Fitch in working with Macerich was that the firm had built a platform that could give them easy access to analytics about metrics such as foot traffic, sales patterns and customer engagement.
However, Abercrombie & Fitch has still struggled to modernize its in-store experience at a suitable pace for its Gen Z shoppers — net sales at Abercrombie & Fitch were down 2% year-over-year last quarter. Its consistent bright spot has been its Hollister brand, which reported a net sales increase of 1% last quarter.
American Eagle, meanwhile said its store business has reported six straight quarters of positive comparable sales growth.
CEO Jay Schottenstein has attributed the sales increase on earnings call to its decision in mid-2018 to hire more store associates and increase their wages to improve levels of customer service. American Eagle doesn't break out exactly how much money its spent to hire new associates, but said last quarter that investments in "store compensation" were the biggest overall contributor to increases in selling, general and administrative expenses.
"Our core products of jeans and bras within Aerie really require an enhanced selling effort, and we actually think it's a competitive differentiator for us," CFO Robert Madore said during an earnings call last year.
American Eagle has also found success at the mall with Aerie, its lingerie brand. As its biggest competitor, Victoria's Secret has faltered — its parent company, L Brands, said earlier this year that it would close 53 Victoria's Secret locations — that's given Aerie room to move in. Aerie is on track to open 60 to 75 locations this year. The company has also experimented with Aerie pop-ups, like with a college campus tour it hosted last spring.
Ramirez noted that Aerie's key selling point to Gen Z consumers has been consistently integrating body positive messaging in its in-store experience, by displaying photos of models that the company says haven't been retouched, for example.
"Lifestyle is important for any retailer, but I think it especially is when you're dealing with a younger consumer," Ramirez said.