How SnackMagic went from delivery lunch provider to gift box service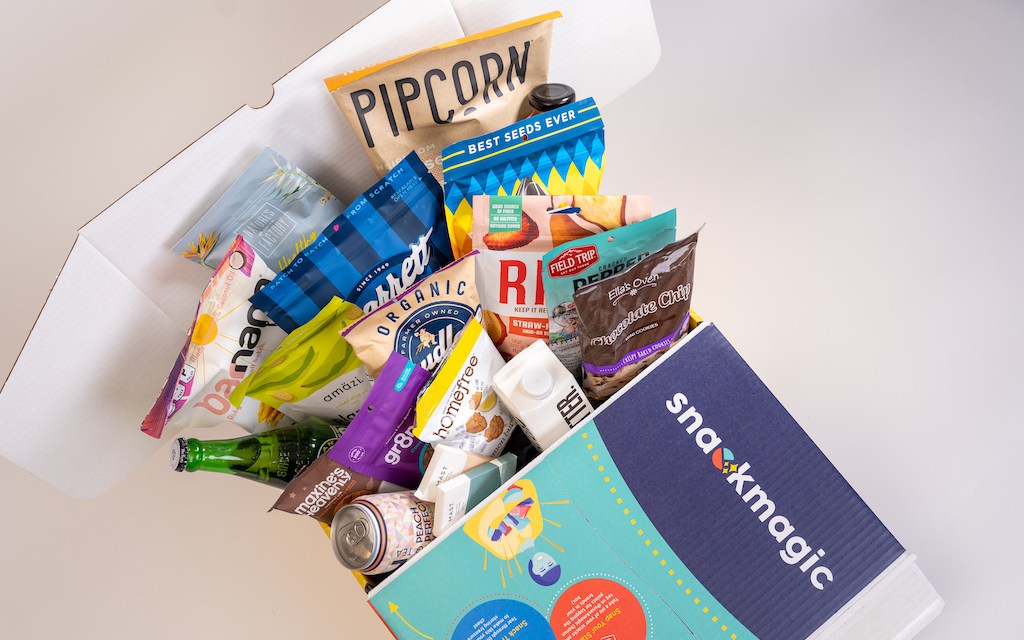 Image via SnackMagic
When the pandemic first hit last spring, Stadium, a New York City-based lunch delivery service catering to offices, saw its sales dry up overnight.
The service allowed corporate groups to build one order from different local restaurants — such as Sweetgreen and Pressed Juicery — which are individually labeled and packed, but arrive together. Pre-pandemic, Stadium saw month-over-month growth. But come March 2020, the startup had to pause operations.
That's when founder Shaunak Amin decided to use the platform's existing backend to launch SnackMagic, a build-your-own gift box platform for both corporate clients and individual consumers. The Stadium offshoot used existing partnerships with non-perishable food brands to let customers buy others a variety of artisanal snacks. The program enables multiple gift givers — usually large corporate accounts — to use one central account and the company then handles shipping. The inspiration, Amin said, came from seeing about 80% of Stadium customers ordering additional snacks and beverages with lunch.
SnackMagic's first customer was Spotify, followed by several tech companies and colleges with remote employees — including Google, Amazon and Harvard. According to the company, the new gift-focused business-too-business concept helped it reach $20 million in annual revenue and become profitable by December 2020. (Amin said he is still operating Stadium; the two businesses will operate independently as office orders ramp up.)
According to the founder, the pivot was relatively easy. Instead of having corporate clients provide food orders for staff, it would facilitate snack gift boxes. The build-your-own boxes start at $45, while already curated "stashes" cost a flat $35. The team repurposed Stadium's aggregated lunch ordering technology and applied it to non-perishable foods. Stadium already had partnerships with CPG brands for snack and beverage add-ons for lunch orders, including companies like RX Bars, Tate's Bake Shop, Poppi and United Sodas. 
The biggest change revolved around logistics. Stadium's original model relied on messengers running orders from restaurants during specific lunch slots. SnackMagic switched operations from managing a courier fleet and instead focused on shipping orders; it did this by leasing New York City-based fulfillment center spaces.
A new business model to service hybrid workplaces
SnackMagic's offerings became especially popular when employers scrambled to give gifts remotely last year. The company targeted large companies that were trying to find ways to engage dispersed workforces. By December, the startup's facility was shipping out 1,500 to 2,000 boxes a day. While SnackMagic is available to individual shoppers, Amin said the emphasis on large corporate orders is what helped the company scale quickly. So far, the average corporate order is above 100 boxes, according to the company. In October, SnackMagic launched international shipping by partnering with local merchants in different countries, Amin said. "This further incentivized companies with global workforces to place orders." 
Now, the focus on keeping these clients. Amin said the company has been building out non-holiday employer perks — which he said has proved successful. For example, Amin said corporate account holders are using SnackMagic for recurring virtual events, weekly work from home perks and for enterprise sales prospecting.
Next, the focus will be on offering further customizable boxes for employers. So far, about 20% to 30% of corporate orders also include branded merchandise, such as t-shirts or hats, which SnackMagic receives and ships inside gift boxes. The company recently raised a $15 million funding round to help it scale further and diversify the existing "build your own box" concept with more product categories — such as meal kits, alcoholic beverages, desserts and non-edible gift baskets.
Still, Amin said that the biggest challenge of starting a shipping-based business has been competing for logistics resources. "It's not as straightforward as lunchtime courier delivery." And because SnackMagic now ships internationally, there are more fulfillment hurdles, including opening new warehouses and clearing customs. This latest round of funding will work toward improving this fulfillment and streamline shipping.
A CPG data play
Another facet of SnackMagic's program is the data it can share with brands. The company has been piloting a sampling program, where brands offer customer free samples in exchange for feedback. "Oftentimes, CPG is such an opaque space for data insight," co-founder Stephanie Yudowitch, who heads the company's CPG merchants team said. "So we're offering incentives to brands trying to reach specific customers."
This comes as more CPG brands try to find ways to connect with consumers online. According to Forrester's 2021 report, Digital Go-To-Market Review for CPG Brands, more brands are rethinking digital sales strategies. In 2020 alone, the pandemic drove CPG players like Beyond Meat, Frito Lay, Heinz and Ocean Spray to launch their DTC websites. 
Cynthia Janelli, group vp of global strategy at Zeta Global, said that product sampling is one of the oldest and most effective marketing techniques for brands. "Frankly, there has not been a measurement tool that measures effectiveness well," she noted. 
As SnackMagic grows, Amin said there are endless opportunities to scale shipping while parting with brands on sampling. "As e-commerce continues to grow, we want to continue deepening CPGs' data via our sales."