How retailers use Prime Day's name recognition to promote their own sales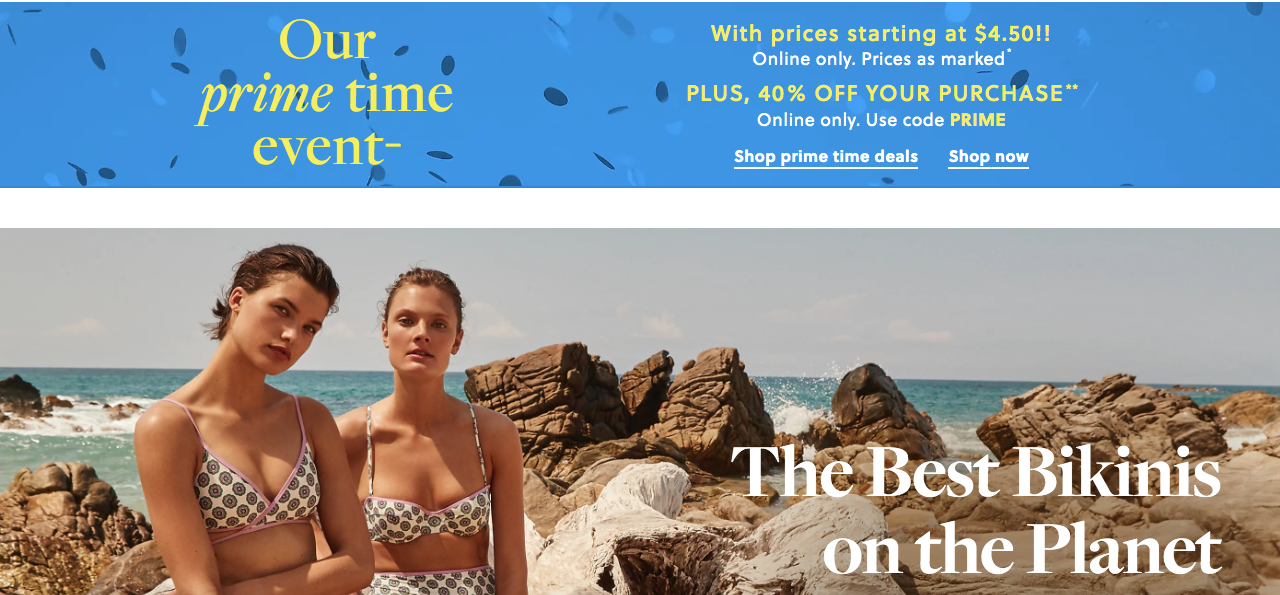 Amazon may be the only retailer with an event called Prime Day, but competitors are capitalizing on the growing name recognition of Prime Day among U.S. shoppers to promote their own sales events.
No one is calling their sales event Prime Day outright, as Amazon trademarked the phrase in 2016. Some of Amazon's biggest competitors have coined their own names for the two-day sales events they've created to coincide with Prime Day — Target is calling its sales "Deal Days" while Walmart is calling its sale "The Big Save." But other retailers are alluding to Amazon's annual two-day sales event in their marketing and promotional copy.
Bloomberg's Sarah Halzack noticed that J. Crew is calling its two-day sales event "our prime time event." DSW's homepage says that "it's prime time," and that customers can get 20% off. DTC startup Function of Beauty also promoted a sale via email this morning, with the subject line, "it's prime time you got 20% off."
On social media, eBay is taking more direct shots at Amazon, calling its sale Crash Day, in reference to the fact that Amazon's website crashed last year during parts of Prime Day. eBay also created a minute-long video ad to promote Crash Day that it distributed across Facebook, Instagram, YouTube and Twitter. In the ad, a father asks his daughter, Alexa, what Prime Day and Crash Day are, and what makes eBay's sale better than Amazon.
Amazon declined to comment on whether it's ever taken action against any competitors, but a spokeswoman said in an email that "we are excited others are celebrating Prime Day. This is good for customers."
Drew Kraemer, co-founder and CEO of Marketplace Strategy previously told Modern Retail that retailers looking to offer competing Prime Day sales have to think about where they can offer additional value to customers that Amazon can't when advertising promotional events.
Even if retailers want to use the name recognition of Prime Day to advertise their sales, they still have to find ways to convince customers to shop their sales instead of Amazon's. To stand out from the competition, retailers need to highlight exactly what's on sale and what type of discounts customers can expect. To that effect, Amazon has put together a guide for shoppers to navigating Prime Day, while Target has emphasized "rarely on sale" items including private-label products.