How resale players are charting new paths for growth in 2022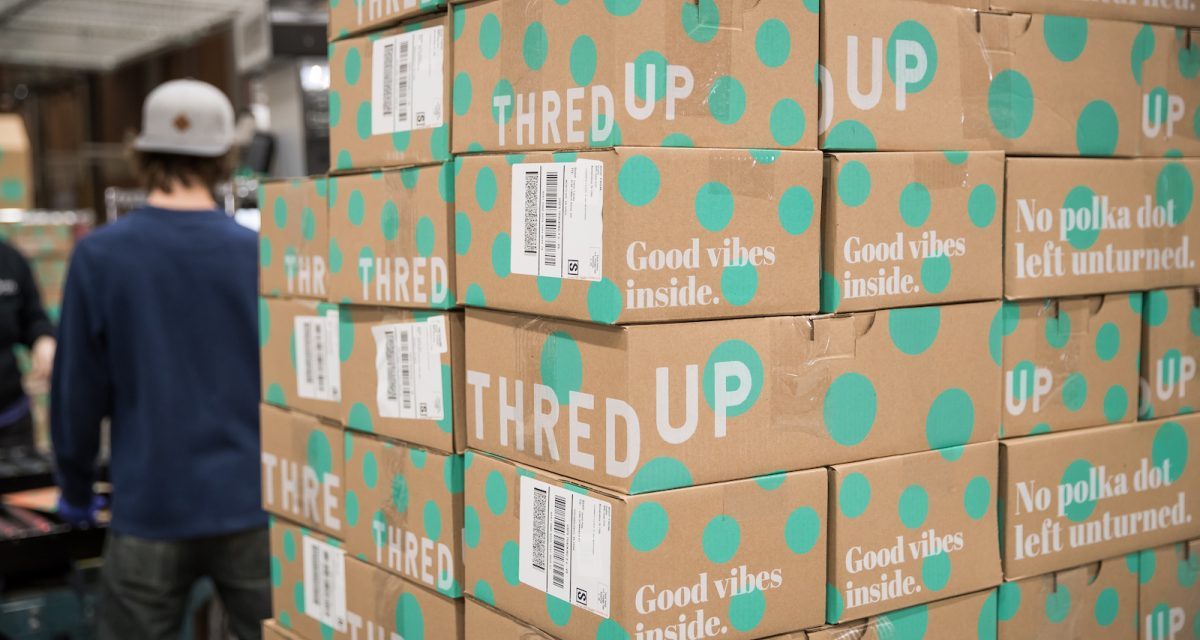 ThredUp
According to their most recent earnings, resale companies like ThredUp and Poshmark are looking to stand out as the space grows — and gets more crowded.
The apparel resale sector grew by an estimated $9 billion to a total of $43.2 billion in 2021, according to GlobalData, and is estimated to grow further at 11 times the rate of the non-resale apparel market over the next four years.  Meanwhile, over the last year, both Poshmark and ThredUp went public, while other online resellers like Curtsy and Rebag continue to secure more venture capital funding.
At the same time, as resale marketplaces report growing revenues — ThredUp and The RealReal reported sales growth of 35% and 67%, respectively, in their fourth-quarter earnings this month — competition looms and costs rise. In 2021, brands and retailers like M.M.LaFleur, Dagne Dover, Filippa K, Lululemon, Net-a-Porter and MyTheresa all launched their own resale platforms. In turn, the first movers to online resale space — ThredUp, Poshmark and The RealReal — have been looking for new ways to stand out in what was once a relatively nascent space just a few years ago.
Modern Retail rounded up earnings comments from publicly traded resale platforms' executives, who discussed their plans to stand out in the space via investments in resale-as-a-service, brick-and-mortar storefronts and cost-cutting measures like automation.
Resale-as-a-service
As more apparel brands increasingly enter resale, ThredUp is looking to partner with them rather than compete.
In its fourth-quarter earnings presentation on Tuesday, ThredUp CEO and co-founder James Reinhart talked up the platform's resale-as-a-service offerings. ThredUp partners with retailers like Walmart, as well as brands like Madewell, Adidas and Michael Stars. For a cut of profits, ThredUp helps these brands launch subsites for their used items, holding and shipping out inventory out for them. In the fourth quarter, Reinhart announced ThredUp was working with 28 brands and retailers in total — up from about 24 the quarter prior.
"We continue to believe that every brand will have a resale strategy, and ThredUp will be the leading provider of end-to-end resale solutions for the retail industry," said Reinhart. "We have visibility to adding as many as a dozen more brand clients by year-end with some very prominent and large brands moving on to our platform."
Tiffany Hogan, a director of retail insights at Kantar, said the strategy is "an interesting way to grow the entire market." Added Hogan, "even if it's not growing the direct sales on ThredUp.com, it is growing the marketplace, which is — in turn — going to grow their business secondarily."
The resale-as-a-service model isn't exclusive to ThredUp. Competitors like Archive and Trove have recently been adding notable new clients like The North Face and Lululemon and receiving VC funding for their similar service models. But for a company like ThredUp, which also works with individual sellers, the model provides a new stream of revenue and protection against brand encroachment.
In the short term, Reinhart said resale-as-a-service assists platforms with a "supply advantage" and increases "sell-through" and a "return on assets." Longer term, Reinhart believes the model will drive the platform closer to profitability by "creating a recurring high-margin revenue stream."
Online goes offline
Brick-and-mortar apparel resale isn't new: Goodwill, Arc Thrift and local thrift shops have been around for decades — if not centuries. However, as apparel resellers look to grow beyond the pandemic boom in online resale, they are launching new offline storefronts.
Luxury fashion retailer Realbag's CEO Charles Gorra earlier told Modern Retail that its brick-and-mortar stores bring in "new customers" and drive higher average order values. During The RealReal's fourth-quarter earnings call in late February, CEO and founder Julie Wainwright also said the platform's 19 brick-and-mortar locations helped with "driving new traffic" and increasing "average selling prices."
"We have nine stores that are opened now for less than a year," Wainwright said during the company's earnings call. "Thirty percent of our new consignors still continue to come from our retail locations. We continue to see a halo effect that happens regionally."
For luxury resellers, in particular, a fleet of stores can serve as a boutique with higher-priced items in high-cost cities like Los Angeles or New York. Indeed, Rebag sold its most expensive item in one of its resale boutiques and The RealReal's most recent store was opened in the pricey California suburb, Brentwood.
For a platform like ThredUp with more pricing variability or a peer-to-peer model like Poshmark, however, stores may be less useful.
"It becomes a little more complicated to make sure you have enough inventory to run a store in a given location, versus being able to do that online with relatively little or unknown levels of inventory coming in on any given day," Hogan said. "But I do think it's going to be a benefit for somebody to figure out how to operate in a physical space as well as digitally in resale."
Automation nation
These companies are also looking for ways to cut costs. Running a resale company can be expensive thanks to the costs of acquiring, storing, listing and reselling products for only a part of that items' purchase fee. Moreover, as these companies move beyond their startup roots, customer acquisition can prove expensive.
While Poshmark has been profitable for six quarters — and hasn't yet reported its fourth-quarter performance — The RealReal and ThredUp are not yet profitable. In the fourth quarter, The RealReal's net loss was $52 million — up from $51 million in 2020 — while ThredUp's net loss increased to $17.9 million from $17 million in 2020. In turn, these retailers invested in automation software and technology to limit losses going forward.
ThredUp invested in automated warehousing and shipping facilities in Texas and Bulgaria this quarter to support both its U.S. and E.U. businesses with faster cleaning and product listing capabilities.
"Our flagship distribution center just south of Dallas, Texas is coming online later this year," said Reinhart. "The facility is nearly 600,000 square feet, [and] will be our largest and most automated distribution center. When fully scaled, we expect our four-level facility will increase our total network live capacity by more than 150%."
The RealReal, meanwhile, is focusing on automating pricing via algorithm upgrades as well as investing in automated workflows in distribution centers.
"Specifically in our authentication centers, we drove operational efficiency through innovative technologies, including our proprietary diamond measurement equipment and machine learning and AI algorithms," Wainwright said. "Additionally, we continue to drive an increase in our average selling prices through refining our pricing algorithm."