How King Arthur's digital strategy has evolved during the nationwide flour boom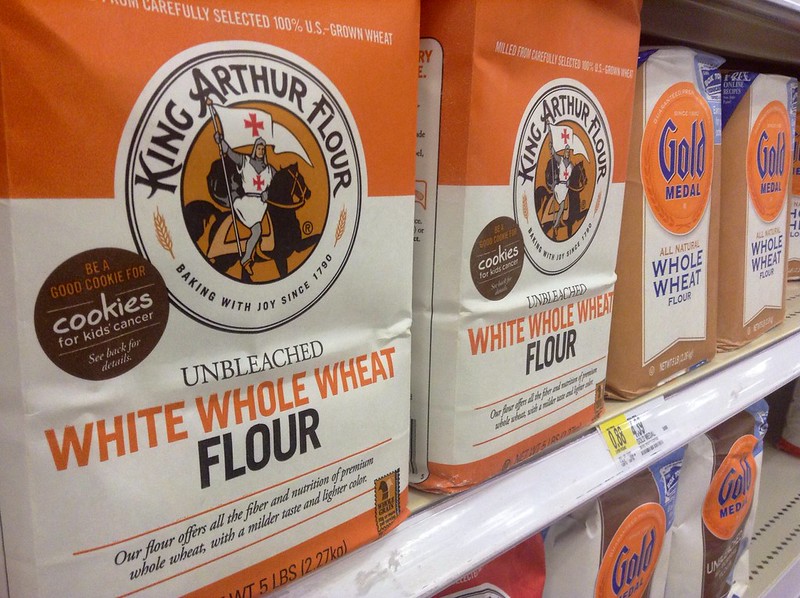 Flour is a hot commodity and King Arthur has been riding that wave.
The 230-year-old brand was one of those consumer packaged goods companies that saw sales spike beginning in March. Sales increased by 600% as people began stocking up on grocery goods — and when grocery stores were out of stock, consumers turned to King Arthur's website. The company's direct-to-consumer business doubled in the last three months and website traffic spiked at around 600% but has since plateaued at a 300% increase of what it was before coronavirus hit.
The company's digital strategy has focused on selling wherever the customer finds its products — its 2019 revenue was more than $150 million. While its website offers over 1,000 SKUs (compared to the 50 it sells to stores nationally), e-commerce makes up only about 20% of the sales. According to Bill Tine, King Arthur's vp of marketing, its digital strategy has focused on creating content that speaks to its customers.
With this, the flour brand has upped its content production a great deal — with videos surpassing 10 million views. One new hour-long show just launched in March already averages more than 100,000 views per episode. Tine described this as a "content to commerce" approach. He spoke with Modern Retail about how the company has handled the influx of demand and how it's approaching its newfound fame and overall digital strategy.
The conversation has been edited for space and clarity.
Describe how the last few months have been for you.
Early on, in mid-March, we started to see that significant rise in sales — a little bit on our website, but more quickly in retail stores. Our all purpose flour is essentially available in every grocery store nationwide. By the second or third week, it was selling probably six times what it normally would sell. It quickly got to a point that we knew it was going to be sustained. We fortunately were able to meet the initial demand, as we had really planned pretty heavy inventories leading up to Easter.
By the time April came around, we were definitely seeing out-of-stocks. That's when our direct business picked up incredibly. Our all purpose flour is [historically] actually not one of our best selling direct products because you can just buy it at your grocery store. But tons of people shifted to looking at our website both for flour and yeast.
On the digital front, how did you respond to this influx of demand?
[Traditionally], if we're going to tell someone where to buy a five-pound bag of all purpose flour, we'd tell them to go the grocery store; it's the most efficient and most likely the cheapest place to buy flour. We don't do a lot of work to encourage people to come to our website to do that. We do a lot of advertising to get them to buy other products.
Because inventory got tight, we actually pulled back on our digital advertising significantly. We didn't necessarily need the advertising to drive demand. Instead we quickly redirected those funds and time to content development to improving our technology stack to meet the influx of traffic.
We've since increased our social advertising a lot to encourage more engagement with our content. We've yet to increase our paid search and other digital advertising.
We launched a three-pound resealable all purpose flour bag that's only available online. The reason we did that was it was additional capacity that we could add to supply to our supply chain. It actually works well as a direct shipment because it's a stronger bag. We are selling it all direct so that we can keep the five-pound AP bags going to the grocery stores. It's certainly not a drive to get people to buy direct from us. It's really a way to manage our supply chain so all our partners can get back up into stock as fast as possible.
Did this increased demand this eat into the bottom line?
Yes, significantly. Products like the three-pounder cost more to fulfill. We're adding shifts [at our fulfillment centers] and making sure people are very well distanced — and there are a lot of new procedures that people have to go through. There are just a lot more costs involved in that process. I'd say it balances a little bit because we have pulled back on our promotional spending.
How have all these changes fit into your overall roadmap?
We have a very specific roadmap and I can guarantee you this is not a part of it. From a roadmap perspective, we are very driven on a content to commerce approach. Our content site in the last twelve months has reached over 45 million unique visitors. It makes us feel a lot bigger than we are. Our direct to consumer business is not that big, but we think it'll growth with that scale we built in.
We've increased our digital engagement team in three-fold because of the influx of people calling our bakers hotline and commenting on social media. What's really amazing about a site like ours — the gets hundreds of millions of page views a year and our social media presence gets people of people engaged every month — is that if you comment or ask us a question we'll respond to you really quickly.
Our team is built on makers. I joke internally, no customer wants to hear from a marketer on social media. So it's staffed with professional bakers that are also amazing at engaging with people directly.
One of the big parts of our strategy is that we have a direct connection to customers. That builds a ton of resiliency into our business model. As consumers change channels, we can change with them. As people move away from email and are predominantly on social media, we can move with them. If they move from Facebook to Instagram, we can move with them. It's harder to do if you don't have that relationship built built up.
Has the roadmap changed?
We're coming to the time of the year where we're launching new products. Some of those products would have normally launched in grocery stores. Now a lot of those launches will happen online — and the marketing behind them will be different.
We're just gearing up for those now. [Back in March] we were able to quickly adapt and rush into some of the things we're doing. Now we just want to get back to a little bit of normalcy.