How Instagram is trying to make shopping more visible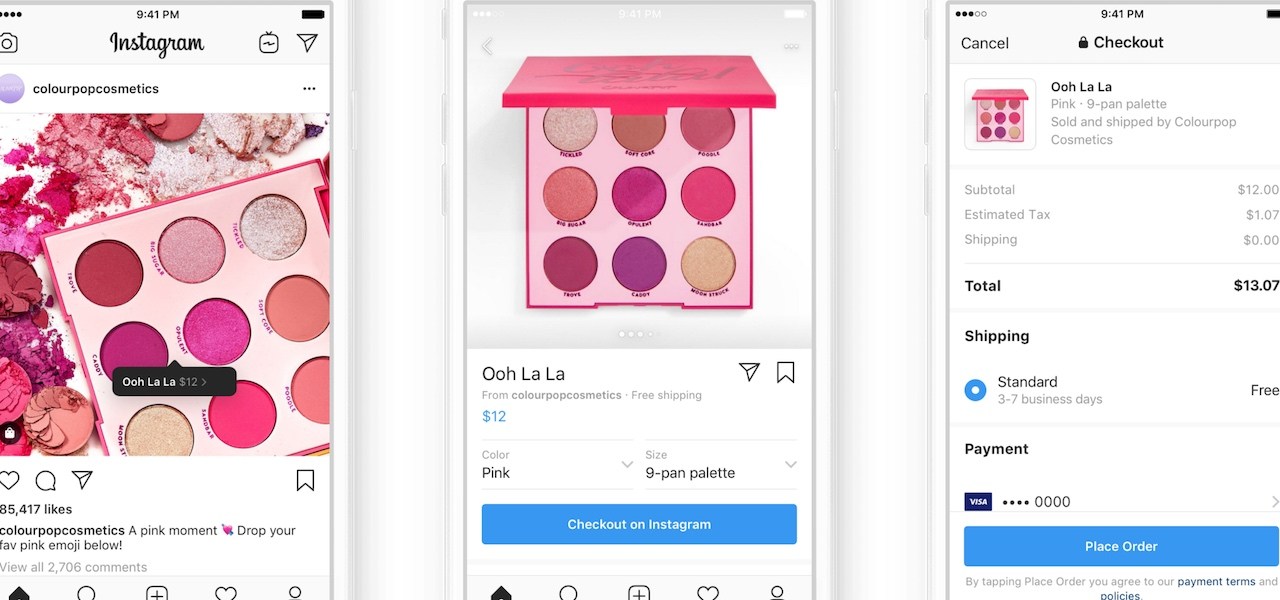 As Instagram seeks to become more of a commerce platform, it is taking a heavier hand in encouraging users to come to the app to shop.
That was signaled by the launch of a new Shop tab in Instagram Explore last week. Here, Instagram users search among a few categories like Beauty, Home and Travel, and find Instagram posts from brands and retailers who have tagged those types of products in their post. Products that are available to purchase through Instagram Checkout, which allows customers to buy products without leaving Instagram, are highlighted by a double arrow.
It's a small but important step in Instagram's quest to make itself more of a destination for shopping. Up until this point, Instagram has primarily been a destination for impulse purchases, as customers have the ability to discover products they never knew they wanted, or brands they've never heard of before, through posts and ads in their stories and feed.
But, in order to get more people to buy things, Instagram needs as many of its users as possible to think of it as a go-to place for shopping. It's doing so by adding more places on Instagram, like the new Shop tab, where users can actively search for new products and brands to follow. Instagram is also trying to elevate the shopping experience by getting more prominent retailers onboard with using Checkout. (Instagram declined to provide comment for this story beyond the initial announcement.)
There's a risk to all of this, though. If Instagram tries to promote shopping too heavily on the platform, or doesn't make it easy to buy certain products, it could turn off those impulse buyers. "Instagram is a lot less about fulfilling a need you know you already have, and more about discovering the product you didn't know you needed," said Jason Goldberg, chief commerce officer at Publicis.
Up until now, Instagram has primarily tried to make shopping more prominent by getting more retailers and brands to advertise on its app, as well as use all of its latest features like Instagram Live, IGTV and, most recently, Checkout. Within the past few months, Target and Sephora have enabled Checkout, in addition to other brands like Nike, Adidas and Zara that adopted the feature when it first launched.
In May, Facebook announced that it would be rolling out the ability in the coming months for companies to launch branded storefronts on Facebook and Instagram. These storefronts will include more commerce-specific features than the typical business pages on Facebook, like the ability for customers to save products they are interested in and browse collections curated by the retailer or brand.
Opportunities ahead
It's worth noting that the number of purchases being made through social media has accelerated due to the pandemic, as shoppers are spending more time on their phones. According to Salesforce's quarterly Shopping Index, which aggregates purchase data from the companies that use its Commerce Cloud platform, the number of purchases made through a social media app during the second quarter of this year was up 99% this year compared to the same time period last year.
"Stores are open again, and some of  the activities you couldn't do like going to restaurants or even going to shopping centers — those things are opening again, but we are seeing purchases and time spent [on social media] remain elevated during this time," said Michelle Grant, senior manager of strategy and insights for retail at Salesforce.
Thus, many online platforms are trying to figure out how to better facilitate product discovery. Instagram's new Shop Tab is one of the most overt ways yet for people to search for products to buy on Instagram — as opposed to organically stumble upon a cool new brand. When compared, however, to commerce platforms that heavily prioritize search — like Amazon — Instagram's search features are still rudimentary. Within the Shop Tab in explore, shoppers can only search for products by category, and then filter into different subcategories. Users can't search for red lipstick, for example; they have to click on the beauty tab, then go to makeup and then lips — where they will able to browse a feed of lipstick photos from different brands.
In its announcement last week, Instagram said that there will be other ways that the app makes shopping more visible this year, like eventually breaking Shop out of the Explore Tab, and add it to the Navigation tab.
Goldberg is skeptical that the Shop Tab will do much to encourage that much more shopping on Instagram. "If you know you want some great sneakers, or you want a candle from Target, Instagram is not your best option, intuitively," Goldberg said.
There are some other commerce avenues Instagram can pursue. For example, he said that there's more Instagram can do to reduce the friction on Checkout — like by adding an area where customers can enter promo codes, or working more closely with retailers to provide a more accurate estimate of when products will ship. And, by getting more brands to use Checkout, Goldberg said that Instagram can enable more of those impulse purchases, by making it as easy as possible to buy.
"There's a lot of opportunities [for shoppers] to get frustrated and abandon, when they were making an unplanned impulse purchase anyways," said Goldberg. "They've made some progress in that functionality but it's still not robust enough."