How independent bookstores teamed up to fight Amazon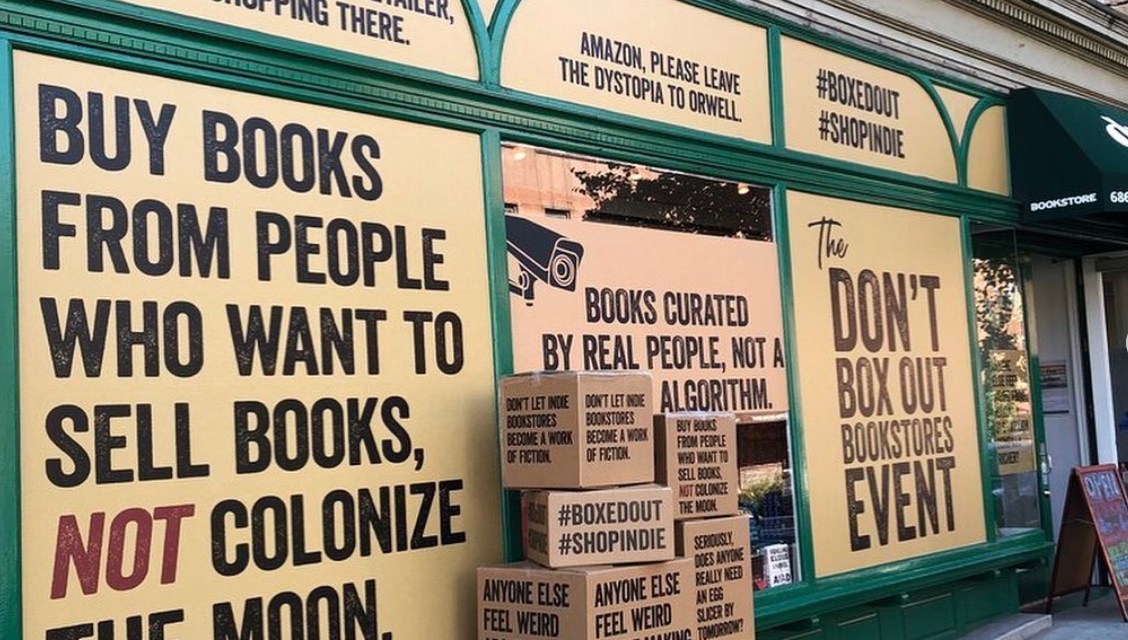 Earlier this month, dozens of independent bookstores gave themselves a makeover.
They covered their storefronts in brown packing paper, with messages like "Books curated by real people not a creepy algorithm" and "Don't accept Amazon's brave new world" splashed across. Out front, delivery boxes asked, "Anyone else feel weird about making a $1.6 trillion company even richer?" Others showcased the hashtag #BoxedOut.
The effort was coordinated by the American Booksellers Association, a coalition of independent booksellers, to call out the enormous power Amazon wields over the book business. The economic devastation of the past year — with countless independent bookstores, most prominently The Strand, struggling to stay afloat — only underscored its urgency.
In some ways, #BoxedOut was just a clever advertising effort. Hundreds of bookstores participated, although some opted to post on social media versus redecorate their whole storefront. Between October 14 and October 20, revenues across the indie bookstore sector jumped 26%. The campaign showcased often-untapped collective action. While plenty of one-off businesses have criticized Amazon, coordination on a broader scale is rare. #BoxedOut might signal a future trend among businesses struggling to keep pace with Amazon and Walmart: If they want to beat the heavy hitters, they need to work together.
"For a long time, independent bookstores have focused their energy on promoting our values rather than pointing out the competition and illuminating where they may not be good for people," said Allison Hill, CEO of the American Booksellers Association. "Now the stakes are just so high, and the problem with Amazon has become so exacerbated by the pandemic."
The #BoxedOut campaign is just the latest in a series of escalation between independent booksellers and Amazon. Earlier this year, a small publisher debuted Bookshop.org, an e-commerce platform built around supporting independent booksellers. On the consumer side, Bookshop is designed to work as efficiently as Amazon, but 10% of its profits go back to the independent bookstores that power it. More recently, one of the country's most iconic bookstores — Powell's — decided to stop selling books on Amazon's marketplace.
The book business has its own set of quirks that might explain why it has taken a more proactive approach to Amazon than other industries have. For one thing, books are a niche category, and book buyers are very intentional about where they shop. "It's not, 'Okay, I'm going to get up and get my Cheerios at the local Stop & Shop,'" said Peter Hildick-Smith, who runs the book research firm Codex-Group LLC.
But the most unique facet of the book business might simply be its timing. Amazon was a bookseller first — and also consolidated the book market at a record clip. "Amazon has the single-largest market dominance in the book industry, more than in any other consumer-facing industry," said Hildick-Smith. Amazon might be the top seller in other categories, he said, but "it's not anywhere near the level they are in the book business," where Amazon controls roughly half of all US book sales.
In that sense, books are just the canary in the coal mine. If Amazon continues to balloon, it might soon hit 50% market share in other sectors — and ad campaigns as combative as #BoxedOut might become commonplace. Amazon already has 38% of the retail e-commerce market, according to eMarketer, well above the next-closest competitor (Walmart, with 5.8%).
Already, consumer opinion of Amazon is waning. This past year, thanks to the pandemic (and the arrival of programs Bookshop.org), Amazon's brand score among book buyers — essentially, its favorability rating — has plunged, according to numbers from Codex-Group. Between October 2019 and September 2020, the share of independent book buyers expressing a positive view of Amazon dropped from 36.6% to just 22.7%. Across all book buyers, those changes were only slightly less steep — from 46.3% having a favorable view to 38.7%.
Those numbers surprised even Hildick-Smith. Over the roughly ten years he's tracked Amazon's brand score, "generally Amazon is just like a rock," he said. "For anything to change at all is pretty rare in our experience."
A swing that big suggests that these anti-Amazon campaigns are actually working, giving fuel to future collective actions. We are already starting to see glimmers of them: The bookseller campaign is reminiscent of Angers, France, where struggling small businesses banded together to launch their own Amazon-like platform, Angers Shopping, to siphon market share from the e-commerce giant. Another is Cinch Market, a Brooklyn-based service that delivers items from dozens of local home-goods stores, hardware shops, and bakeries, and takes a fraction of the cut that Amazon does.
To Hill, these shifts are a sign of regular people waking up to the consequences of their spending habits. More and more, they see how their dollars can directly impact whether their neighborhood store is able to keep its doors open — and even if they don't make that connection, small retailers are less afraid to do it for them. "There's something about the pandemic that has raised everyone's awareness in all kinds of ways," she said.