How Harrods is turning sneaker resale into a bespoke shopping service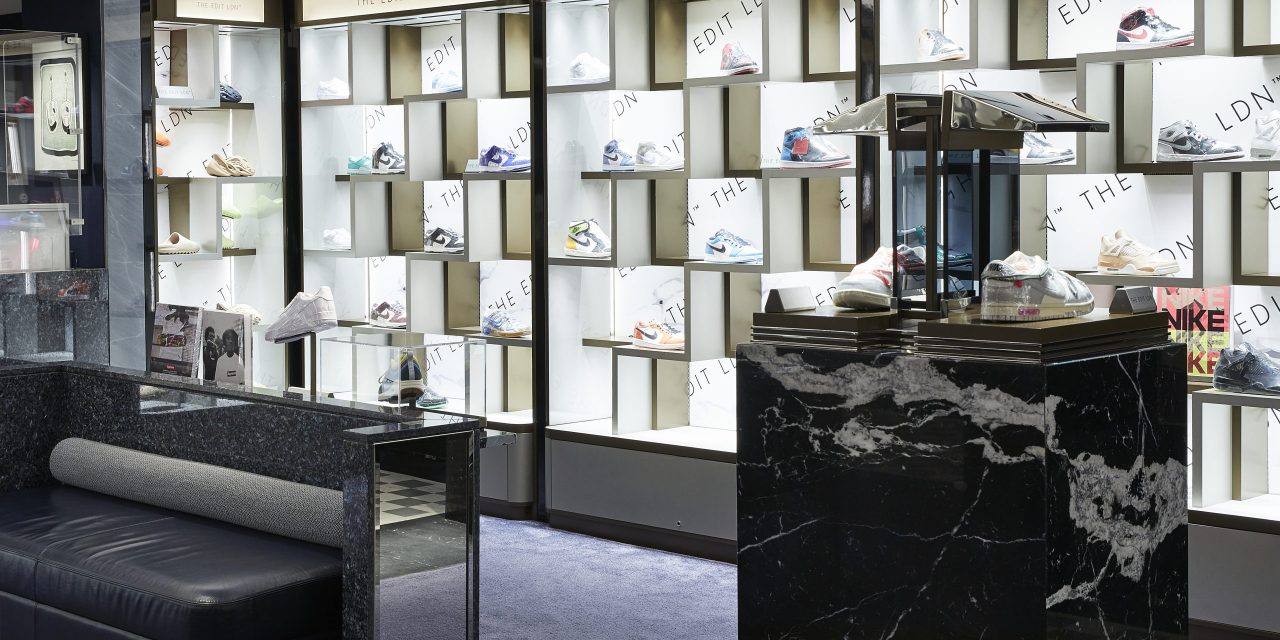 Harrods
Harrods is embracing luxury streetwear.
The cavernous London department store is now the home of online reseller The Edit LDN's first sneaker boutique. Inside the 2,000 sq ft space, coveted Air Jordans and Adidas Yeezys are encased in glass displays like fine jewellery. Its crown jewel is the Nike Air Jordan 1 High x Trophy Room, a reimagined version of Michael Jordan's first sneaker that was limited to just 12,000 pairs. Prices can range from £200 ($273) to an eye-watering £10,000 ($13,625).
Marrying the old with the new, the collaboration between Harrods and The Edit LDN is symptomatic of the trends reverberating through retail. For years, department stores have been scrambling to mitigate waning margins by tapping new and emerging brands to broaden their customer bases. The trend is epitomized by Nordstrom's apparel pop-ups and Macy's highly curated off-mall stores. In Harrods case, the 172-year-old store is pitching sneaker drops as the latest in its repertoire of bespoke services, which span personal shopping to made-to-order curtains and bedlinens.
"We're bringing the cool and they're bringing us the deluxe," Moses Rashid, founder and CEO of the Edit LDN, told Modern Retail during a call. As part of its partnership with Harrods, it will leverage its pool of consignors and resellers to provide the rarest sneakers on the market "en masse," Rashid said.
Founded in January 2020, the Edit LDN gets sneakers from a mix of resellers and consignment retailers. The company vets and grades its supply chain to ensure they have at least 500 units to trade and can meet strict services standards such as shipping deadlines to its warehouse. It also sells to styling services like Thread.com and various concierge companies, in addition to individual customers.
"Our consignment partners are like independent businesses," the self-professed sneakerhead explained. "That is how we can get 500 Yeezys."
Harrods will offer the rare sneakers in two ways: Primarily, it will sell limited batches of Air Jordans and Yeezys in-store on select "drop" dates. If a customer wants a pair that is no longer available, the department store's services team will work with The Edit LDN to order it within three working days for pickup. 
It's a far cry from the pervasive retail model for rare footwear. Limited edition sneakers are currently sold on drop dates through direct-to-customer sales, raffles and lotteries that sell out instantly. Some sneakerheads even resort to using software applications, known as bots, to nab hyped products. The fervor has seen the segment evolve into an alternative asset class, as customers take to other resale sites like StockX or Goat to subsequently resell them. 
The sneaker and streetwear resale market is worth over an estimated $2 billion in North America, according to American investment bank Cowen, and is expected to grow 20% year-over-year to reach $30 billion globally by the end of 2030. 
The EDIT LDN has profited from the increased interest. It is expecting to complete its second year in business with £1.5 million ($2.04 million) in sales.
Rashid said the collaboration between his company and Harrods was hatched by Kurt Geiger, the U.K. footwear giant which operates Harrods' footwear department as part of its multi-channel business. 
For Harrods, the boutique is a way to showcase its strength in menswear as a service. The department store has been building out its male fashion category over the past three years, culminating in the opening of a 4,000 sq ft sports apparel room on its menswear floor. Alongside brands ranging from Lululemon to ON Running, the section also includes a rotating pop-up currently home to Australian cycling brand MAAP. 
The expansion followed a period of industry-wide disruption for U.K. retail and department stores in particular. Harrods previously cautioned that it would take longer to recover from the headwinds created by the pandemic. The company accepted government funds during lockdowns and this summer said that it would cut 14% of its 4,800-strong workforce. 
Pre-Covid, Harrods boasted 80,000 daily visitors, but that figure was down to just 4,000 last year as foot traffic was blighted by air travel restrictions.  Harrods relies on wealthy tourists to frequent its stores as U.K. and E.U. customers only account for 30% of revenue, according to management.
Though it has yet to reveal its earnings for fiscal 2020-21, ahead of the pandemic Harrods saw a 4% increase in gross transactional value to £2.2 billion ($3 billion). Turnover during the period was mainly flat, increasing 0.3% to £870.8 million ($1.19 billion) year over year.
"Bringing The Edit LDN's industry expertise to Harrods ensures that our customers have access to the latest and most exclusive styles on the market through a service level which is unmistakably Harrods," Simon Longland, Head of Menswear at Harrods, said in a statement.
While the new boutique allows the store to expand beyond its core clientele to reach new customers, it may be a case of too little, too late, according to experts. "Harrods audience is female-tilted, affluent and generally composed of older millennials and the Gen X category," said Matt Moorut, a retail and e-commerce analyst at Gartner. The Edit LDN boutique appears to be an experiment designed to "test the appetite of young male shoppers — a strong niche," he added.
But with so many avenues of retail already available to this digitally-savvy demographic, it "seems like the collaboration is late to the game," said Sucharita Kodali, a retail analyst at Forrester.