How Gap's new loyalty program ties together its multiple brands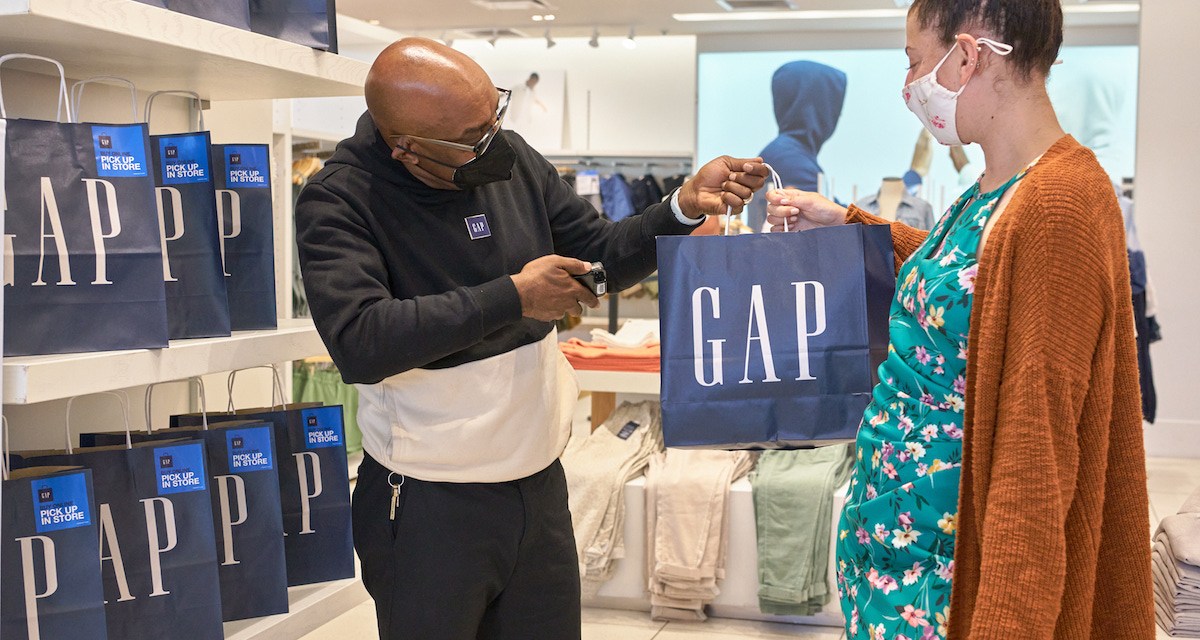 Gap Inc.
Last September, Gap Inc. relaunched its loyalty program in order to encourage people to shop and redeem rewards across all four of its brands — Banana Republic, Old Navy, Athleta and the namesake Gap brand. Now roughly ten months into the program, Gap is making a greater push to get more people to sign up.
Gap announced a slew of changes to the program on Thursday, based on feedback gathered from early participants. Gap is adding tiers to the program — the more that customers spend, the more rewards (such as faster shipping) they can access. Gap is also simplifying rewards redemption — members now earn 1 point for every $1 spend. Gap is also adding more in-store signage and QR codes encouraging people to sign up for the loyalty program. The loyalty program push comes as some of Gap's brands — particularly Gap and Banana Republic — are still struggling to return to pre-pandemic sales levels.
"Our goal is to turn customers into lifelong loyalists," said John Strain, chief customer, digital and technology officer at Gap Inc.
Gap said that more than 19 million people have signed up for the loyalty program since the relaunch in September. In total, Gap said that more than 37 million people are part of its loyalty program and/or use its branded credit card.
Strain said one of the biggest pieces of feedback Gap got from the first group of new loyalty program members was they wanted it to be easier to redeem points. For example, when Gap relaunched the program, customers couldn't redeem rewards until they had spent $500. Now, customers can redeem points as soon as they spend $100.
Another one of the most sought-after perks from customers was fast, free shipping. With the new tiers that Gap is rolling out, loyalty program members who spend under $500 a year get free three to five-day shipping on orders over $50, while customers who spend more than $1,000 a year get free two to three-day shipping on orders over $50.
"We know there is an expectation from customers that they want free shipping," said Strain. "That said, you've got to be able to afford it and shipping is not free, there is a cost to it," which is why the company decided to offer faster shipping to the customers who spend the most.
While there are some rewards that are universal across all brands, such as fast shipping, there are a few perks that Gap is offering unique to each brand. At Banana Republic, for example, loyalty program members in the highest spending tier will get free, basic alterations. Over time, Strain said that Gap hopes to add more experiences to its rewards program, giving the example of allowing members to make styling appointments at Banana Republic.
Gap's sales throughout the pandemic have varied drastically across brands. During its first quarter earnings in May, for example the company reported that comparable sales at Banana Republic were down 4% year-over-year, while they were up 27% year-over-year at Athleta. As a whole, Gap Inc. recorded revenue of $4 billion during the first quarter of 2021, up 8% compared to the same period in 2019.
"Generally speaking, Covid called into question just how much people were truly loyal to brands," said Owen Frivold, co-founder of customer experience agency Hero Digital. He said that as retailers start to redesign their loyalty programs following the coronavirus pandemic, experiential rewards — such as styling appointments or early access to product launches — as well as free shipping, are becoming some of the most common features of retail loyalty programs.
By allowing customers to pool their spend across multiple brands, Frivold said that Gap is "essentially going after entirely family spend." That gives Gap a unique opportunity to target say, both parents who shop at Banana Republic and teens who shop at Old Navy with its new loyalty program, while still giving members access to brand-specific perks.
However, designing a loyalty program that runs across multiple brands is technically difficult. "There's typically a hurdle of taking existing programs and merging them into a single system that allows you to make it seamless for a customer," Frivold said.
Strain said that Gap has had a shared shopping cart across all four of its brands for years, which made pulling off the launch of the new loyalty program technically easier. But Gap had to make some other investments — Gap previously relied on a third-party points management system, but the company has now brought those capabilities in-house.
"There were a lot of coordinated efforts [across teams]," Strain said.