How DTC startups are preparing for an uptick in returns over the holidays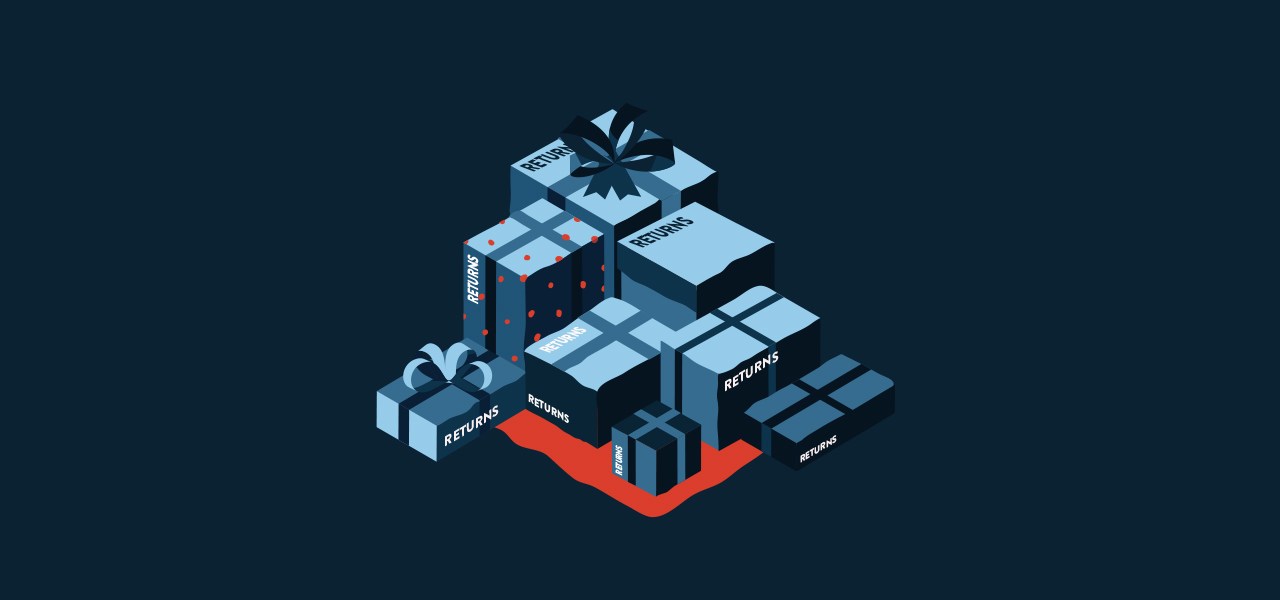 In order to better manage returns over the holiday season, all retailers are looking at how they can give customers more cost-effective ways to exchange and send back items, in order to cut back on the shipping fees they may have to pay in order for the customer to send the item back. But it is particularly a challenge for direct-to-consumer startups, many of whom at most have a handful of physical stores that customers can return products to.
As such, some DTC startups like Outdoor Voices and Rothy's are following in the footsteps of big-box retail companies and extending their return policies. That way, shoppers who buy gifts during Black Friday or Cyber Monday can return them up through the beginning of January. Rothy's for example typically has a 30-day return policy, but for orders placed between November 1 and December 31, will allow customers to return those items through January 31.
Other DTC brands, including Dagne Dover and Timbuk2, are working with startups like Happy Returns and Narvar to give customers who don't want to ship their items back the option to return items at other retailers' like Walgreens' stores.
While some DTC brands say that they typically see the same percentage of returns during the holidays as they do year-round, they are likely processing more returns simply because they are getting more orders. According to a survey of more than 1,000 consumers from RetailMeNot, 37% of respondents expected to return at least one holiday gift this year.
Additionally, processing returns has become an even more challenging task for retailers as shoppers start to buy gifts further and further ahead of the holidays — gifts that the recipient might not be returned until January. According to the National Retail Federation's annual holiday shopping survey, 39% of nearly 7,800 respondents plan to start their holiday shopping before November. The risk for some brands, is that come January, the rush of products being returned can overwhelm their customer service and warehouse teams.
No matter the time of year, returns are an expensive thorn in the side of DTC startups' business. Even if the company can resell the product, there's a high risk that they'll still lose money on that purchase by having to pay the shipping fees to get the product to the customer and back. Additionally, many DTC startups offer free returns in order to incentivize first time buyers, but further eroding their profit margins.
"If a customer feels like they have a long time to return a product that they're buying for the first time, it basically de-risks their commitment to become a first time customer," said Caitlin Roberson, vp of marketing for Happy Returns, a startup that helps brands including Everlane and Rothy's process returns.
Other DTC startups do offer flexible enough policies that they don't need to adjust them for the holidays. Casper offers a 100-day return policy, while Brooklinen offers returns on "the majority" of its products within 365 days. Still, a long return window doesn't negate the fact it's expensive for DTC startups to process returns.
"To ship three briefcases for essentially one order where two of them are coming back — just the economics of that just doesn't work," said Matthew Stuart, co-founder of Stuart & Lau, which sells briefcases.
Stuart & Lau has taken one of the more extreme measures to limit the amount of bags people return. As of Black Friday, the company now charges a $10 fee per return. The company said it is too early to say how its return rate will change as a result of the new policy.
"The way we describe it to customers is that we really would rather not build into every briefcase or every bag, the price of the returns so that customers… suffer the higher pricing," said Stuart.
Stuart & Lau does also extend its return windows for the holidays — customers who purchase between Black Friday and the end of the year have 45 days to make a return, compared to the usual 30.
Stuart & Lau's bags start at $295, so a $10 return fee isn't as much to sneeze at as it would be for, say, the customers of a DTC deodorant startup. So other startups are instead finding ways to make it as easy as customers to return products, so that they're not waiting right up until the end of the return window to send back a product. That way, companies don't receive a bunch of product at once that's out of season, and may ultimately need to be discounted.
Happy Returns has built a "Return Bar" network, where customers of the brands it works with can make returns of online purchases at participating locations, which includes both national retail chains like Bed Bath & Beyond and Paper Source, as well as some college campuses. And this spring, Narvar, another startup that helps companies manage the returns process, launched a new service where brands that use Narvar's software can let their customers return their purchases at one of Walgreens' 8,000 stores, as well as at a handful of Nordstrom stores. More than 30 brands are now participating in the service, called Narvar concierge network, according to Narvar CEO Amit Sharma.
Dagne Dover, a handbag startup that primarily sells direct-to-consumer but also has some wholesale partnerships with chains like Nordstrom and Equinox, is one of the brands participating in the Narvar concierge network. Dagne Dover COO and co-founder Deepa Gandhi said that of the customers who make returns, around 15% of customers choose to return their products through the concierge network.
"A lot of our customers are urban customers, where within a couple block radius, they can find a Duane Reade [or Walgreens]," Gandhi said.
But the ultimate goal, startups say, is to cut down on the number of returns in the first place, by trying to provide as much information as possible on the product detail page, as well as photography that accurately depicts products. As Peter Sobotta, founder and CEO of the Shopify-focused returns management platform ReturnLogic told Modern Retail earlier this year, returns are "a barometer of the health of your company."