How dinnerware brand Jono Pandolfi captured a new DTC market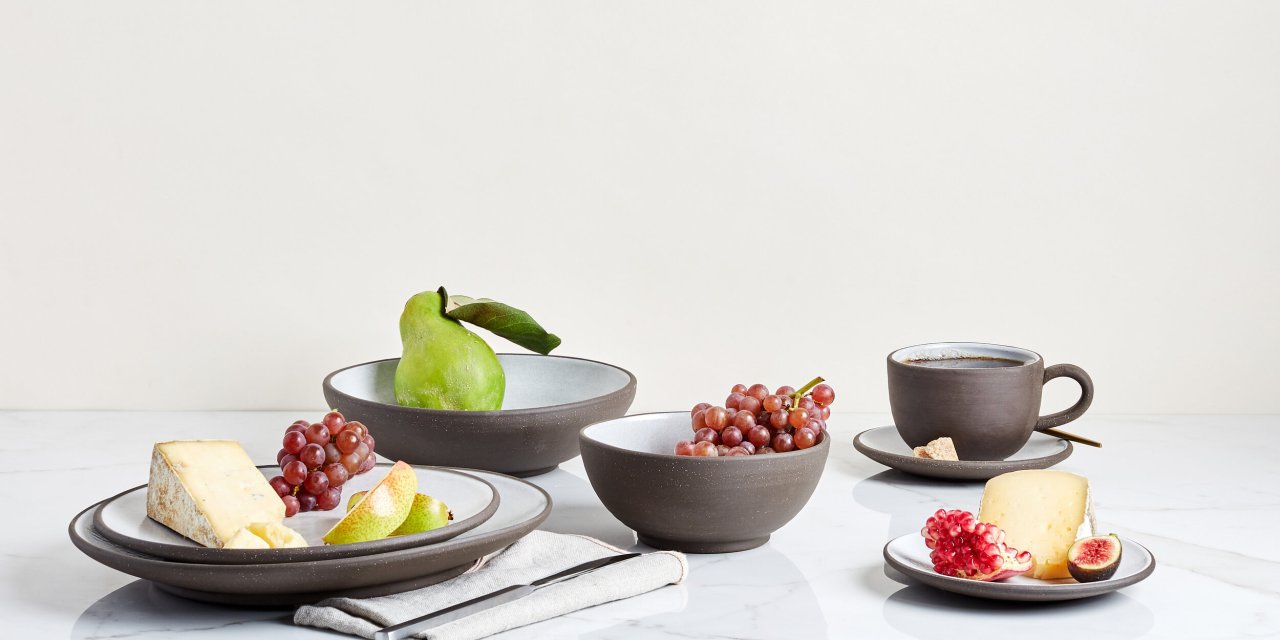 Wholesale businesses that relied on steady restaurant clients are now switching gears.
When high end restaurants shut their doors in March, it also meant canceling unneeded vendor orders. But it wasn't just food suppliers that had their deliveries rerouted. Handmade ceramics brand Jono Pandolfi, known for supplying Michelin-star chefs with dinnerware, had virtually all wholesale requests void that week.
In March, the company laid off the majority of its studio workers, and set to work pivoting to a new business model. "As soon as we shut everything down, we became completely focused on rebuilding the business to sell to the DTC market," said Nick Pandolfi, who currently runs the business side of the operation. The company is focusing on selling collections of plates, bowls and drinkware in the $15 to $150-per-piece price range, targeting what he described as the "serious home cook."
Since its founding in 2004, the company relied on hospitality orders for nearly 75% to 80% of its sales, courtesy of clients like the Four Seasons, Waldorf Astoria and The NoMad. The other 20% of the mix was made up of direct-to-consumer sales. This model was already helping the company grow at a 50% annual rate in the two years, and scale up production. And over the years, its collaborations helped build a catalogue of custom dinnerware collections, including with chefs like Daniel Humm and Jean-Georges Vongerichten.
Now, eight months after all wholesale sales sputtered, online sales have tripled year-over-year, with overall profits up by nearly 400%. The last few months have been a crash course in pivoting from restaurant supplier to a self-funded DTC brand. The sales lift also allowed for all 17 employees to gradually return to the studio, beginning in May, to help fulfill the increased demand.
Before the pandemic, "the strategy has been to sell to restaurants at pretty low margins," Pandolfi said. This also acted as a marketing channel. Most of the DTC business could be traced back to people flipping over plates and following the brand on Instagram, he noted.
Now, with the majority of fine dining restaurants still figuring out reopenings, finding new customers requires investing in a new set of digital tools. 
The business shift began in earnest by switching from Squarespace to Shopify, to better handle order volume. While the direct to consumer channel's reaction has been exciting, Pandolfi admitted there are a lot of modifications required to transform the B-to-B business into a consumer-facing one. For example, one of the studio's biggest challenges was to overhaul their pack and shipping process to better suit consumers and be more sustainable. "We'd never put too much thought into our consumer packaging before," Pandolfi said, but unlike loading a truck palette, individual orders of the clay pieces have to be safely packed to reach homes nationally. 
Building out a DTC channel
While DTC had always been a part of the business, it's been secondary. For the most part, its consumer-facing programs focused on branded collaborations, including a collection with Food52 and a recent partnership with DTC home goods brand Parachute, which was unveiled last spring. 
On the marketing front, Jono Pandolfi has been slowly experimenting with Facebook ads. Given the studio' production capacity, the company opted to forgo most paid marketing to not overwhelm demand. "We're not a venture-backed startup and every single item is made by hand, so I'm hesitant to staff up too quickly." 
The brand's current consumer product line encourages home cooks to "ditch your Ikea plates and upgrade your dinnerware," he said. One new fermentation crock included a partnership with Bon Appetit's Brad Leone, aimed at the baking enthusiasts. These influencer-based moves are mainly to "drum up the marketing" and make customers aware of the brand, Pandolfi explained. 
Over the last few months, Jono Pandolfi has been able to "more than replace" the lost restaurant revenue, with year-over-year online sales increasing by 30%. "And because the margins are so much higher, our profits are up," he said. For example, the $48 Coupe Entree plate would cost a restaurant about $28.50. "And because we've yet to spend on Facebook or Instagram advertising, that difference is pure profit," Pandolfi said.
Riding the home good wave
It's a popular time to grow a home-focused DTC channel. Currently, there is an arms race to get in front of home cooks, said Rebekah Kondrat, founder of consultancy Kondrat Retail. In recent months, everyone from retailers like Home Depot and Lowe's, along with Food52, have noted big spikes in home goods sales and have gone all in on generating content.
More niche brands like Jono Pandolfi are now trying to cash in. "Pivots like this are part of a big opportunity realization from homeware and adjacent industries," she said. Smaller companies are finding a whole slew of customers out there, she explained; "Wholesale in particular has an opacity in data, so a consumer-facing channel can help inform future investments and channel mix." 
For the high-end ceramics brand, this has meant teaching itself new digital tricks, as well as hiring new types of talent. Along with two seasonal workers, the company has hired a marketing director and is in the process of bringing on a data analyst "to figure out where our customers are coming from," Pandolfi said. A site refresh is on the horizon too. With this, the company is trying to suss out who its ideal customer is and target them accordingly, "It's important to figure out why someone is buying just one plate and coming back for more a month later," he said. 
It's a growing new world to tap while many restaurants figure out how they'll adapt. Still, fine dining isn't out of the brand's scope. "We'll always serve restaurants as the core of our model," Pandolfi said. Fancy establishments are an important marketing channel, if nothing else.
With DTC growing, however, he may get choosier about which restaurants he partners with. "We can only fire that kiln once a day," he said.