How digitally native brands are upending the American mall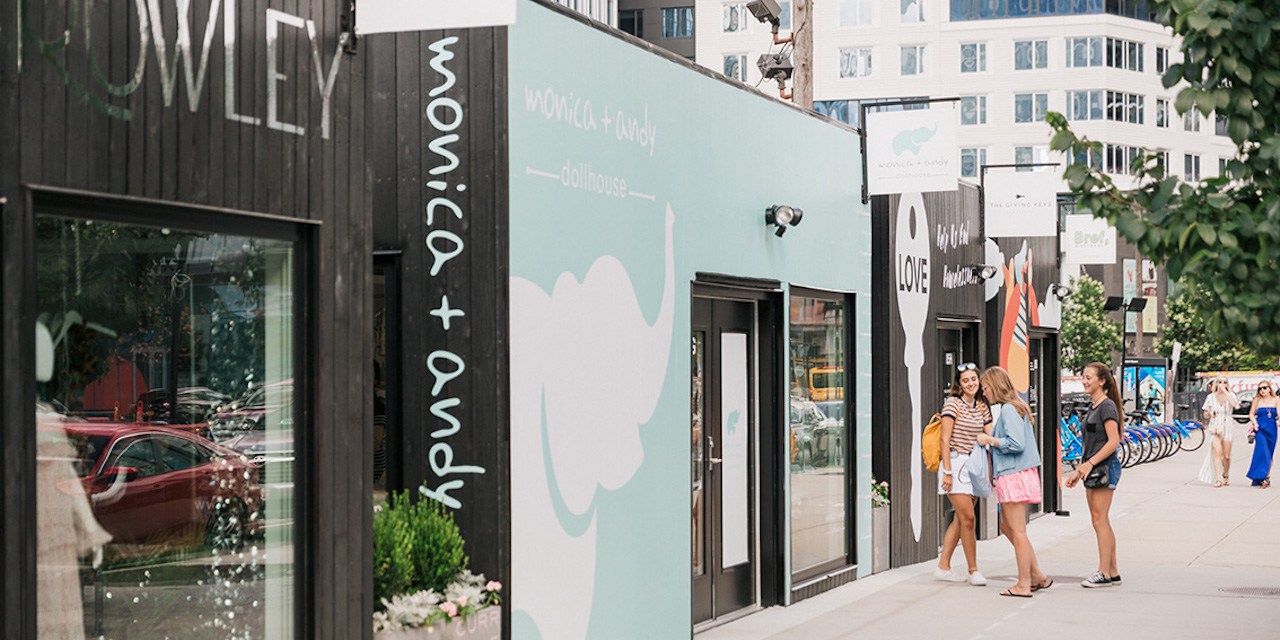 This article first appeared on Glossy, Modern Retail's sister publication covering fashion and beauty.
With fresh, innovative stores their lifeline, American malls are bending over backwards to lure digitally native brands. The pressure to provide these brands a seamless transition to physical retail is forcing big changes and the malls up to the challenge on the right track.
When NYC's Hudson Yards opened the Shops in mid-March, spokespeople fixated on the second-level "Floor of Discovery," dedicated to the stores of new-to-New York shops and digitally native brands launching physical retail. Included brands, like San Francisco-based multi–direct-to-consumer-brand Batch, said Hudson Yards developer Related Companies made them an offer they couldn't refuse.
Amid store closure closures left and right by mass brands from Gapto Victoria's Secret, malls are being forced to figure it out or face their fate. (Vacancy rate in regional malls was 9% in the fourth quarterof 2018, up from 8.3% the year prior, according to a report by research firm Reiss early this year.) The former has translated to learning to relate to the modern direct-to-consumer brands that are resonating with consumers. These brands have data and marketing sophistication built into their DNA. To gain them as tenants, rather than highlight the clash of the two worlds, malls are taking notes and bending their own rules.
"Related built out the whole space for us," said Lindsay Meyer, CEO and founder of Batch, days before the March opening. "That was the main attraction for me: I didn't have to be here, I didn't have to hire a crew, I didn't have to worry about permits — and they footed the bill for all of it. We had no time; we decided to do this in December, but we couldn't say no. I think they were… I'm not sure if struggling is the right word, but there are still some empty spots on this floor; it's about 80 percent occupied."
Hudson Yards wouldn't disclose the occupancy rate on the Floor of Discovery, but a spokesperson said Suitsupply just signed a deal to take over a 5,000-square foot space. In addition, they noted that many of the brands that were open at the time of the mall's launch — Mack Weldon, Rhone, Stance and Lovepop among them– are outperforming expectations and seeing increased sales on their websites.
And the developers aren't letting up on getting more young DTC brands on board. In early June, Matt Scanlan, co-founder and CEO of DTC fashion brand Naadam, took to Instagram Stories from Hudson Yards to poll his followers about whether he should open a store on the second floor, in the vacant space across from Snark Park. Naadam, which has been focused on physical retail expansion since its latest funding round in July, has yet to brave the confines of a shopping mall. Instead, it's exclusively opted for street-level stores on the main streets of high-traffic areas, including NYC's Prince and Bleecker Streets.
"Hudson Yards is thinking very innovatively about how they're offering up their leases," said Scanlan. "They've offered us a pretty interesting deal that meets my business where it is right now." Included in the deal is the money to white-box the space and start from scratch, a "fair" rent price and a revenue-share setup intended to keep rent low. Scanlan's seriously considering the offer. (Ninety-three percent of his voting Instagram followers advised him to scoop up the space.)
The retail landscape is waking up to the idea that DTC brands need flexibility, said Sasha Astafyeva, principal at Felix Capital, which has invested in Goop, Anine Bing and Mejuri.
"They need to be able to experiment and test the waters," she said."Because they also have a brand clout and they are a draw for consumers, it gives them the opportunity to — maybe not dictate the terms, but at least be able to have more bargaining power. Before, the only way to find your consumer was to be in a retail location. Today, the location needs the brand more than the brand needs the location."
And one hot brand works to attract others.
Another appealing factor of Hudson Yards, said Scanlan, is the neighboring stores' alignment. "I want to know: Who am I next to? Do they match my brand? Are they one of those cool brands? Co-tenancy is everything."
Outdoor Voices at Boston Seaport
The same rings true for retail tenants of Boston Seaport, said Maggie Smith, head of marketing at its developer, WS Development. Currently, those include Away, Outdoor Voices and Warby Parker.
"Co-tenancy continues to be a main part of the conversation," she said. "There's a transition going on, from brands wanting to know traditional real estate metrics to those that are more consumer-driven; [before moving in] they want to know the social clout of the place itself. So we spend a lot of time helping to build the brands of our [tenants] with marketing, events. That's not only for the impact it has on the consumer, but it's also so we can package that up and tell that story on the leasing side of the business."
Along with offering up leases that are customized to their needs (ample perks included), malls are luring brands with upgrades that speak to the lifestyles and expectations of their customers. They're bringing in popular businesses that deviate from retail to create a one-stop shopping center, and they're providing shoppers a trip-worthy experience by getting thoughtful about the amenities and ambiance provided.
To add to the allure of the Seaport, the district has commissioned various artists to create works for an art corridor spanning four blocks, and it's made sure to maintain ample public green space. "We want to connect the neighborhood and create spaces that are welcoming, and allow for retail to be the context and not so much the concept of our development," said Smith.
In addition, it's maintained strategic mix of tenants, including a range of restaurants, and local and national retailers.
"Malls are being forced to redefine their unique selling point," said Astafyeva. "It's no longer about finding one [department] store that's fulfilling a need and is going to draw everyone in; it's about finding a group of stores and a group of experiences that are going to draw everyone. People will leave their homes to be inspired and entertained, and discover something new."
Outlet malls, too, are looking to restaurants and DTC brands to buoy their businesses. For example, New York-based Woodbury Common Premium Outlets, a Simon Property Group, plans to bring in more well-known sit-down restaurants and upgrade existing dining options in the near future, said Steve Yalof, CEO of Simon Premium Outlets. What's more, it's looking to lure more DTC brands. Untuckit opened its first outlet there in March.
"As digitally native brands brands pivot into the bricks-and-mortar environment, they are bringing a younger and more diverse shopper to our centers," said Yalof.
Untuckit at Woodbury Commons
In an effort to attract an innovative retail brand to its Midwest shopping center, The Meadows, located in the St. Louis suburb if Lake St. Louis, launched in May a "Shark Tank"-style contest called RetailNext, inspired by the digitally native brands it's temporarily hosted. The winner receives a free year of rent in the center, as well as marketing via channels like billboards, and assistance on branding and store buildout. In addition, contestants receive mentorship leading up the winner reveal from 12 local retail experts, including Maxine Clark, founder of Build-A-Bear Workshop.
To enter, brand founders fill out a one-page questionnaire, available on The Meadows' website. Questions focus on their business concept, target audience, projected sales margins and plans for growth. To promote the contest, The Meadows is relying on social media, local billboards and radio, and press. The news release was picked up by around 120 news outlets, said Alysia Kercove, The Meadows' general manager. So far, entries have come in from cities including Indiana and California. A live event will announce the winner, which will be selected by the mentors and votes collected through social media.
"The public is going to be shopping this store, so we want them to have a voice in it," said Kercove.
The Meadows was bought by New York-based Cohen Equities four years ago, when it was at a low point; just 50 percent of storefronts were occupied, and retail was the sole focus. Now, it's 90 percent full, with tenants that include restaurants, gyms, hair salons and pet-grooming companies. Retailers include local boutiques, as well as national chains like Old Navy and Loft.
Most tenants have three- to five-year leases, though specialty stores are granted shorter-term leases allowing them to test the market. There's a rotating pop-up space, where digitally native brands including Lularoe have set up shop. There's also Boutique It, a collective of seven boutiques that rent space for 120 to 180 days each. "Every time you go in, you're seeing new things," said Kercove. "That's the future, if you ask me."
Working to drive traffic to the center are events including summer concerts it hosts on Thursday nights, which drive 3,000 to 5,000 people, farmers markets on Saturdays, and complimentary exercise classes on Workout Wednesdays. In the fall, 400 to 500 people will move in to 219 new apartments on the premises, and an added urban park is set to follow.
Kercove predicts  an entertainment-based company will take home the Retail Next prize, and she was quick to note that rewarding more than one winner is not out of the question.
The Current at Boston Seaport
The American mall's link to "retail apocalypse" could explain why none of the sources interviewed for this story used the word "mall" to describe their workplace. The Meadows labels itself as a lifestyle center, Boston Seaport is an "urban neighborhood." Hudson Yards considers itself a vertical urban center. But, though technically malls, they are indeed shape-shifting.
Part of that is simply becoming more flexible. Brookfield Place allowed M.Gemi to bring its mobile pop-up on siteversus take over a traditional kiosk, for example. And they're actively exploring new ideas to stay current, said Melissa Gonzalez, founder and CEO of retail consulting firm The Lionesque Group. "They're going to XRC Labs' and Fashion Tech Lab's demo days, and they're partnering with providers like [tailoring service] Hemster to integrate more services through their concierge," she said.
Increasingly, they're also backing initiatives providing young brands with operational assistance, staffing and even tracking technologies.  There's Boston Seaport's The Current, Caruso Group's The Glass Box at The Grove in L.A., Simon Property Group's The Edit, Westfield's The Gathering Shops and Shop Lab by Easton Town Center in Columbus, Ohio. Santa Monica Place has a digital wing, housing stores like b8ta, Ministry Supply, Peloton and Chubbies.
"The leasing team and the landlords have experienced a learning curve over the past two years," said Gonzalez. "A lot of spaces have launched that are dedicated to digitally native brands. [Malls] are understanding that if they want to be in these relationships with these brands, they've got to create seamless opportunities."
Boston Seaport's The Current, which opened last summer, is made up of nine small retail units, with tenants that change out every one to six months. All are focused on a theme — for example, the first was concept was "She Village," featuring female-run retailers. The idea is to provide something new to Seaport shoppers, while giving a range of brands the opportunity to test brick-and-mortar, the area or a new retail concept.
"It can work as a graduation program," said Smith. "When the retailer is successful and delivers something the Seaport customer base is looking for — we see there's response and demand — it gives both parties the confidence to proceed with a longer-term lease."
But Gonzalez warned against over-reliance on direct-to-consumer brands or hubs alone.
"It's aggressive to think that putting these features into a property is going to change the mall's traffic. They're not. It's important to support them with marketing initiatives: they should be on wayfinding and directory signage, they should be showcased on the mall's website — people need to know these things exist."
—
Sign up for the Modern Retail Briefing to get retail news, analysis and insight delivered to your inbox every morning.