How brands are using TikTok as a channel for customer service and product feedback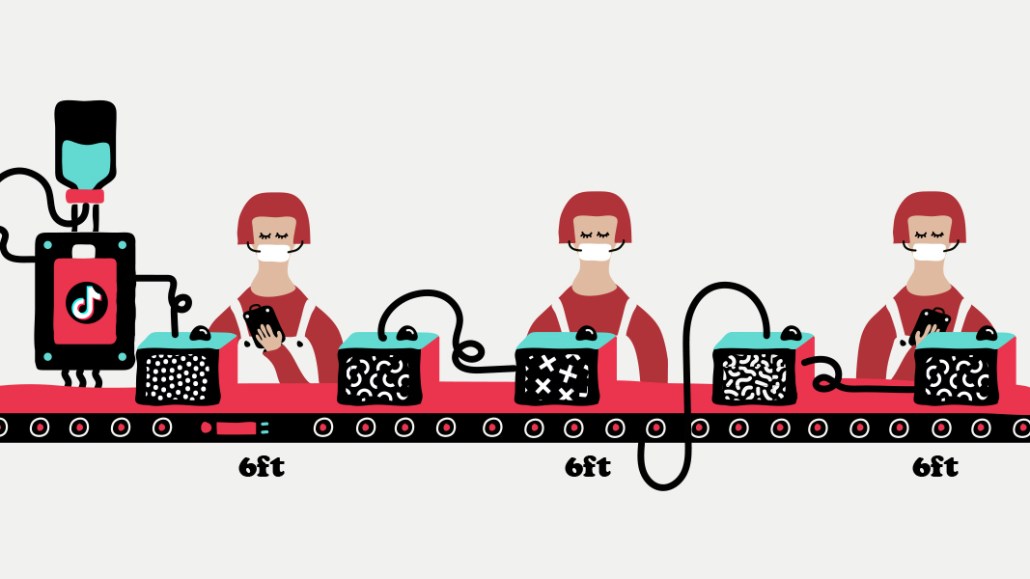 This story was originally published on Digiday, Modern Retail's sibling publication.
The co-founders of Blue Kazoo never expected that TikTok would become a space for product development.
"I started to use TikTok for fun," said Abraham Piper, one of the co-founders of Blue Kazoo, a puzzle company. "Communication with our customers was just a happy coincidence."
Those "happy coincidences" have started resulting in more sales, and new products in the pipeline.
Blue Kazoo and other brands have taken notes from the unsolicited feedback in their video comments, allowing them to answer customer questions, see trends, and make product changes.
Combing through the comments can be labor-intensive on both organic and paid posts. Yet brands have found that customers' comments can lead to easy product improvements if they can become comfortable with the tone of the app and put in the man-hours of listening to their customers there.
Piper and co-founder Josh Sowin made a company profile, but started using their personal accounts as a way to ask consumers about new puzzle releases and products. Sowin asked customers in a video if they preferred gold, silver or white lettering on the puzzle boxes, and whether they wanted the company to make puzzle glue.
Those personal TikToks "were not a part of our original strategy at all," explained Sowin. Without giving exact figures, he said the company sees a small sales bump when Piper talks about the puzzles. The company did $1.6 million in sales in 2020, which it, in part, credits to 600% growth over every quarter last year.
Blue Kazoo also used TikTok and emails to send out a call for artists' submissions for new puzzles. "We spent over five hours going through TikTok submissions, and we're now talking to three of those artists," said Sowin.
Pair Eyewear, a DTC glasses company, has been using TikTok to answer quick customer service questions, such as shipping policies, or if glasses come in progressive lenses. "It's a great platform for us to informally answer questions for potential customers," said co-founder Sophia Edelstein.
Habit, a DTC sunscreen company, has also been using customer feedback on TikTok to make product tweaks.
"We can't get to every comment, but we can see trends emerge," said Habit CEO and founder Tai Adaya. "There's so much disinformation around sunscreen, so we started doing Sunscreen 101 TikToks."
The videos were so popular that the brand put a Q&A feature on its TikTok profile, and will soon make it a part of Habit's website.
Now that brands have discovered a treasure trove in TikTok's comments, they see an opportunity for the short-form video app to give them a better way to digest the information from both paid and organic posts.
Unlike Facebook, TikTok's ad platform doesn't have a comment aggregation feature. Brands have to manually review paid and organic content. If a brand runs multiple ads with the same creative in different ad sets, they have to manually read the comments on each of the ads, according to Anders Piiparinen, CEO of Wallaroo Media, a digital ad agency that works in tandem with brands to manage TikTok.
The main reason that getting through comments is so laborious lies with TikTok's API, which doesn't yet have capabilities brands and social analytics companies would use to make this process easier, said Nick Cicero, vp of strategy at Conviva, a social and streaming intelligence company.
Still, brands are finding insights by wading through comments and videos on their own.
Based on feedback on TikTok, Habit also revised parts of its welcome kit for consumers to include more specific information about its line of goods, including the link between anti-aging and SPF as well as how to apply products, said Adaya.
These are small changes, but an opportunity to establish a direct line of communication with consumers. Habit also has a running deck of customer product requests made from the app.
Recently, Piper was tagged dozens of times in a video about a visually impaired person who made their own tactile puzzle. Piper duetted the video and connected with the user to see if there is a product they could develop. "That's an interaction and idea that we wouldn't have had without TikTok," Piper said.