How Aura Bora uses seasonal and limited-time flavors to boost sales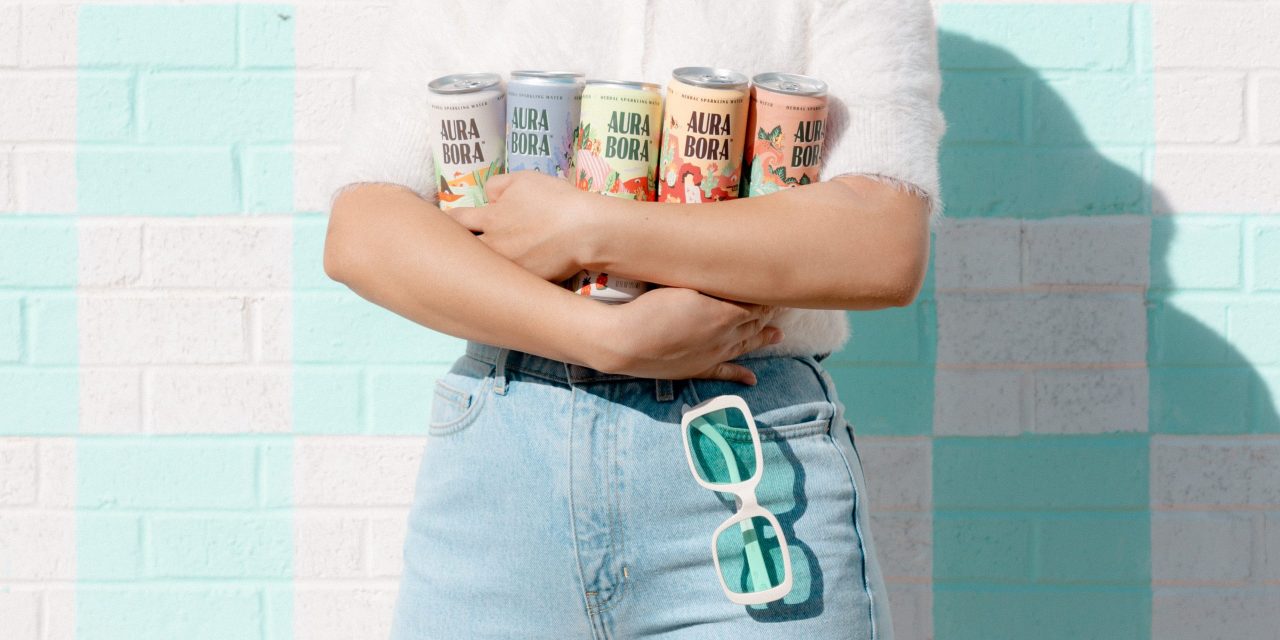 Aura Bora
Sparkling water startup Aura Bora utilizes bi-monthly limited-time flavors to boost customer loyalty and entice retailer partners.
Aura Bora was founded in 2019 as a sparkling water company with what co-founder Paul Voge describes as "weird, unusual flavors." The company launched with five flavors, which included lemongrass coconut, peppermint watermelon, lavender cucumber, basil berry and cactus rose. In just over two years, the company has expanded to 2,000 brick and mortar placements at Whole Foods, Walmart, Sprouts and other local grocery stores. Aura Bora has begun to release new flavors through a limited-time release every two months, to continue to drive buzz as it grows. According to the company, this strategy has helped the brand drive repeat purchases and build retailer relationships, though small-scale production has proven logistically challenging.
When Aura Bora first launched, the company didn't rely on limited edition products. But a year and a half into its existence, Voge decided it was time to focus on expanding the brand's flavors.
"We realized… if the whole premise of our business is that we have a more natural, more interesting or creative sparkling water that — after some amount of time — those things wear down if you're drinking them all the time," said Voge. "We needed to come out with some limited time offer flavors, some seasonal flavors, to keep our own hardcore fans interested in [the brand] and add incremental value."
Aura Bora released three new limited-time offer flavors for the first time last year: ginger meyer lemon, chai cranberry and elderflower grapefruit. Thus far, the limited-time flavors drove 50% of the brand's sales on its DTC site in the months they were offered. This year, Aura Bora will release six new flavors — one every two months — with the idea of selling out "as quickly as possible," said Voge.
The brand manufactures about four to six weeks of inventory, though many flavors have lasted only a few weeks on-site before selling out.
Limited time offers, explained Voge, are a way for Aura Bora to quickly respond to customer feedback. The idea for one limited-time offer flavor — elderflower grapefruit — came directly from a customer.
"Most companies, they can't really take those suggestions and actualize them in less than three years," said Voge. "We have this amazing ability now to be like 'Okay, 40 different people filled out a survey and wrote hibiscus. Great, in 60 days, we're getting this flavor.'"
David Schneidman, the Director of Alvarez & Marsal Consumer Retail Group said the model also encourages quick consumer purchases.
"Limited time offers create this notion of scarcity and really incentivize the consumer to purchase immediately or risk the opportunity of never experiencing the products," said Schneidman. "A finite offering, both in time and volume makes consumers much more proactive."
On top of this, added Schneidman, limited time offers give brands "news" to share with their customers beyond basic brand messaging and drive incremental purchases and larger basket sizes both in-store and at retailer partners.
The strategy also helps with retailers partnerships. Though Aura Bora debuts its limited-time offers on its brand site, successful flavors are brought back — and used to cement retailer relationships. This April, for example, Aura Bora is expanding to a national distribution with grocery store Sprouts and is giving the retailer 90-day-exclusivity with its elderflower grapefruit flavor.
"That's the retailer's way of getting incremental value over their competitors," said Voge. "Yes, other stores have Aura Bora but [they're] the only store that has our formerly online flavor."
The limits of limited time offers
However, the production of limited-time offers can be challenging, particularly amid a supply chain crisis. While Aura Bora has done limited time offers with as little as five weeks lead time in the past, last week the brand had to lock in the ingredients and flavors for their June offer four months in advance.
Schneidman added that the smaller scale of production inherent to limited-time offers is also more expensive, leading to worse margins and higher upfront cash flow needs.
Moreover, the model can prove challenging to scale. While a startup like Aura Bora can produce a smaller run of products relatively quickly, a CPG conglomerate like Lays or Coca-Cola would have to fit in a limited-time offer into a workflow of hundreds of brands, thousands of product types and millions of units.
"It is more difficult… for these larger brands," said Schneidman. "All of a sudden, when you have these products that do million units a year and now you want to do something that's five to 10,000 units, it's not as simple."
In turn, many CPG conglomerates have traditionally released seasonal flavors around holidays, such as pumpkin-shaped chocolate run for Halloween or pumpkin spice flavor for autumn for example. But, Schneidman believes many of these conglomerates will shift towards releasing limited-edition flavors more frequently, and outside of the typical holiday calendar.
"Brands are now seeing that that's what consumers are looking for," said Schneidman.