How a shoppable WhatsApp might give a boost to small sellers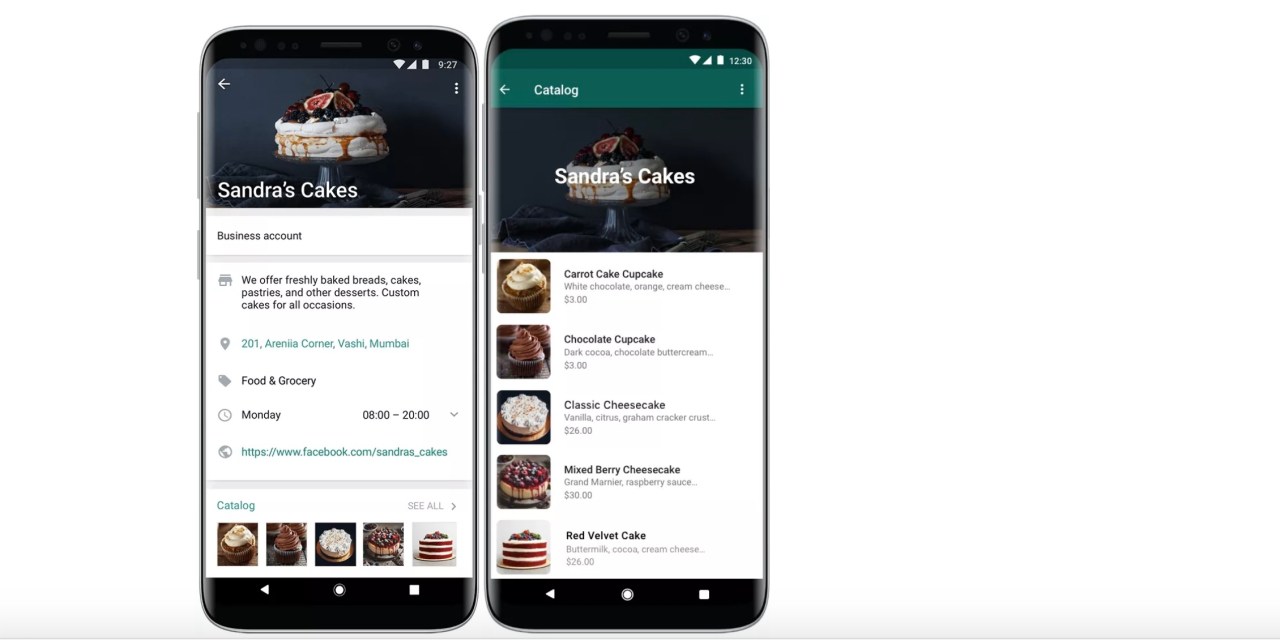 WhatsApp's new shopping carts may help grow the app's international commerce presence.
Starting this week, anyone in the world can browse products from a WhatsApp business, add multiple items to their cart and request to buy them all in one message.
The move comes as Facebook looks for new ways to monetize WhatsApp, which has not yet figured out how to convert its massive size into revenue. Earlier this year, Facebook officially backed off an effort to turn WhatsApp into a targeted ad platform, a decision that WhatsApp executives fought against out of fear that it would alienate users. Most of WhatsApp's initial earnings came from a $.99 annual subscription, but Facebook dropped that when it acquired the messaging service in 2014.
In the U.S., only a tiny sliver of people shop on WhatsApp. But the potential for WhatsApp — which boasts over 2 billion users worldwide — is significant. In India, where over 3 million people a month visit WhatsApp store catalogs, WhatsApp has proven to be a moderate success overall, but it has especially become popular among small, neighborhood grocery stores. That suggests WhatsApp's biggest benefit might not be for international brands, but for local stores without a lot of money to spend on a slick e-commerce site. In turning WhatsApp into a shopping platform, Facebook is actually placing a bet on localized e-commerce.
Whatsapp's current commerce offerings
Last November, WhatsApp added virtual catalogs for small businesses in the app, and this fall Facebook began to roll out an option to pay a business without leaving the chat. By adding a shopping cart option, WhatsApp is trying to make its new, business-oriented features more of a draw.
The shopping cart pops up in the corner of the screen when a customer enters a chat with a business. Clicking the cart takes them to a store catalog — customers see the name of the product, a photo, a short description and a price; and they click to add it to their cart. When they're done, the order is sent to the business owner as a WhatsApp message.
Adding to WhatsApp's potential growth as an e-commerce store is Facebook's recent acquisition of Kustomer, a customer service platform that specializes in SMS support, a move that signals Facebook's ambitions around turning its suite of apps — including WhatsApp — into thriving e-commerce marketplaces.
Conversational commerce, as some have dubbed message-based shopping, is already a sensation in certain markets. China's super app WeChat processes roughly $108 billion transactions a year. Some products, like face masks (the quaint, moisturizing kind, not the coronavirus ones) were especially popular purchases, with a third of female face mask buyers placing their purchases on WeChat, according to Mintel. In South Africa, WhatsApp and Instagram are popular selling platforms especially for single-person businesses located in small towns. Quartz reported on a South African entrepreneur named Akhona Shumane-Cakata, who lives in the small town of Butterworth and launched a fashion business called Acorn's Quaint Attic on Instagram and Facebook. She uses WhatsApp for support, including to help customers pick the right size clothes.
The model of Acorn's Quaint Attic, which sells clothes internationally, is quite common among local businesses. Dharun Kasilingam, an assistant professor at the at Mudra Institute of Communications in Ahmedabad, India, told Modern Retail that he's seen businesses selling "fashion clothing, shoes, accessories, travel products, and food" on WhatsApp.
An international play
In India, WhatsApp stores are everywhere. Major retailers like Puma have shops on the messaging platform. India's kirana stores — neighborhood retail stores, which account for 80% of all grocery purchases in the country — have proven an especially good fit for WhatsApp.
Since April, the online grocery giant JioMart has worked on a pilot to facilitate the storefronts for 1,200 neighborhood stores in India. When a customer messages a centralized JioMart number, a catalog pops up, and JioMart assigns them to their local grocery store based on their location — in effect turning WhatsApp into a discovery platform for local business.
Partnerships like the JioMart one make sense from a trust perspective. Because of the newness of purchasing from WhatsApp, "the primary beneficiaries will be larger companies with high levels of credibility, followed by local vendors," Kasilingam said in an email to Modern Retail. "Though trust partially comes from Facebook in the case of WhatsApp-based shopping," the stamp of approval of bigger brands might ease people into WhatsApp shopping.
Kasilingam also cautioned that not everyone will rush to buy from WhatsApp. From his research, WhatsApp shoppers tend to be under the age of 35, and they only try out WhatsApp after "high experience" — at least three years — with mobile shopping. And the number of shoppers, for now, represent a small sliver of WhatsApp's overall user base. Each month, according to Business Insider, a little over 40 million people browse through business shopping catalogs globally.
If it is able to grow, though, India's WhatsApp shopping model suggests that small, local stores, like bodegas or neighborhood markets, might be well equipped to break out on the app. Unlike paying for an expensive website, which can be a big ask especially for stores that don't have either the funds or experience, a WhatsApp shop is incredibly easy to launch.
The shopping cart announcement is hitting at an awkward moment for Facebook, however, in light of the FTC suing the company over its acquisitions of Instagram and WhatsApp. If WhatsApp does gain a foothold in e-commerce, that fact might further enshrine the case that Facebook has become too powerful.
But in the U.S., one potential future for WhatsApp — with or without Facebook — might resemble the local pop-ups that have already swept Instagram, like Neighborhood Bread in Brooklyn. Many of these are run out of parking lots or customer's houses; there's no website or Seamless page, only an Instagram business account. Customers who want to buy from them have to message on Instagram. It isn't hard to imagine that these same local — and at times location-less — stores could find a home on WhatsApp.