Following an Etsy ban, QAnon merch is still readily available on online marketplaces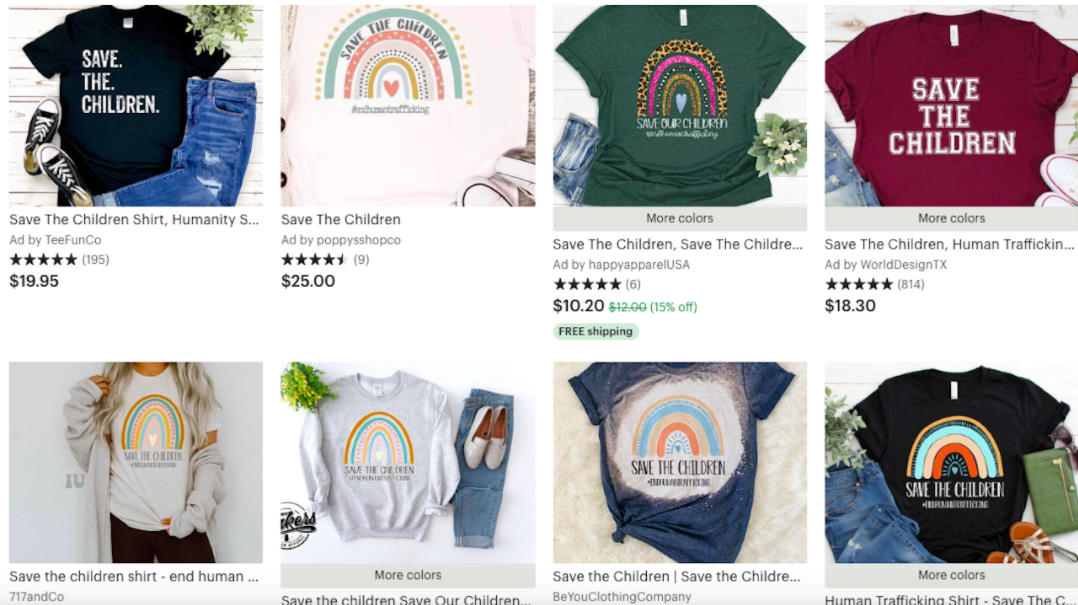 Etsy may be cracking down on QAnon merchandise, but Amazon still features an "Amazon's Choice" Q-emblazoned hat.
Following an announcement by Facebook on Tuesday that it is banning all QAnon-related accounts and groups on Facebook and Instagram, Etsy announced on Wednesday that it is in the process of removing all QAnon merchandise from the platform. Considered a domestic terrorist threat by the FBI, the online pro-Trump conspiracy theory has increasingly come under scrutiny by online platforms. While Twitter and Reddit have also removed QAnon content, related merch such as hats, T-shirts and jewelry can still be found on Ebay and Amazon, including at least one explicitly QAnon item with the Amazon's Choice designation. 
Etsy's crackdown has cut down on the number of listings of QAnon products, but a wide range of related search terms makes it a challenge to eliminate all of them. As of October 9, the "QAnon" search term brings up no results on Etsy, while on October 7 there were 1,775 results. Nevertheless, the search term "WWG1WGA," a phrase representing the QAnon slogan, still yields 1,423 results as of October 9, while "The Great Awakening," another phrase used by members of the group, surfaces 513 listings as of the same date. An Etsy spokesperson confirmed via email that the platform is in the process of removing all the QAnon merch. 
"Our seller policies prohibit items that promote hate, incite violence, or promote or endorse harmful misinformation," said the Etsy spokesperson via email. "In accordance with these policies, we are removing items related to 'QAnon' from our marketplace."
But it's not just an issue for Etsy. A search for "QAnon hat" on Amazon, for example, brings up seven pages of results, while searches for QAnon flags or shirts result in a similar number of listings. This includes a Q-emblazoned hat selected as "Amazon's Choice" that features the letter Q, and QAnon-related symbols including a white rabbit and clock. The top QAnon-related keywords do not feature sponsored listings on Amazon, after previous reports of QAnon merch on Amazon have been published. Amazon declined to comment. 
QAnon merch from Amazon comes from both U.S. and international sellers, including many based in China. One seller of a QAnon "Washed Dyed Dad Hat" with an American flag lists its business address as being in Xinjiang. The seller, who goes by "Natividad Carl," also sells a "thin blue line" flag bikini and a hat that says "Life is better with chickens around."
Ebay, meanwhile, turns up 20,033 results for QAnon, including T-shirts, pins, hats, coins, jewelry and decals. Ebay did not respond to a request for comment. Searches for relevant keywords on Facebook Marketplace only brought up a total of two listings.
As the term QAnon is increasingly banned across platforms, messaging around "Save the Children" has become a workaround on social media. The QAnon-linked Save the Children "movement" took off on Instagram in July when a conspiracy theory emerged that children were being sold through furniture e-tailer Wayfair, prompting a wave of influencers to post about it. While many avoid mentioning QAnon directly, the conspiracy theory relates to the belief in a global cabal of Satanic pedophiles who traffic and eat children. This is also the theory that fuels posts about Pizzagate, which resulted in a 2016 D.C. shooting. 
Etsy is currently filled with "Save the Children" merch with a female-centric, Instagram-friendly aesthetic. Unaffiliated with the real Save the Children organization, which has denounced QAnon and unofficial use of its name, the merch features pastel colors, rainbows, hearts and feminine fonts. A search for "Save the Children" brings up 7,191 results on Etsy, and "Save our Children" brings up 3,626. 
"It's a very obvious strategy just to simply avoid censorship on social media," said Annie Kelly, a Ph.D. student researching the far-right and host of the QAnon Anonymous podcast, about the "Save the Children" messaging. She noted that QAnon followers spreading it "know that social media companies are looking for words like QAnon, words like Pizzagate," so their strategy is to say, "Let's just cover our tracks and make it this kind of slightly bland, innocuous statement, which also happens to be the name of a major charity."
Most "Save the Children" merch on Etsy does not explicitly reference QAnon, but some listings do. For example, one rainbow-emblazoned "Save the Children" T-shirt available from a shop called FeelingAliveCo comes in colors including mauve and peach and includes the keywords "q anon," "q anon shirt" and "WWG1WGA" in the description. The seller also offers a range of pro-Trump apparel for women, including pink shirts with sayings such as "Nurses for Trump" and "Blondes for Trump."
The Etsy-fication of QAnon merch coincides with the trend of female lifestyle and wellness influencers, as well as Christian and "mommy influencers," posting about QAnon-related conspiracy theories on Instagram with a feminine aesthetic. A self-described backup account for the now-banned Instagram profile "Little Miss Patriot," for example, uses a color scheme of pastel pinks and blues with watercolor and star-patterned backgrounds to talk about conspiracy theories surrounding Pizzagate, Satanic child sacrifices and "the cabal." 
As QAnon merch has increasingly appeared offline — including at Trump rallies and QAnon-specific events — "Save the Children" rallies began appearing in cities across the U.S. over the summer with almost exclusively female participants. Kelly, who has attended similar U.K. rallies and interviewed participants, noted that the heavy female participation and feminine aesthetic is a new phenomenon, as "mostly men" are generally in attendance at other far-right events.
Links to QAnon merch sold through Etsy and Amazon also show up on the social shopping service Liketoknowit via affiliate links shared by influencers. For example, @luvbec, whose account was taken off Instagram and now operates through backup accounts, shares a link for a QAnon hat on Amazon and a bracelet engraved with "WWG1WGA" on Etsy via her Liketoknowit account. Over 20 other influencers link to "Save the Children" merch from Etsy without explicitly mentioning QAnon.
In another example on Etsy, a #savethechildren face mask from a shop called "theAWAKEco" that was still available as of Friday includes "QAnon" in the product description title. The seller's shop description complains that most of its QAnon products were taken down, using "C U E" instead of "Q" to avoid detection. The store description reads, "NOTE: THIS STORE WAS CENSORED BY ETSY. They removed all C U E related items from mine and (others stores) citing 'harmful misinformation.'" The seller instructs people who want "C U E" products to send them a personal email. 
"They're very social media-savvy people," said Kelly, who noted that for social media platforms that have banned QAnon, relying on an algorithm to root out mentions has been lacking. "All you have to do is just come up with a new code word" to beat them, she said.
As a result, removing all the QAnon merch from e-tailers is going to be a daunting task for any platform deciding to take it on. Etsy's efforts currently include a combination of manual and automatic controls.
"If social media companies are serious, there needs to be a real human team, who can quite easily see what the next identifying word is going to be," said Kelly. "But that costs money."