Explainer: What are grocery micro-fulfillment centers?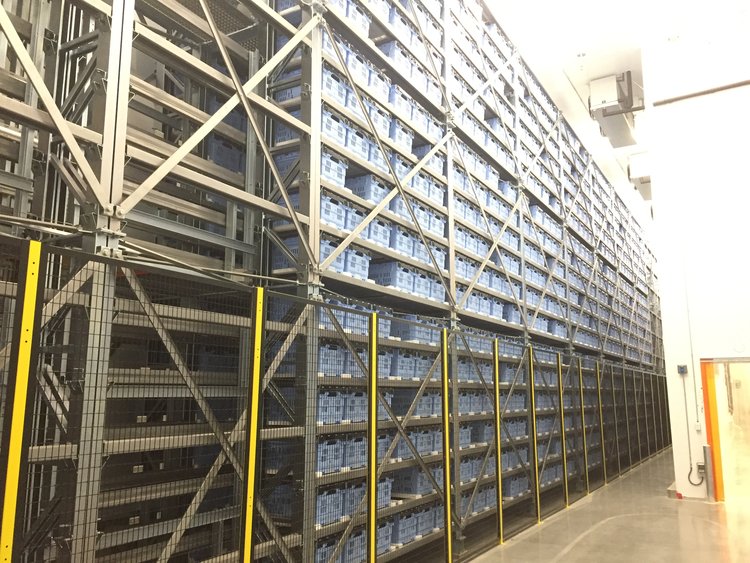 As the online grocery wars escalate, micro-fulfillment centers are becoming more popular.
They are part of a growing realization by grocers that online orders are only going to increase. But there are a bunch of different ways these stores can approach this problem. Many have turned to third party apps, like Instacart, to offload stock picking to contractors. But this model is inefficient, and will likely make for more crowded stores filled with gig economy workers.
Instead, some of the bigger names in the grocery industry are realizing they have to build out their digital fulfillment programs themselves. As a result, they are partnering with new companies to figure out the cheapest and most cost efficient way. Micro-fulfillment centers are one of the more popular routes being piloted.
What are micro-fulfillment centers?
They are essentially smaller additions to existing physical stores and used to fulfill digital orders. Some of the biggest names in grocery are testing them out. A number of companies — including Walmart and Albertson's — are investing in these programs to see if they can help build out more efficient e-commerce fulfillment options, reported the Wall Street Journal.
While many of these are mere pilots, the increasing interest in the micro-fulfillment space shows a brewing back-end battle for which model and technology will lead the growing online grocery industry. And as stores continue to try and build out their digital offerings, this fulfillment strategy war will only become bigger and more pronounced.
Micro-fulfillment isn't the only model with which grocers are experimenting. Kroger, for example, is using its investment in the warehouse company Ocado, to build out entire warehouses that would be used solely for digital operations. Other retailers too, like Target, have invested in better utilizing the space they already have to better facilitate online orders. Micro-fulfillment, conversely, builds smaller warehouses off of already-used space to make for less of a physical and economic impact.
Why are grocers making these investments now?
Behind this mad-dash is an industry-wide belief that online grocery is on the precipice of becoming mainstream. Data from eMarketer said digital sales will grow 18.2% this year, hitting $19.89 billion. That, however, is still only 2% of the overall food and beverage sales — and while growth is quite large, eMarketer maintains that e-commerce grocery sales will only represent 3.5% of the entire industry by 2023. All the same, as demand increases, grocery stores are realizing they need to react.
One of the larger umbrella trends underpinning grocers' attempts to support online sales is the proliferation "dark spaces." This is essentially the reorganizing of already-existing real estate footprints to support online fulfillment. Dark stores, which are entire locations used for the sole purpose of fulfilling digital orders, are a cousin of this phenomenon. Micro-fulfillment centers also exist on the periphery of this growing fulfillment taxonomy.
How does micro-fulfillment differ from other dark space concepts?
Automation underpins micro-fulfillment. The question, said PJ Stafford, the vp of sales and marketing at Alert Innovation, is "how can we automate the supermarket?" Alert builds out micro-fulfillment technology for stores including Walmart, and has developed its own robotic storage and retrieval system.
Grocers build out standalone facilities as small as 8,000 square feet next to stores that are designed simply to hold separate stock for online orders. The robots then maneuver through the space — going as high as 24 feet, if the building allows for such capacity — to quickly and efficiently pick out stock. These systems, said Stafford, "have very strong ROIs because you can pick orders quickly without having someone roaming around the floor for an hour and a half."
Is this the next big thing?
What makes micro-fulfillment appealing to grocers is that it could ease labor needs. "They are very heavily automated," said Gartner analyst Tom Enright. He described it as a "stepping stone" between using retail store floor space for online orders had "opening up a fully fledged dark store."
While online grocery growth dominates headlines, it's still going to take a great deal of investment for stores to be ready. "It's basically still at the pilot stage," said Stafford, adding that small- to mid-sized grocers "haven't been participating in that, for various reasons." Big players like Walmart and Amazon are leading the pack — likely because they have coffers experiment with different programs.
But that may change soon. "We've reached a tipping point," said Stafford. Once online grocery orders exceed 5% of overall revenue, he said, "stores are going to get very stressed."