DTC workwear brand Brunt hires an Under Armour veteran as its new president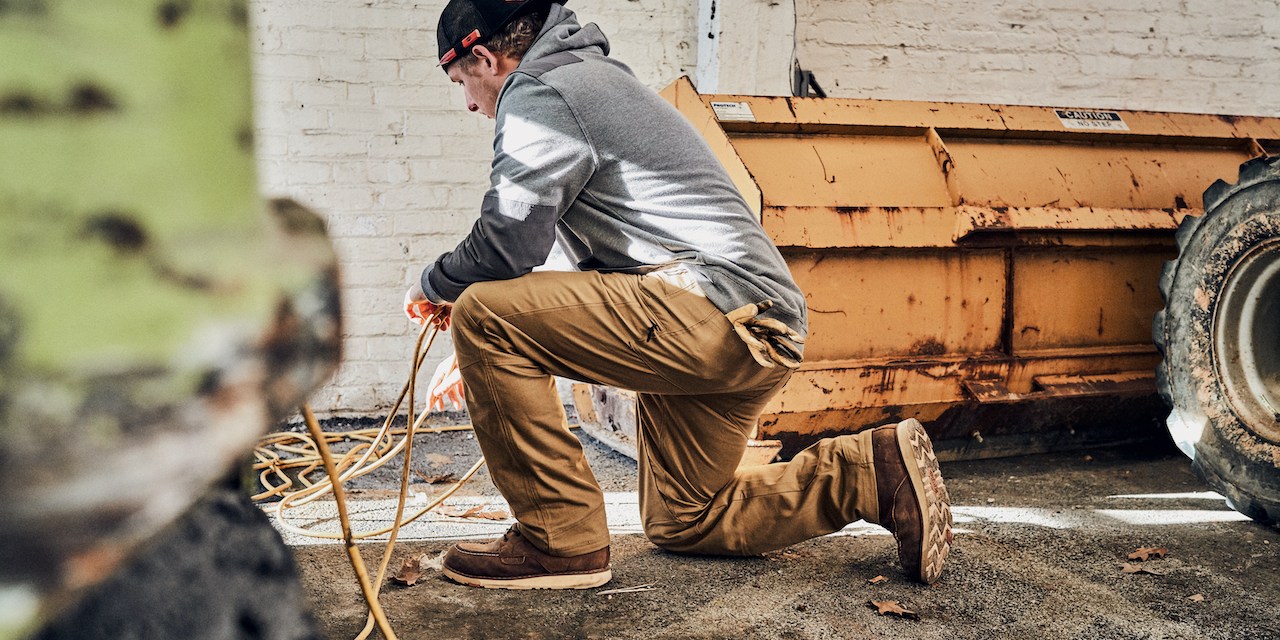 Image via Brunt Workwear
Less than two years after launching, DTC brand Brunt Workwear is bringing on a new executive. The startup has hired retail veteran Kevin Eskridge as president, who will lead the company as it launches new products and enters new channels. 
The workwear brand was founded in September 2020 by Eric Girouard, with the goal to disrupt legacy workwear brands like Carhartt and Wrangler. This announcement comes on the heels of Brunt's $20 million Series B round in February. Before coming to Brunt, Eskridge worked at Under Armour for over a decade, serving as chief product officer before leaving in 2020. He also held executive roles at Gap and Armani Exchange.
Eskridge told Modern Retail that the career move was a result of Brunt checking off a list of growth opportunities. "I haven't seen this much customer stickiness since the early days of Under Armour," Eskridge said. Brunt Workwear currently has a 44% repeat customer rate. The company beat revenue projections by 80% in 2021 and expects to surpass them again this year. 
"Being at a DTC-first brand is going to be different, but there is a lot of overlap in operating a retail brand," Eskridge said. He added: "I've worked on early-stage brands in some sense," pointing to his tenure at Under Armour, where Eskridge helped spearhead its China expansion.
The first order of business will be to streamline inventory to avoid running out of products, said Eskridge. Brunt began by selling work boots designed for trade workers, like construction workers and electricians. It has since added a line of apparel and accessories. Like other DTC brands, Brunt experienced out-of-stocks multiple times last year. Another area of growth is apparel, which Eskridge said he and the team will work on marketing to new and existing customers. 
He also pointed to fabric innovation in fleece, tops and bottoms as an area of investment for Brunt. "There are gaps in the basic building blocks of assortments for workwear customers," Eskridge said.
Girouard, who will remain CEO, said that one of the reasons why he wanted to bring on Eskridge as president is because he "has seen all the other channels I've never worked in." He added that the experience will be vital when it comes to expanding to marketplaces, wholesale, international markets, or opening retail stores. "We're in the process of figuring out the next channel and carrying on the momentum we have," said Girouard.
With fresh capital and an experienced lead, Girouard said the extended runway will be used to better compete with established workwear players. "There is no revenue chase, but we want to move fast without sacrificing quality and the consumer experience," said Girouard.
As Eskridge transitions into the role of president, he'll also help grow the internal operations. Brunt currently has 15 full-time employees, of which four were hired this year. "We plan to triple the team by the end of the year," Eskridge said. Some of the new positions will include product development and design roles, as well as digital marketing. Eskridge hinted that sales roles will be added when the brand begins striking wholesale partnerships.
For digitally-native brands, bringing on experience early on can better structure the company for scaling. Indeed, other early-stage brands are also onboarding retail executives to help scale the company. Last year, fragrance brand Boy Smells appointed its first CEO after experiencing major growth during the pandemic. This month, beverage brand Poppi named a new CEO to help the founders grow its retail footprint. 
Dan McCarthy, assistant professor at Emory University's Business School, said the qualities of a great early-stage founder don't always translate to being a great retail executive. This is especially true when a young brand is trying to establish product-market fit and add bigger distribution channels. 
"Founders can have a tendency to micromanage, for example, which can be an asset when a company is small and the founder needs to wear many hats at once," McCarthy said. "But it becomes a liability as the company grows and those hats need to be handed to other people."
By design, DTC companies start out by selling through direct channels. But to scale, McCarthy said these brands often have to migrate into indirect retail channels, "which the founders know little about." In some cases, waiting too long to bring in experience has derailed some DTC brands' trajectory. Recent examples include Outdoor Voices, whose young founder was pushed out after clashing with the company's board of directors.
"Bringing in a proven operator from an omnichannel retail brand makes a lot of sense at this stage, and often comes with distribution relationships to boot," McCarthy said. 
The move also frees up founders to focus their expertise on specific aspects of the company. 
"I can focus on the evolution of the brand and how to best amplify our marketing," Girouard said. "The burden of managing all daily operations has been lifted."