DTC Briefing: Where investors predict money will flow in 2022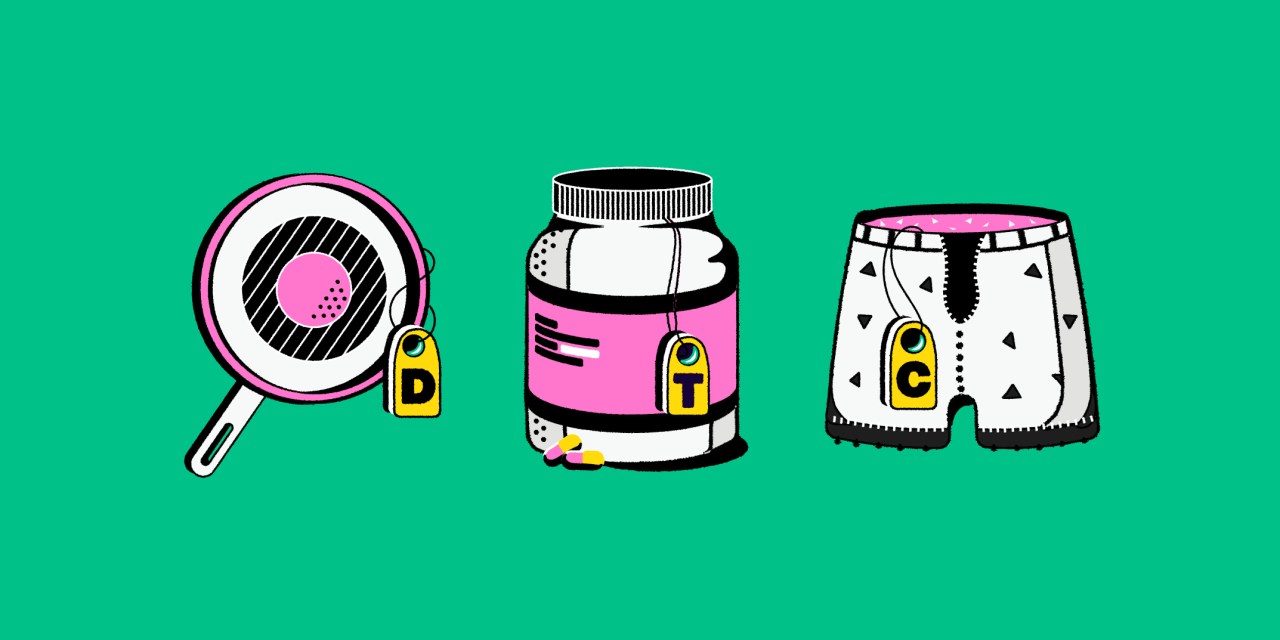 Illustration by Ivy Liu
This is the latest installment of the DTC Briefing, a weekly Modern Retail+ column about the biggest challenges and trends facing the volatile direct-to-consumer startup world. More from the series →
This is the latest installment of the DTC Briefing, a weekly Modern Retail column about the biggest challenges and trends facing the volatile direct-to-consumer startup world. To receive it in your inbox every week, sign up here. 
There's more venture capital money pouring into startups than ever before. 
According to a PitchBook report out today, U.S. venture capital funding topped $329.6 billion in 2021, more than double the previous year's amount. Thanks to all of the money floating around, one-year-old startups can attract hundreds of millions of dollars in venture capital, while a bootstrapped startup might emerge with a huge valuation after years of flying under the radar.
In this frothy venture capital market, keeping track of which startups or sectors are poised for a breakout year is more difficult than ever before. To better understand what types of companies will be the most in-demand among investors this year, I asked a handful of venture capitalists the same questions: Which sectors do they think are poised to attract a lot of funding this year? Which areas would they like to see more VC dollars flow into? And which industries are they excited to watch this year, but not actively investing in? 
Unsurprisingly, many of the sectors that are expected to attract a lot of investor interest this year revolve around tools and products that experienced a lot of adoption during the coronavirus pandemic. Read on for more about which sectors to watch this year. 
SaaS becomes sexy
The pandemic has caused more people to do more of their shopping online than ever before, and, as a result, venture capitalists are eager to back more software startups that work with e-commerce brands. 
While the uptick in online shopping has been welcome for e-commerce startups, it's also created a new set of problems for them. 
"You have retailers facing enormous supply chain issues — brands can't get a hold of their inventory, there are delays which are causing major revenue slumps, increased CAC and bad service in general," Logan Langberg, principal at Imaginary Ventures said. As a result, he said that "logistics and B-to-B software that can improve those needs are going to thrive and see continued investments." Imaginary Ventures has previously backed Stripe, as well as Pepper, an e-commerce platform for food distributors.
Despite a drop-off in the early days of the pandemic, there's also been an increase in customer acquisition costs, as more companies seek to target these shoppers with online ads. Recent privacy-related changes from some of the biggest tech companies like Apple's iOS14 update have also made acquiring customers more difficult. Many brands are using these changes to refocus their  marketing efforts on loyalty, in addition to customer acquisition. 
Caitlin Strandberg, partner at Lerer Hippeau said that software startups that help companies manage and track the loyalty of various customer cohorts is, "a big whitespace for consumer companies to build in," this year. 
Similarly, Mike Duboe, general partner at Greylock, said that "referrals via existing customers are always the highest quality and most economical acquisitions." As a result, he said, "I think we are seeing many more ways to help brands kind of close the loop of growth and drive new acquisitions from existing customers and new and creative ways."
CPG stays hot
Kiva Dickinson, co-founder of Selva Ventures, predicts that new alcohol brands will continue to attract lots of investor interest. He's an investor in aperitif brand Haus, as well as non-alcoholic wine brand Surely. 
"The way people buy alcohol is rapidly shifting online," Dickinson said. "That changes what you buy — it's not just what happens to be available at your local store." Though he said, "I would like to see more investment in cleaner alternatives to traditional alcohol," he also predicted seltzer and ready-to-drink cocktails would continue to attract investor interest. 
Meanwhile, Imaginary Ventures' Langberg said that he "hasn't seen as much innovation in e-commerce businesses that are focused on selling unique products," over the past couple of years as he would like. He said this "could be a testament to supply chain difficulties," as well as rising customer acquisition costs making it more difficult for brands to scale." With this, he said he would like to see more innovation and investor money in the CPG space this year. 
Lerer Hippeau's Strandberg said that she would like to see more "more companies being built and funded that are targeting underserved markets," and seek to build communities around that. She cited two of her portfolio companies — Topicals, which sells skincare products for people with conditions like eczema and psoriasis, and Cake — which bills itself as a "sexual wellness brand for everyone," as two such examples. 
All eyes on crypto
Nearly all of the investors I spoke with agreed that crypto and Web 3 is going to be a big area of focus for next year. But, some investors are taking a wait-and-see mentality, as they try to figure out whether or not sky-high valuations can be justified, and just how much the average consumer is interested in adopting newer technologies like NFTs. 
"We have yet to make an investment there, [but] we are constantly viewing the space," Langberg said.
Maveron senior associate Veronica Reaves-Parks told me a few weeks ago that she is particularly interested in social tokens that "reward early adoption — and then the artist and the consumer they can figure out what, 'well what does that mean?'"
"Brands investing in loyalty programs and tailored communications to their most engaged users is nothing new, but I do think tokenized ownership is a way to take that to the next level," Duboe said. "So you are going to see more brands start to issue NFTs, and those are capturing the headlines, but I think that is really only scratching the surface." Pinata, an NFT media platform, is one of the companies in the crypto space that Greylock has backed so far. 
He added," I think the smarter brands are going to be thinking about ways to deepen community using those ownership frameworks." 
The ballooning beverage funding round
More money is also pouring into the beverage space, and not just on the early-stage startup side.
Last week, energy drink conglomerate Monster announced that it was spending $330 million to acquire beer and hard seltzer producer CANarchy. On the private markets Liquid Death, a startup that sells canned water, also announced earlier this month that it had raised a $75 million Series C.
It's an eye-popping amount of capital for a company that sells water. But Dickinson — who has invested in a number of beverage startups, but not Liquid Death — said that investor interest in the space has increased thanks to a few notable exits over the past few years. In 2016, for example, Dr Pepper acquired Bai Brands for $1.7 billion. Celsius Holdings, parent company of energy drink maker Celsius, went public last year and today has a market cap of $3.6 billion.
These exits, Dickinson said, prove that beverage brands can reach a billion-dollar valuation — even if it's still "a very selective few that achieve that."
What I'm reading
One-click checkout provider

Bolt

continues to sweep up jaw-dropping amounts of venture capital, announcing a

$355 million Series E

that values the company at $11 billion, TechCrunch reported.

Thingtesting explores how DTC brands like

Poolsuite FM

,

Yerb

and

Flowers for Society

are

experimenting with NFTs

. 

Business Insider spoke with

Kitchen United CEO

Michael Montagano about the ghost kitchen

startup's growth plans for 2022

. In contrast to competitors, Kitchen United wants to set up shop in more supermarkets and malls. 
What we've covered 
Amazon aggregator

Thrasio

has

launched in India

after acquiring a local home appliances startup called Lifelong Online. 

Stitch Fix

launched a campaign featuring Venus Williams last week. It's the most recent example of the styling service

investing more in influencer marketing

, as it tries to make itself a go-to apparel destination for more shoppers. 

For fitness device makers like

Peloton and Mirror,

2022 is a

make-or-break year

to prove they haven't plateaued after record pandemic growth.