DTC Briefing: Startups grapple with whether to join the same-day delivery boom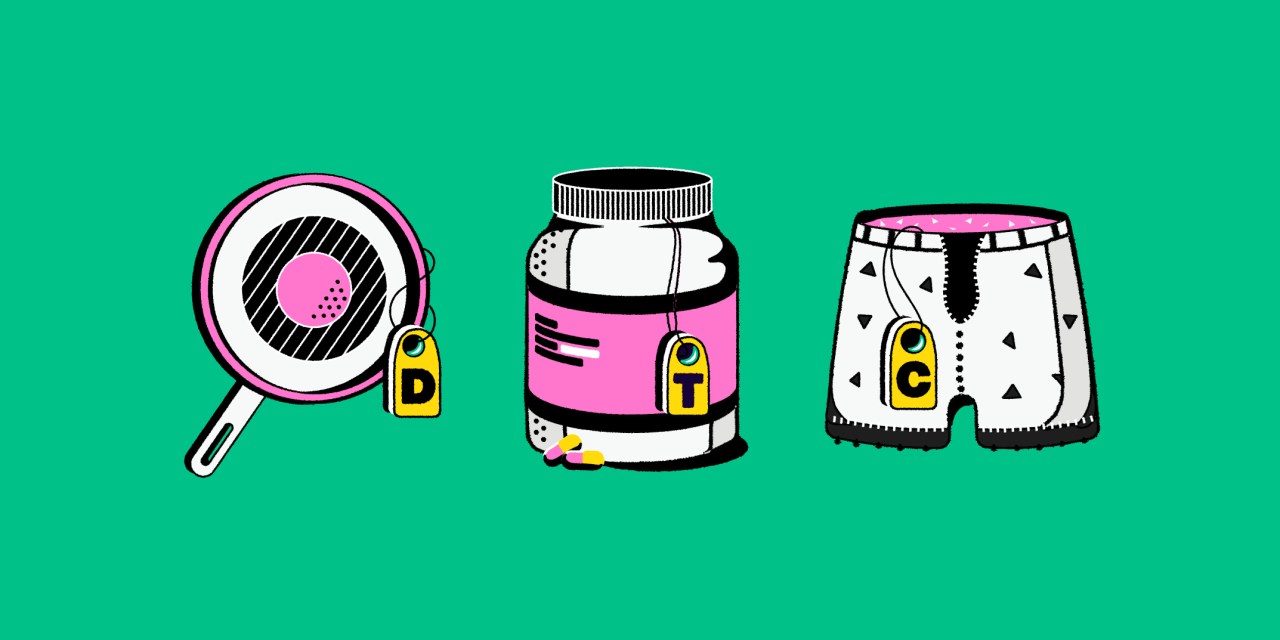 Illustration by Ivy Liu
This is the latest installment of the DTC Briefing, a weekly Modern Retail+ column about the biggest challenges and trends facing the volatile direct-to-consumer startup world. More from the series →
This is the latest installment of the DTC Briefing, a weekly Modern Retail column about the biggest challenges and trends facing the volatile direct-to-consumer startup world. To receive it in your inbox every week, sign up here. 
It's getting harder to ignore the invasion of same-day delivery services, particularly in large cities like New York City, Chicago and Los Angeles. 
These startups, ranging from JOKR to Gettir to Fridge No More, as well as more established players like Gopuff and Postmates, are constantly signing new leases, rolling out new billboard advertisements, and trying to win over users with generous half off or buy one get one free promotions. In turn, the explosion of same-day delivery services is also forcing founders of direct-to-consumer startups to grapple with just how fast of delivery they want to offer. 
"It's like there's a new one every other day," Sarah Moret, founder of natural deodorant and personal care brand Curie told me.
As my colleague Gabriela Barkho has reported, these startups are trying to convince DTC brands to sell products to their platform by offering co-branded marketing or sampling opportunities that larger retailers might not be as reticent to offer young companies. Executives at food and beverage startups increasingly see same-day delivery as a cost of doing business in their field. Meanwhile, startups in other categories like beauty and personal care are trying to expand retail distribution before turning to pricey same-day delivery services.
When asked why they invest in same-day delivery, many executives often respond with that old retail truism: it's about meeting the customer where they are. But, practically speaking, ever since Amazon introduced two-day shipping in concert with its Prime membership in 2005, there's been an arms race among a variety of players in the retail space to offer faster and faster delivery. 
Fifteen-minute grocery delivery startups like JOKR, Gorillas and Getir are the latest players in this space. As people start using these services, more people will expect faster delivery, particularly in grocery — and startups risk losing out on sales if they don't adapt to the changing tide. 
 "I'm always thinking from when you place an order [on our site] to when that order gets to you — there's always a possibility that we lose the magic [of instant gratification]," Eli Weiss director of consumer experience at better-for-you soda brand Olipop said. "By offering customers the ability to get it same day or next day, we have a stronger ability to keep that magical feeling." 
Today, Olipop offers same-day or next-day delivery for orders placed through its website, using white-label service Ohi. Olipop is also available for purchase through a handful of same-day grocery delivery services including Gopuff, Gorillas and JOKR. 
For some younger startups, same-day delivery services are also increasingly factoring into their year-one strategy. Celeste Perez, co-founder of adaptogenic drink brand Droplet, said that shortly after launching in March 2020, same-day delivery service FastAF started carrying her company's products. 
"We got on FastAF when our brand was barely a year old," Perez said. "Being on another platform that had its own growth plans as well as plans for expansion, that was really exciting for us." Today, Droplet's beverages are available for sale through FastAF and GoPuff, through its own website, and in roughly 450 stores. 
Still, many brands view same-day delivery as an experiment, and not one that always sticks. Curie's Morie said that she experimented with offering same-day delivery in 2020 (through a provider she declined to name) shortly after her company started selling hand sanitizer. 
"My thought process was: it's a pandemic and sanitizer is really hard to get — of course our customers are going to want it same day," Moret said. While she said the experiment was "moderately" successful, there wasn't as much same-day demand for hand sanitizer as she anticipated. What's more, paying extra for same-day delivery became increasingly harder to justify; Moret said that she split the cost for same-day delivery between the customer and her company. 
The launch of same-day delivery also came shortly after Curie's products became available for sale through Nordstrom nationwide, so Moret ultimately decided to scrap the same-day delivery feature and instead direct customers who wanted hand sanitizer as soon as possible to go to their local Nordstrom instead. 
Same-day delivery services work with brands — and their distributors — in different ways, and via a variety of pricing mechanisms. Perez said that FastAF buys her products wholesale, just like any other retailer would. If a brand offers same-day delivery through their site in concert with a white-label provider, they have to decide whether or not to charge the customer extra for same-day delivery.
In other instances, a brand might not strike a deal directly with a same-day delivery platform at all. Historically, a retailer — or more recently, a same-day delivery service —  might pay what's called a slotting fee to a distributor, to feature products from the various brands a distributor carries.
A brand in turn may have an agreement in place with a distributor about how its products are featured — for example, that they can't sell its products below a certain price point. Weiss said, for example, that Gopuff initially started buying Olipop's products through its distributor.
"Now, in the last year and a half, we have developed a much closer relationship with [Gopuff], and they feature us on billboards, etc," he said.
Just how many brands continue embrace the same-day delivery boom depends upon the financial fortunes of upstarts like Gopuff, JOKR and Gorillas — if they can continue to offer unique marketing opportunities without charging a fee to for same-day delivery, it increases the likelihood that more startups will continue to use them.
Moret, for her part, said that it would take a "critical mass" of customer feedback in order for her to start offering same-day delivery again. 
"If we start getting tons of customer requests for same-day delivery, it is definitely something we would consider offering," Moret said. "But I think through that test we did during Covid, we learned that maybe this is not something that our customers really care about." 
Same-day delivery services lean on startups for content
On their Instagram pages, these same-day delivery startups are also using startups to help them attract new followers.
JOKR for example hosts product giveaways on Instagram, with recent giveaways featuring vegan collagen brand Copina as well as plant-based beverage company Not Milk Co. JOKR and FridgeNoMore featured Lyre's Spirit Co and Poppi respectively on posts promoting drinks for Dry January. And GoPuff featured telehealth brand's Ro On/Go antigen test in a post about how shoppers could get Covid tests delivered through GoPuff.
While these delivery services have yet to accumulate the same size customer base that traditional brick-and-mortar grocers like Whole Foods or Kroger boast, they are using increased opportunities for co-branded products as one of their many selling points to try to attract startups.
What I'm reading
Shopify

is cutting contracts with some of the warehouses it works with through its three -year-old

Shopify Fulfillment Network

, Business Insider reported, reducing capacity levels.

Vox has an overview of the recent troubles plaguing

Peloton

, which essentially boil down to a

supply and demand mismatch

and reacting too rashly to pandemic-induced demand. Per Vox's Emily Stewart: "It's like the dog that caught the car, but now the car is in neutral."

Hims & Hers

is going to start selling its

hair care products through Walmart

.
What we've covered