DTC Briefing: Recent earnings are a bellwether for the challenges consumer startups will face in 2022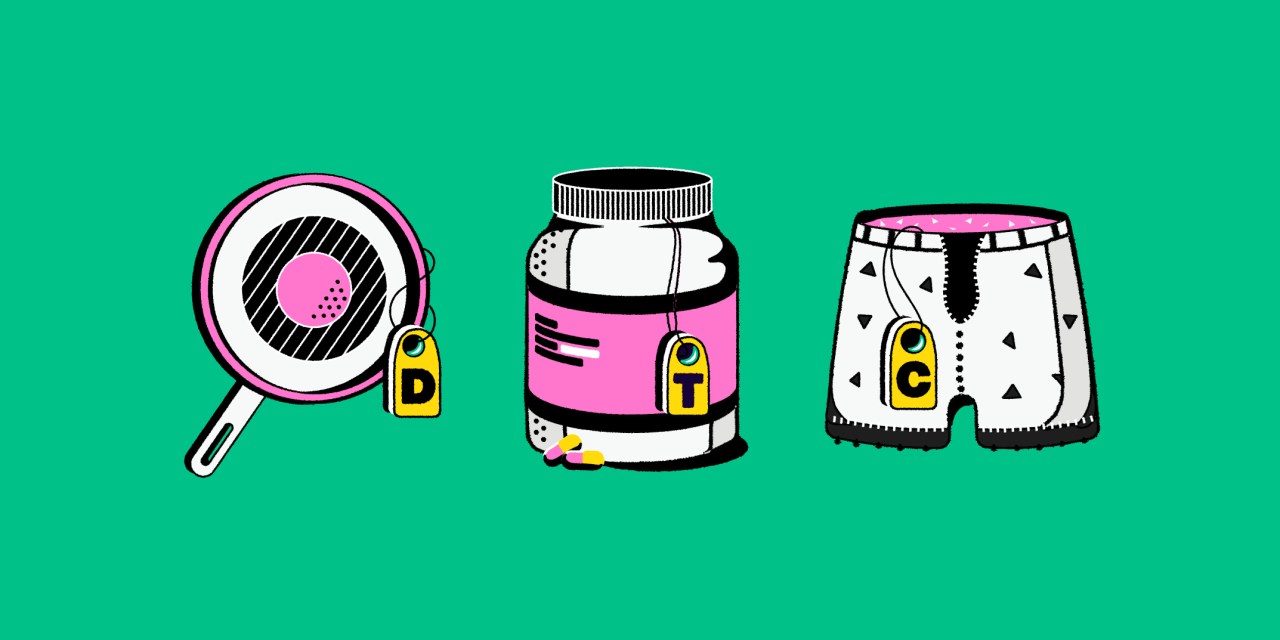 Illustration by Ivy Liu
This is the latest installment of the DTC Briefing, a weekly Modern Retail+ column about the biggest challenges and trends facing the volatile direct-to-consumer startup world. More from the series →
This is the latest installment of the DTC Briefing, a weekly Modern Retail column about the biggest challenges and trends facing the volatile direct-to-consumer startup world. To receive it in your inbox every week, sign up here. 
The spotlight has been steadily focused on the increasing number of consumer startups going public over the past few months, many of whom are encouraged by the favorable reception startups like Warby Parker and Allbirds have gotten in their Wall Street debuts this year. But, as a couple of earnings calls from last week indicate, the warm reception for these startups might not continue into 2022. 
Peloton and Wayfair's stock price fell by about 35% and 5% respectively after reporting lower-than-expected revenue during quarterly earnings announcements on Thursday. The results were a bellwether of what's to come for consumer startups over the course of the next year. It is not only getting harder for these companies to maintain revenue growth, in some cases revenue is falling year-over-year as more people make their way back to gyms and stores, and out-of-stocks deter other customers from making big purchases. And, increased marketing and supply chain expenses are making it harder for these companies to turn a profit. 
While the warning signs might not be as evident on the private markets — where startups can keep their quarterly earnings quiet, and raise a new round of funding from always-receptive venture capitals — the public markets show that the past 18 months of never-ending e-commerce growth are starting to subside. 
"It seems like basically as we work our way deeper into the lifecycle of the pandemic, we have seen a lot more unevenness in companies' ability to maintain the growth they saw during the pandemic," said Daniel McCarthy, assistant professor at Emory University's Business School. 
While both Peloton and Wayfair reported lower-than-expected revenue, they each blamed different factors on their earnings miss: 
Wayfair reported net revenue of $3.1 billion, down 18.7% year-over-year during its third quarter earnings. The online furniture purveyor recorded a loss of $78.0 million, compared to a profit of $173.2 million a year prior. In a statement, CEO Niraj Shah attributed the revenue decline to more people visiting stores again, and spending more money on travel and entertainment. "Demand and interest in the home remains resilient, but it will take a few more quarters for our growth — and e-commerce growth in general — to get back to normal," Shah warned.

Peloton, meanwhile, managed to grow revenue, albeit much slower than it did a year ago. Peloton's revenue during its fiscal first quarter was $805.2 million, up 6% compared to a year ago. During its fiscal first quarter last year, year-over-year revenue growth was 250%. Peloton also reported a larger-than-expected quarterly loss of $376 million. Peloton also slashed its full-year forecast. "We anticipated fiscal 2022 would be a very challenging year to forecast, given unusual year-ago comparisons, demand uncertainty amidst re-opening economies, and widely-reported supply chain constraints and commodity cost pressures," CEO John Foley said in a letter to shareholders. 
Wayfair and Peloton executives both laid out their respective strategies to return to more significant revenue growth. Wayfair is investing in a variety of marketing efforts, such as influencer-led videos, as well as print catalogs for some of its specialty brands. "Our focus remains on activating new or lapsed customers, while driving repeat among existing ones," Shah said.
Meanwhile, Peloton recently slashed the price of its exercise bike by $400, and released a new version of its treadmill, that it hopes will win over new customers who have been on the fence.  
Still, it might not be enough to win over Wall Street. Simeon Siegel, a managing director and senior analyst at BMO Capital Markets, said in a research note that Peloton's earnings suggested that the company's "post-pandemic surge has dissipated." 
Another area of concern for Peloton in particular, noted McCarthy, is that the company's marketing spend as a percentage of revenue has now surpassed pre-pandemic levels. Peloton's marketing spend as a percentage of revenue was 35.3% during this fiscal first quarter, compared to 34% during the same period two years ago. 
Peloton and Wayfair's fortunes aren't indicative of the challenges that all consumer startups are facing right now — some are still reporting consistent revenue growth. But it's a reminder that it is still unclear yet which consumer startups will be able to continue growing their e-commerce sales — particularly after key sales moments like the holidays pass — and retain a significant portion of the customers they acquired during the pandemic.
We will get a better glimpse into how consumer startups are faring on the public markets as Poshmark, as well as Warby Parker, report earnings later this week.
"I think the jury is out on a lot of these businesses, as to just exactly how much people are going to spend as we move into more normal times," said McCarthy.  
Brands ramp up logistics, marketing investments in response to Covid
Following a year complicated by supply chain delays and privacy-related changes from Apple and Google, DTC brands are ramping up logistical and marketing investments in order to deal with all the uncertainty. 
That's according to a survey advertising trade association IAB conducted as part of its annual brand disruption report. IAB surveyed 334 brands — 198 of which it defined as "DTC brands" while the others were "big brands." Below are some of the most interesting findings from the report:
Many brands have had to rethink their manufacturing process since the pandemic. 31% of DTC brands reported that they have made changes to their production and manufacturing process since Covid, while 48% of big brands have reported doing the same.

Collecting more first-party data is also a growing priority: 25% of DTC brands said they've increased data-related investments since the pandemic, while 47% of big brands have reported doing the same.

Influencer marketing is also becoming more popular — nearly 8 out of 10 brands surveyed said that working with influencers is now part of their marketing strategy, with nano influencers (defined as those having 1,000 to 10,000 followers) being the most popular to work with. 
What I'm reading
Retailers are on the hunt for

TikTok experts

, according to Morning Brew. Urban Outfitters, Grove Collaborative and Briogeo are among the companies hiring for social media and marketing roles focused specifically on the Gen Z-friendly app.


Nike has been quietly laying the groundwork for metaverse and cryptocurrency-related investments for years, Insider reported after reviewing the athleticwear brand's patent filings. In 2019 for example, Nike trademarked "

cryptokicks

."

Retailers are trying to push alternatives on customers when their preferred choice is

out of stock,

the Wall Street Journal reports. Results are mixed; customers are willing to make do with their second choice on some items like coats, but are willing to hold out for top toys. 
What we've covered 
How three startups in categories ranging from hard seltzer to soap are using

TikTok

to grow their business.

Compartés, a 72-year-old chocolate brand has embraced drops, partnering with musicians and gaming companies on

limited-edition chocolates

. The brand's online sales are up 200% year-over-year.

Inspired by the frothy public markets and the continued growth of market leader Starbucks, more coffee companies ranging from

Black Rifle Coffee to Dutch Brother

s are going public.