DTC Briefing: How OpenStore aims to build a Shopify-focused holding company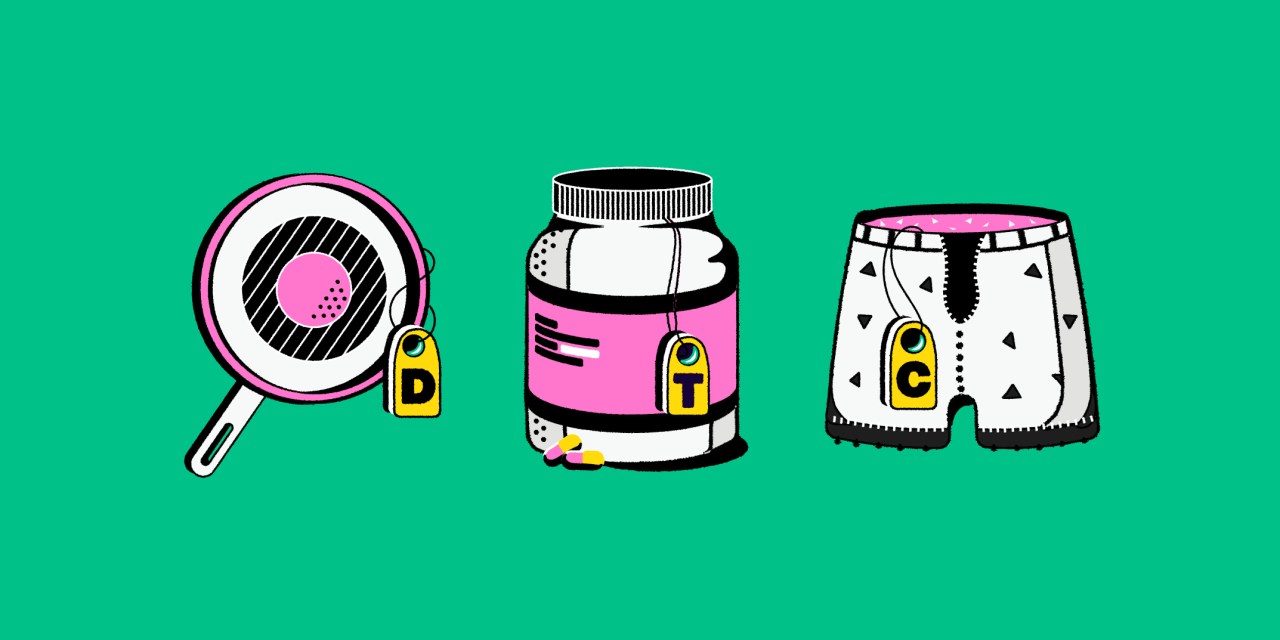 Illustration by Ivy Liu
This is the latest installment of the DTC Briefing, a weekly Modern Retail+ column about the biggest challenges and trends facing the volatile direct-to-consumer startup world. More from the series →
Over the past year, there's been an explosion of holding companies raising money to acquire e-commerce brands — Pattern Brands, for example raised $60 million in debt and equity to acquire brands in the home goods space.
But one of the most interesting — and newest entrants — in the space is OpenStore, co-founded by Founders Fund general partner Keith Rabois, Atomic founder Jack Abraham and Michael Rubenstein, former president of AppNexus. According to Axios, the company closed a $30 million round of funding, valuing OpenStore at $250 million, in July.
What makes OpenStore different than other holding companies is it places automated bids on e-commerce companies, by looking at their Shopify revenue and other data. OpenStore places bids in as quickly as one day. OpenStore's approach could exponentially increase the number of acquisitions in the e-commerce space, and create the potential for more bidding wars, if a founder uses their OpenStore offer and uses it to negotiate a higher bid from another holding company. But given OpenStore's need for speed, it also creates the risk that the company could acquire an e-commerce business that isn't as sound under the hood as it initially appears.
"We think that our automation forward approach and commitment to moving very quickly — if you put that all together — that is a differentiated approach to what anyone else is doing," Rubenstein said in an interview with me.
The way that OpenStore works is that founders who are interested in getting a bid for their business start by filling out an online form, and hand over certain pieces of data about their business, including their Shopify login credentials so that OpenStore can verify revenue and other pieces of data. OpenStore has developed pricing algorithms to turn around a bid in a day, and is betting that its algorithms are strong enough to help it place bets on the right e-commerce businesses, rather than sketchy dropshippers.
OpenStore can close an offer in as soon as week, though founders can take longer to decide whether or not to accept OpenStore's offer if they so choose. OpenStore acquires 100% of the business, and there's no option for founders to stay on through the acquisition.
When I spoke with Rubenstein last week — who also serves as OpenStore's president — he said that the company was working on closing its first cohort of acquisitions. Five (undisclosed) e-commerce companies have accepted bids, and Rubenstein said the company plans to acquire "dozens" of businesses in the coming year.
Below are some more highlights from my conversation with Rubenstein, edited for clarity and length:
What do you think about the e-commerce space right now, – and what makes it ripe for a holding company venture?
I think there is a real issue and opportunity in the longtail — and as you know we are focused on DTC, Shopify merchants. The issue is that the proprietors of these businesses don't really have access to liquidity – and the solution we are providing is where we can come in and provide instant liquidity to these founders, and give them an offer the same day for their business. That solves a real market problem.
As more of the retail economy has moved online — you just have this situation where you have millions of founders and they just don't have access to liquidity. Many of them would be open to selling their business if they could, and they just are too small for private equity, or they don't have the right characteristics for venture capital.
Are you only looking at companies that have been in business for a certain amount of time, or have hit a certain revenue threshold?
We don't really have hard and fast rules around the business size or the length of time – but we will tend to buy smaller businesses and again we are looking for businesses that are primarily on Shopify. That is probably our number one criteria. And, that they have customers who love the product and will buy across any category.
Will you be using the data you collect from merchants to inform any new products or services you launch at OpenStore?
It's not really the purpose – the data is used so that we can very quickly, in an automated fashion, turn around a price for the merchant – we don't have an interest in selling the data, or doing anything else with it.
We recognize that merchants care about speed, and that if you are looking to sell your business, you want an offer and liquidity as quickly as possible, and that's what we are doing with the data.
We are happy to sign an NDA [if the founder wants] in support of our commitment to maintaining confidentiality.
Are there any areas that you see as the quickest, low-hanging fruit…if a brand has historically lacked access to capital what are some of the first things you are going to do to invest in their growth potential?
We will diagnose at the time of the sale where we see the biggest opportunities, and I think it will differ across brands. But, for example, if our analysis determines that they have been underinvesting in customer acquisition or in retention marketing, we will invest in those areas so that we can optimize the businesses.
We may also be able to also help on the cost side, because it is difficult as an individual merchant for example to get the best price in the supply chain.
iOS15 is coming — here's what it means for DTC brands

DTC startups now have a new update to prepare for. Yesterday, Apple's newest operating system, iOS15 started rolling out to users, though not all users will be able to access the new operating system immediately. 
My colleague over at Digiday, Kimeko McCoy, has an explainer on what this update means, but the biggest thing to note is that brands will likely have to rethink how they track the success of email campaigns, but here are my biggest takeaways on what this means for brands:
Open rates will no longer matter: One new feature that's part of iOS15, called Hide My Email, allows Apple users to keep their personal email address private, by instead using random email addresses to sign up for mailing lists, that then forward to their email address. That will make it more difficult for brands to track open rate — which has long been one of the metrics by which brands have judged the success of an email campaign. Instead, brands will have to come up with new metric to watch. 
Targeting email subscribers by location will get harder: Another part of iOS15 is a new opt-in feature called Mail Privacy Protection, which will allow users to hide their IP address when opening their email. That will make it harder for brands to, say, send targeted emails by city or region, depending on how many customers opt to hide their IP addresses.
This could throw a wrench in brands' Black Friday plans: These changes couldn't come at a worse time for brands, given that Black Friday and other big sales events are on the horizon. Furthermore, email campaigns are often one of the most frequently-used ways that brands alert customers to Black Friday sales, so it will be interesting to see if brands opt to alert customers to sales via other channels — say, SMS — in light of these changes.
What I'm reading
Thingtesting looks at how

DTC startups are preparing for Black Friday

, finalizing what sales they will offer, as well as how they are trying to ensure they have enough product in stock for the crucial sales day. 

Bedding brand Parachute is expanding more deeply into furniture,

launching bed frames last week.

 

Peloton is looking to sell more of its exercise bikes to

resorts and hotels.

The reason for Peloton focusing more on B-to-B sales is twofold; travel is picking back up, and the fitness company is also looking for more ways to further revenue growth after a big year. 
What we've covered 
Whatnot co-founder Grant Lafontaine spoke with Modern Retail on what's next for the

livestream shopping startup

, after raising a $150 million round at a $1.5 billion valuation. 

Brightland, a CPG startup that started out with two varieties of olive oil, has since expanded into flavored olive oils, vinegars, and recently launched a line of honey. Here's how the company goes out

testing new flavors and products

, often by collaborating with other companies. 

After a boom in

home decor and furniture sale

s last year, brands like Fernish, AptDeco and Sabai are trying to build a loyal following among their new customers.